The final week of January saw the beginning of the fashion month cycle with couture spring/summer 2018 taking place in Paris. One of the most anticipated shows on the schedule was Christian Dior. Creative director Maria Grazia Chiuri took inspiration for the collection from a single visual artist—Leonor Fini, a Surrealist painter who rose to fame in the 1930s.
This was not the first time Surrealism was associated with fashion. The movement went beyond the visual art world. Writers, poets, filmmakers and fashion designers all followed the inspiration of this cultural change that challenges societal norms and questions the human psyche.
Rene Magritte and Viktor and Rolf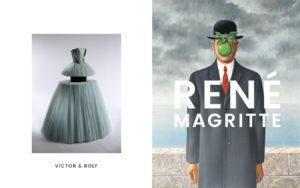 One of the most famous paintings of the period, The Son Of Man, by Rene Magritte, features a man wearing an overcoat and hat with a floating green apple covering most of his face. There is also a wall at the horizon line behind the subject with the ocean and cloudy sky peeking behind it. While the meaning of the painting may not seem clear to the viewer at first, like most Surrealist art, understanding the artist's vision is crucial.
"Everything we see hides another thing, we always want to see what is hidden by what we see," Magritte says. "There is an interest in that which is hidden and which the visible does not show us. This interest can take the form of a quite intense feeling, a sort of conflict, one might say, between the visible that is hidden and the visible that is present."
Translating this art form to fashion, Viktor and Rolf is just one brand who uses Surrealist influences. One of their most surreal visions is in their spring 2010 runway. The two sent down models in tulle gowns with unusual cuts throughout. One dress had a cut through the middle, revealing a tight black dress underneath that appears as a negative space, creating the illusion of a floating bottom of the skirt.
Another gown features a hole in the middle of the skirt and a cut out hole from the side. Viktor and Rolf's goal was to play with optical illusion and push boundaries of what is considered acceptable high fashion.
Elsa Schiaparelli and Salvador Dalí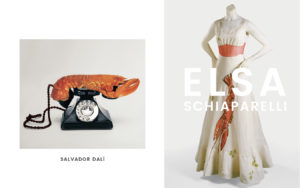 As one of the most famous designers of the first half of the twentieth century, Schiaparelli's garments evoked glamour but never left out innovation. Unlike other contemporaries of her time, her designs had an avant-garde approach and humor mixed with excellent craftsmanship, allowing her to become a recognized designer.
The first designer to mix Surrealism into fashion, Schiaparelli utilized optical illusions. Some of her most requested garments use the trompe l'oeil effect, which is a flat illustration made to look like a three-dimensional object. A jumper made by her from 1927 features a graphic bow that is a part of the knitting itself. The curves around the neck and shading make the bow appear to be a separate piece from the jumper. Schiaparelli became known to be an abstract thinker among fashion circles after this.
Schiaparelli often partnered with visual artists of the Surrealist movement when creating her designs. One of her most famous pieces, Woman's Dinner Dress, is in collaboration with Salvador Dalí. The dress features Dalí's signature lobster he uses as a subject in paintings, printed on the front of the organza skirt.
Another piece the duo took on together is the Shoe Hat, a felt hat shaped like a high heel. This focuses on the idea of displacement, asking why a certain accessory is acceptable on one part of the body, but seems out of place on another body part.
With Elsa Schiaparelli's imagination dominating fashion, many designers have followed in her footstep throughout time. Yves Saint Laurent was known to admire her work and later said her charms as a designer were, "her brutality, her arrogance, her self-possession, disdain, storms of anger, odd whims."
Last year at the house's 90 year anniversary, creative director Bertrand Guyon took inspiration from the brand's Surrealist beginnings. Guyon brought back iconic Schiaparelli's iconography, such as astrological symbols, hearts with arrows going through them and a lobster image, to pay homage to the house's roots.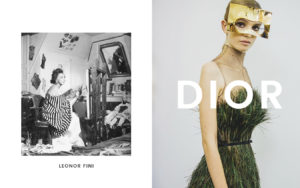 With Dior showcasing an entire collection inspired by one artist of the movement, it appears Surrealism is still influential fashion. Fashion designers have always been looking to their visions to create a new world with their clothes. The ideals of Surrealism have spanned over decades, allowing past and present designers to produce innovative creations and continue the dialogue between art and fashion.