fso's goodwill fashion show exposes social issues and introduces sustainable student businesses
Fast fashion is taking over the industry, but Kent State's Fashion School is doing its best to stop the spread. The Fashion Student Organization's annual Goodwill fashion show used a flora and fauna theme to allow fashion students to step out of their comfort zone and introduce them first hand to the effects of fast fashion.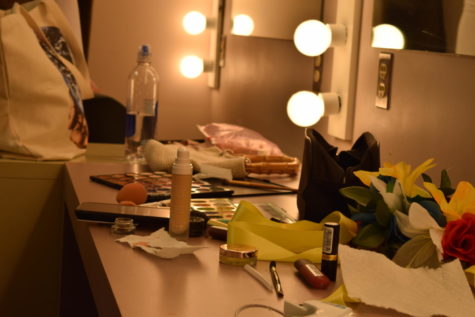 FSO's Goodwill fashion show challenged designers to construct a runway outfit using only items they purchased from Goodwill, but the runway wasn't the only busy place of the night. Outside of the auditorium, student-run vendors sold their products and spoke with audience members about the harmful effects of fast fashion. 
Katelyn Nguyen, one of the many designers, said she was surprised at just how many items she saw at Goodwill. The fashion merchandising major went to two different thrift stores with her model and took four trips to these stores total. 
"It opened my eyes to how much stuff goes to thrift stores," Nguyen said. "When I was there, I was looking for like an hour or two just looking through stuff, and it was just endless clothes, and it just opened my eyes to how fast we use our clothes."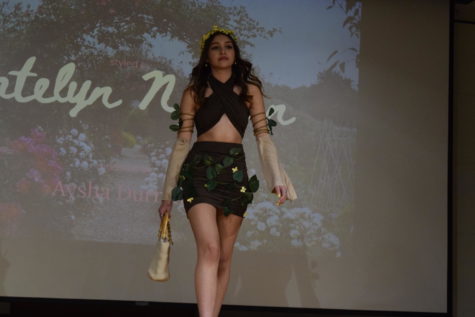 Nguyen styled her model in a brown skirt and top, with vines crawling around her arms and waist. Nguyen's model, Aysha Durrani, also got a behind-the-scenes look at fast fashion.
"Sustainability in fashion has been a long time coming and starting young designers fresh with thinking out of their comfort zones can really impact the industry in the upcoming years of fashion," said freshman fashion merchandising major Durrani.
The student vendors were also a significant addition to the fashion show. There were eight vendors total, all with different styles and messages about fast fashion. Sophia Made This, created by sophomore Spanish major Sophia Karas, was a vendor who felt very strongly towards fast fashion. A tombstone marking the death of fast fashion was the centerpiece on the table she set up.  
"My goal is to put fast fashion out to pasture with the rise of slow fashion," Karas said.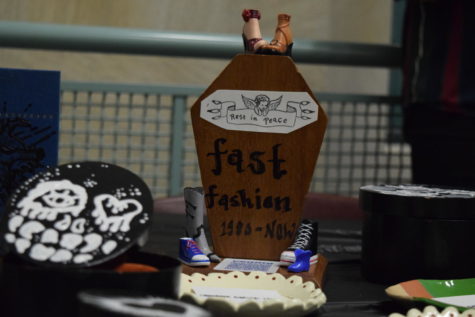 "A mantra I am beginning to live by is 'no new clothes,' meaning to buy reused or reworked clothing to put death to fast fashion," Karas said.
Another vendor who is trying to put a stop to fast fashion is pineapple loop. Lauren Hollis, a junior entrepreneurship major who runs pineapple loop, ensures her jewelry is completely handmade.  
"Everything that I make is handmade, and I order about 95% of my stuff through Etsy or through other small businesses," Hollis said. 
Hollis said she loved the opportunity to bring her business into Rockwell Hall and talk to many fashion majors. The sustainable theme of the show aligned with Hollis's beliefs, as she also said she believes fast fashion needs to go. 
"A lot of times you'll see a small business have a huge success on one product, and it's immediately on a fast fashion website for a quarter of the price but without the same quality," Hollis said. "It's just really unfair to those small businesses who come up with their own ideas."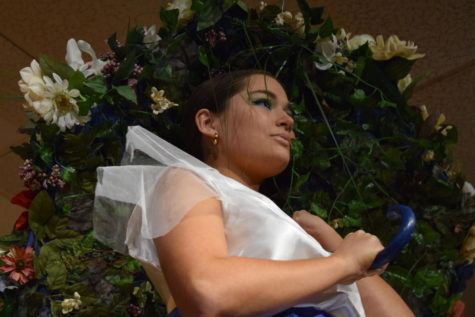 Not only did the FSO fashion show aim to promote sustainable fashion, but a few designers also took into their own hands the act of making a statement with their pieces. 
Carolina Barrera-Arrieta styled her model, Sydney Im, in a floor-length dress with tulle and flowers on the bottom. Once Im got to the end of the runway, she pulled a Mexican flag out of her bag to highlight her culture. 
Another designer, Caroline Hill, put her model in a gray and pink floral look. As her model Michael Corsale walked down the runway, the look seemed beautifully normal to the audience members. But, after Corsale turned around, he revealed a message on the back of his torso saying: "Flowers are better than bullets."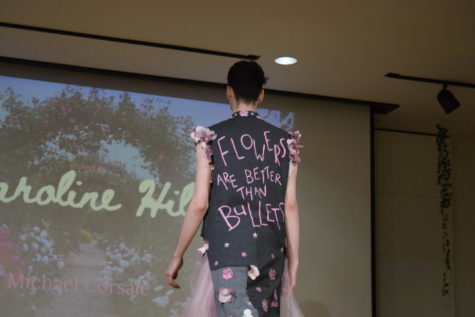 The FSO Goodwill fashion show highlighted creativity, passion, sustainability and support of small businesses.  
"I hope that the models, designers, backstage members and myself made an impact on the audience to show that fashion is really about creativity and not if you have luxury items," FSO model Durrani said. 
Support Student Media
Hi, I'm Grace Avery, the Editor In Chief of A Magazine. My staff and I are committed to bringing you the most important and entertaining news from the realms of fashion, beauty and culture. We are full-time students and hard-working journalists. While we get support from the student media fee and earned revenue such as advertising, both of those continue to decline. Your generous gift of any amount will help enhance our student experience as we grow into working professionals. Please go here to donate to A Magazine.