fashion designer jordon willis loves pink, lace & showing a little skin
With intricate combinations of lace, pearls and extravagant embellishments, Jordon Willis's garments (or "contraptions," as he lovingly calls them) exude camp and hyper-femininity. The 25-year-old's eponymous NYC-based fashion brand embraces all things pink and serves as a love letter to women everywhere. 
"I think I love the expression of just womanhood and however it looks," Willis said. "I love seeing just like some women who are creative and some women who are conservative and just, I feel like everybody is like, I just love seeing women be true to be themselves and dress to their own aesthetic and I think that helps me to develop my aesthetic because I'm just like, 'Oh, I like how she did that.'"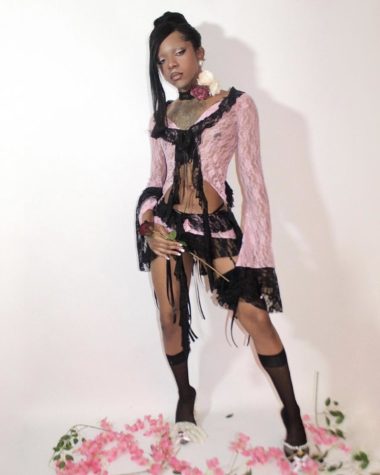 As Barbiecore soared to popularity aligned with Greta Gerwig's highly-anticipated "Barbie" movie releasing this summer, many fashion lovers embraced the doll-like aesthetic Willis has emulated for years. The Barbiecore aesthetic closely parallels that of Valentino's Spring/Summer 2022 show which was, in short, an explosion of pink. 
When it comes to Barbiecore, think bright pink clothes, dolled-up hair and playful accessories, not necessarily the teeny-tiny waist and blonde hair. Willis put his own twist on the doll's signature pink, campy style before Barbiecore's arrival, and even credits Lil' Kim as one of his muses. 
"I think she took a lot of like the backlash so girls nowadays can dress as free and as sexy as they can now, so I would definitely say Lil' Kim is one of my biggest inspirations in fashion because I feel like I wouldn't even be able to design things I did and it wouldn't even be acceptable if she didn't make her mark and do her thing and just wear what she wanted to and just push boundaries and push herself to go outside her comfort zone," Willis said.
Growing up in Connecticut, Willis always knew he wanted to be a designer. After feeling unfulfilled by his communications major at the University of Connecticut, Willis decided to pursue his love of fashion at LIM College in New York City. Willis's first design was a wrap top, and then he soon designed a collection called Watercolor during the pandemic, which featured a hand-painted watercolor print. 
Out of all of Willis's daring designs, one stands out as his favorite: the Fishnet Embellished Dress. As his best-selling garment, each Fishnet Embellished Dress is custom-made and sprinkled with unique embellishments. Willis uses vintage jewelry and even incorporates feathers and belts into the design, ensuring each dress is one-of-a-kind. During the three years that he has sold this dress, Willis said he has been able to reinvent and elevate the design.  
As Willis's brand continues to grow, some of his designs have even been featured in music videos and on "The Tonight Show Starring Jimmy Fallon." SZA wore Willis's Beaded Feather Shrug Set in her "Shirt" music video from her latest album, "SOS," and violinist Sudan Archives wore Willis's Floral Arrangement Gown on "The Tonight Show." 
View this post on Instagram
In August of 2022, Willis was featured in a Vogue article, thus showing his growing impact on the fashion world. In addition to all of these accomplishments, Willis is ready to grow his one-man brand and delve into new territory. One of his main goals is to venture into "elevated lingerie" to explore how lingerie and high fashion can interact, all while creating one-of-a-kind garments. 
By the time he's 30, Willis wants to have his first official runway show, a lookbook photoshoot and, of course, a "pretty pink mansion full of expensive, beautiful Barbie dolls".
"I really want to inspire boys like me who may be feminine or may dress a certain way or may express themselves a certain way, I want them to know, like, you can do it," Willis said.
Ava Scrabis contributed to reporting. 
---
Support Student Media
Hi! I'm Catie Pusateri, A Magazine's editor-in-chief. My staff and I are committed to bringing you the most important and entertaining news from the realms of fashion, beauty and culture. We are full-time students and hard-working journalists. While we get support from the student media fee and earned revenue such as advertising, both of those continue to decline. Your generous gift of any amount will help enhance our student experience as we grow into working professionals. Please go here to donate to A Magazine.