kent state annual fashion show spotlights next wave of fashion design creatives
The Kent State School of Fashion celebrated its 40th anniversary with its  annual fashion show on Friday night, presenting senior B.A., B.F.A. and M.F.I.S. students' next in fashion collections. The show comprised 30 designers and more than 60 models, totaling 112 looks. 
Held in the Kent State University Ballroom, Friday night's show opened with an inspiring speech by Omar Salam, creative director of fashion house Sukeina. Salam was named the 2023 inductee of KSU's School of Fashion Hall of Fame. This award champions an individual with leadership and  progressive inspiration to future generations in fashion. Sukeina was named after Salam's mother, meaning "bright light." 
"Light is what reconciles us with the value of everything, and without it, all goes missing," Salam said during his speech. 
Lights were dimmed and the show began. Patchwork denim, elegant dresses and oversized silhouettes made their way down the runway, juxtaposing street and evening wear. Two collections, done by Emma Lyons and Samantha Flucht, even featured complete childrens ready-to-wear lines which was a fan favorite. Lyons has ample experience creating modern children's apparel with a vintage influence.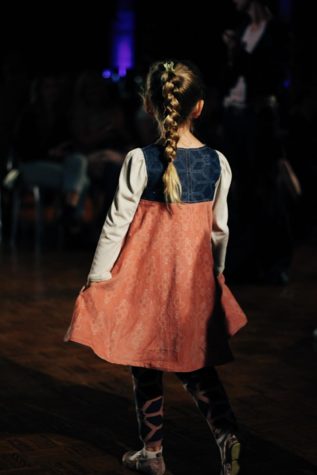 "My collection was inspired by Hampton Court Palace," Lyons said. "I wanted to create outfits that felt like princess costumes but were hardy enough for the every day to inspire girls to be interested in history."
Best in Show, along with other awards, was decided amongst a panel of critics which included Alicia Hardesty, Andrea Sanderlin, Marla Cotten and Geoffrey Henning. The Best in Show award was presented to Joseph Miglio, a senior B.F.A. student. His collection "Bonnet" utilized muted colors and oversized silhouettes — ranging from wide-leg trousers to voluminous capes. With his ideation process beginning in February of 2022, it took nearly a year and a half to complete. According to Miglio, the collection was inspired by military surplus clothes forged with '90s sportswear. 
"I've had this consistent love of military surplus clothes since I was pretty young, and there are definitely nods throughout the collection to various details from those kinds of garments," Miglio said. "I'm very attracted to the utilitarian nature of those clothes." 
Miglio's diligence paid off when he was presented with two awards at the end of the night. 
"I was very surprised," he said. "It's an honor and I'm so proud of how far my collection came." 
None of this would've been possible without the hard work and dedication of the show's directors, co-producers and coordinators. Senior co-producers Mia Moumdjian and Nora Duchon held significant responsibility for the production of the show. According to Moumdjian, producing the show is a huge time commitment. 
"Besides our class every week, the students dedicate their free time to meeting with designers, organizing the garments and assisting with Muslin and final critique days," Moumdjian said. "My favorite part was seeing how much dedication and hard work is put into the show. Everyone is truly passionate about making it a success to showcase both design and merchandising students' hard work." 
At the end of the night, Moumdjian and Duchon were presented with Fashion Show Management awards. Thanks to the production team, faculty and student award sponsors, the audience was given a special evening to celebrate fashion and 40 years.
Watch the show here: https://www.youtube.com/kentstateschooloffashion
---
Support Student Media
Hi! I'm Catie Pusateri, A Magazine's editor-in-chief. My staff and I are committed to bringing you the most important and entertaining news from the realms of fashion, beauty and culture. We are full-time students and hard-working journalists. While we get support from the student media fee and earned revenue such as advertising, both of those continue to decline. Your generous gift of any amount will help enhance our student experience as we grow into working professionals. Please go here to donate to A Magazine.