Last week, New York Fashion Week wrapped up for the spring/summer 2018 season. Not only were we able to see what the designers created, but we also were able to find inspiration from the street style following the shows. A Magazine picked out the best high fashion trends turned affordable for a student's budget.
So, what did the streets display during and following NYFW? White statement tops and bold pants. The following three looks all use discounts from UNiDAYS, a site that gives college students deals. All items shown below are from websites affiliated with UNiDAYS.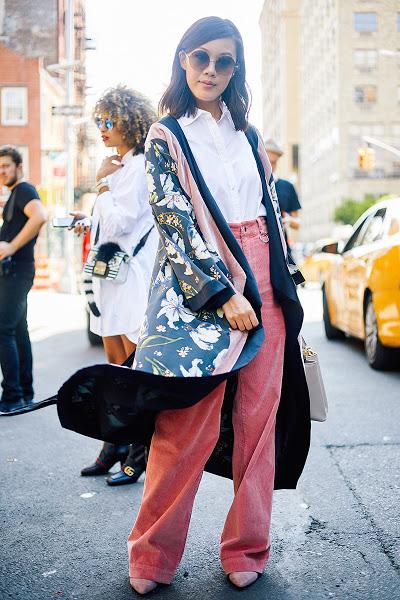 Look One: Starting with a simple button up, a kimono is a perfect transition piece for layering from summer to fall. The patchwork and colorblocking in the kimono and pants were seen throughout fashion week. This entire look is available at Boohoo.
Kimono ($25.20 with UNiDAYS code)
Shirt ($13.50 with UNiDAYS code)
Pants ($19.80 with UNiDAYS code)

Look Two: This look starts with a simple favorite — the white T-shirt. Lace-up jeans are a trendy addition to any plain outfit in a subtle way. Leather jackets and converse have always been a go-to for finishing off looks, and in this case, they work together seamlessly. This entire look is available at Boohoo.
Jacket  ($36.00 with UNiDAYS code)
Shirt ($4.05 with UNiDAYS code)
Pants ($25.20 with UNiDAYS code)

Look Three: For an outfit to throw on for work or an important presentation, you need to embrace the statement sleeve trend. This trend has been around since spring 2017, and there's no sign of it leaving yet. Exaggerated puffy sleeves will make you stand out, even when wearing jeans and flats. There's no need for bold pants with this look; keep the focus on your top. However, bold earrings complete this look off perfectly. Get this look at Boohoo and Kohl's.
Shirt ($13.50 with UNiDAYS code)
Pants ($25.50)
Shoes ($11.50 with UNiDAYS code)