The Kent State REC Center changed its dress code this school year to allow tank tops. The previous dress code banned users of the REC Center from wearing clothing that did not cover their shoulders.
The new dress code also allows shirts that have an armpit gap less than the palm of your hand. Clothing restrictions that are still enforced are shirts that cover the torso, shirts that do not expose skin below the bra line in the back and shorts that do not expose the buttocks.
New signs are dispersed throughout the REC center explaining what to wear and what not to wear. This new change is endorsed by the Department of Recreation Services.
The dress code states that, "these policies are in place to help protect against the transmission of viruses and infections. If dress code is not met, recreational services staff will ask members to change or leave the facility."
This has been a topic of discontent in the Kent State community, as tank tops are a common option for workout clothing.
Some students utilizing the REC center commented on the new change. A few students were unaffected by the change, saying they don't prefer to wear tank tops, but others were positively surprised at the change. Tim Rooney, a junior education science student, was unaware of the change and didn't notice any difference in his gym experience.
Savannah Howard, a freshman zoology student, was aware of the dress code change and says that she usually wears tank tops when working out. She said the change didn't affect her much since she is a freshman and wasn't affected by the old dress code. However, Howard did explain that she prefers to wear tank tops when she works out.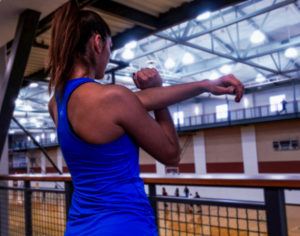 Lyndee Bomback, a sophomore nursing student, prefers the new dress code change and is pleased with the new REC center rules.
"I didn't like it last year because we had to wear T-shirts, which was really inconvenient," Bomback says. "So I'm happy this year we can wear tank tops — that's the big difference I've noticed."
Aiman Alabri, a freshman environmental conservation student, says he prefers to wear tank tops since he is sweating while working out. He also added that he would not be upset if they changed the dress code again; he would just abide by their rules, but he prefers the current change.
The new code allows for less restriction on clothing, and that seems like a win for Kent State students. In the spirit of this revolutionary change, A Magazine decided to show readers some outfits you can now wear to the REC Center. Model Mary Lillash is sporting some REC-approved gym wear.