Kent State Museum Welcomes the Return of Katharine Hepburn Exhibit
Katharine Hepburn's "Dressed for Stage and Screen" exhibit is on display at the Kent State Museum until Sept. 2, and it's a must-see. The exhibit made its first appearance at the Kent State Museum in 2010.
At the museum's opening, students, locals and staff flocked to the exhibit to look at one of the first revolutionary women in Hollywood, Katharine Hepburn.
"I had no idea she had an exhibit here," says Kaela Staples, a senior theatre studies student. "She's so well respected in the acting community."
Some may know Hepburn as one of the most honored actresses in American films. She has been awarded best actress at the Oscars four times and holds the record for most Academy Awards. Staring in empowering roles, Hepburn also had a hand in her films' production, working with costume designers to get the right look.
While her theatre and on-screen costumes were crafted in glamour and femininity, Hepburn's everyday style was revolutionary for its time.
"She wore a lot of beige slacks, which was something women didn't do," says Jean Druesedow, the director of the Kent State Museum of 25 years. "She was the first to start doing it consistently; she was independent and would not give up."
In the exhibit is a piece of Kent's own history. Shannon Rodgers, the Fashion School's founding benefactor, worked on a movie for Katharine Hepburn.
"It was his first job in New York, and it was her first starring role," Druesedow says. "A producer saw the film, and he wanted to make ornaments for the 1932 'Cleopatra,' so he took Shannon to Hollywood."
While Katharine Hepburn had no affiliation with Kent State, the Kent State Museum managed to gain her collection of costumes and clothing. The Fashion School received the collection for free directly from Katharine Hepburn's estate. Hepburn told her executors to give her collection of performance clothes to an educational institution, and they found Kent State.
Druesedow has become a historian of this era in order to prepare for the exhibit. The director had students and staff help her with the content.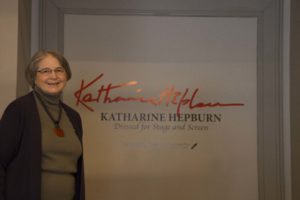 "We had to figure out which pieces went with which production—they weren't labeled," Druesedow says. When the collection came here, there were 4,000 dresses and 1,000 pieces of art. At the time, the collection appraised 5.4 million dollars but because auction value fluctuates you can't put a price on these items."
There are dresses, pants and other costumes featured in the exhibit, as well as some of Katharine Hepburn's theatre makeup. Druesedow says that although she always put on glamorous lashes, Hepburn was widely known for having a natural, subtle look.
The exhibit is not only made up of costumes and props, but also movie posters and pictures captured during Hepburn's theatre days.
"The clothes themselves are not spectacular," Druesedow says. "If you see her in the pictures wearing them and you come to see how big of a statement her wardrobe made, the content is what gives the exhibit life."