As we move towards warmer weather and sunny skies, it's time to start considering how you'll protect your eyes. Many of the fashion trends for this upcoming season are influenced by bright colors, groovy patterns and nostalgic silhouettes.
The eyewear trends do not fall from the tree. Lots of fun shapes and colors are to be seen on faces this sunny season. Designers used sunglasses to accessorize their newest looks, but sunglasses can be more than just an accessory. Keep reading to find out what the newest trends are for eyewear in S/S 21 and what frames best suit your face shape.
Sporty Sunnies
There's no doubt that activewear has taken the fashion world by storm. Leggings and crewnecks were already making their way into everyone's wardrobe, but quarantine pushed this even further. Sporty sunglasses are the perfect way to add some spice to your sweatsuit. This summer, you can expect to see a lot of sleek, performance-ready, shades. One brand that captures this vibe perfectly is Oakley. This American eyewear brand is known for their shades that support a sportier lifestyle. The Oakley Frogskins are a frame that mixes performance with style.
Retro Comeback
Nostalgia is a trend that's been relevant in fashion for several years. Designers bring us to the past when different decades come back into style. This season, it's all about the '70s. Several frame shapes are specifically associated with this trend. Square, rounds and aviators are all styles that became popular in the 20th century. Rayban, one of the most iconic eyewear brands of all time, has the '70s look mastered. The 1971 is a classic square shaped frame. Rayban also has many variations on the rounded look, reminiscent of John Lennon. Yet, there's nothing more iconic than the original Rayban aviator. The aviator was originally marketed by RayBan, but modeled after military pilot sunglasses.
Color Conscious
This sunny season is all about dreamy hues. Pink, orange, blue, green and especially yellow, are all colors you can expect to see this summer. Designers did not shy away from bright colors when setting trends for eyewear. Make a statement and get yourself a pair of some pretty shades. Pantone, one of the most well known color matching system companies, named "Illuminating Yellow" as one of their colors of the year. Fashion brands often follow the Pantone color of the year for their collections. In 2021, designers did not shy away from this sunny, yellow hue. These Prada frames will have you looking on trend. Coach put out some new shades for this season that will have you tickled pink. If cool colors are more your speed check out these blue Fendi frames.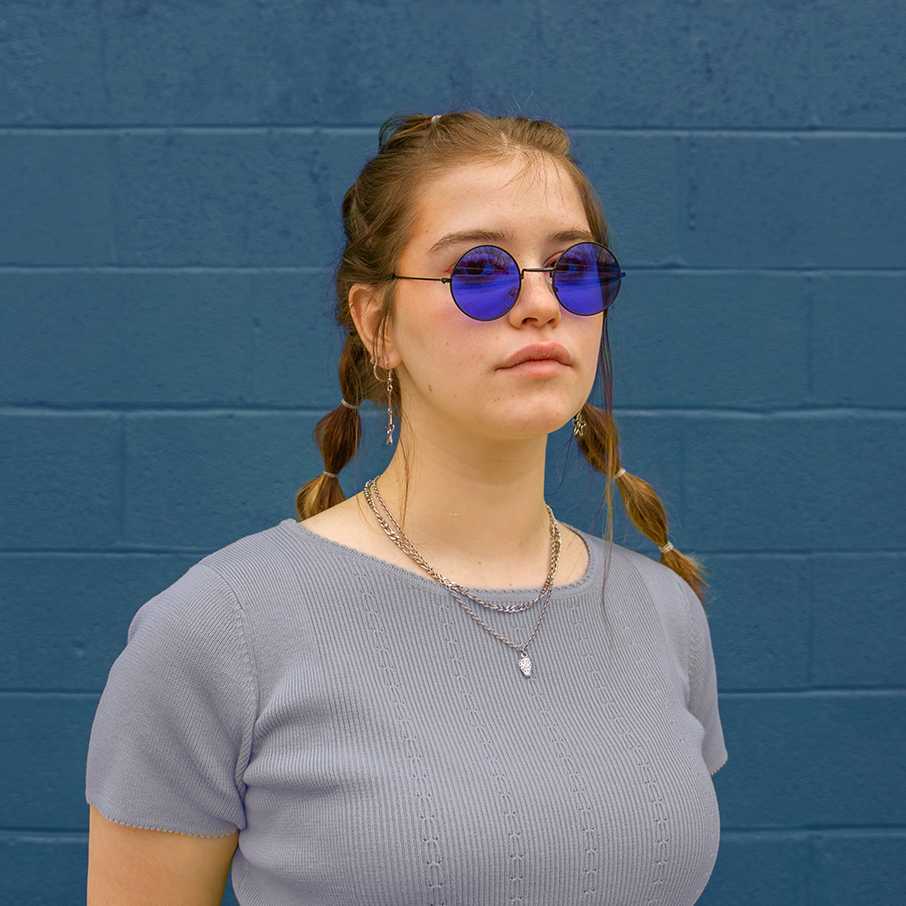 Cat Eye & Rectangle
Two of the most popular shapes for eyewear in 2021 are the cat eye and the rectangle. The cat eye is a feminine shape that originally gained popularity in the 1950s. This dramatic shape is making its way back with a contemporary twist. These Versace frames will have you looking fierce. The rectangle is another wide shape that gives off a chic vibe. Prada released their S/S21 eyewear collection that featured this shape.
What Glasses Do You Look Good In?
The process of figuring out your face shape can be tricky, but there's a couple simple hacks to find out. One of which is to use Snapchat. Take a straight on photo of your face using the back camera on Snapchat. Then use the drawing tool to trace around the shape of your face. This is the easiest way to figure it out. Another trick is to use a dry erase marker on your mirror. Stand in front of the mirror and trace around the edge of your face and then step away to analyze the shape.
Rounded: Since your face has softer angles, and an equally wide cheekbone and jaw, go for a more geometric shape. Try the square or something very angular. This will add edginess to your look and compliment your soft features.
Triangle: If your jawline is pointed and your cheekbones are wider, try a shape with a softer, downward shape. I suggest the aviator or butterfly. This shape will add a softness to your angular bone structure.
Square: The square shape is when your cheekbones and jawline are equally as wide, but with a more angular bone structure. This face shape looks best with rounded, softer frames. Try anything rounded or circular.
Rectangular or Oblong: This face shape can get away with most frame styles. However, I suggest trying something widening like the rectangle or cat eye. This shape will highlight your cheekbones and add width to the eye area. You can pull off any fun sunglasses trends that you want to try.
Heart:
The heart shaped face is similar to the triangle, but with much softer angles. A heart shaped face will have a rounded, but pointed chin, and wide cheekbones with a slightly less wide forehead. This face shape looks best in cat eye glasses, to enhance the cheekbone. To even out the width and softness, a heart shape can also try a more geometric, square frame. A geometric aviator, like the RayBan Caravan.
SUPPORT STUDENT MEDIA
Hi, I'm Maria McGinnis, a senior journalism student from Stow, Ohio. I'm also the editor-in-chief of A Magazine. My staff and I are committed to bringing you the most important and entertaining news from the realms of fashion, beauty, and culture. We are full-time students and hard-working journalists. While we get support from the student media fee and earned revenue such as advertising, both of those continue to decline. Your generous gift of any amount will help enhance our student experience as we grow into working professionals. Please go here to donate to A Magazine.