how our earbuds connect to our clothes
Personal style and taste in music– we all have it, but how do we describe it? Everyone's idea of how they portray themselves is so unique and the music we choose to listen to comes from both a place of deep emotion and general enjoyment. So how do these two identities link? Are there lots of similarities between our physical and mental expression, or do people have vastly different ideas? 
I see a lot of connection between what music I'm listening to and the clothes I choose to express myself with. Overall, I listen to mostly alternative music, with some all time and current favorites being Car Seat Headrest, Mac DeMarco, Field Medic and Playboi Carti. A lot of my clothes are solid colors, meaning everything matches everything. The more melancholy my listening gets, the less effort I put into what I wear and the more upbeat or interesting my music gets, the more I experiment, whether that be more pattern mixing or trying out different combinations of styles. This construct made me wonder how other people connect their listening habits with their style and how similar we all really are.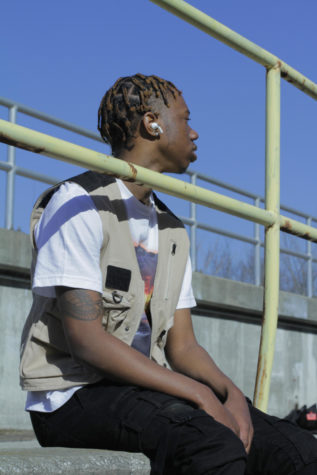 Other people seem to have some similar connections to me. Kent State freshman fashion merchandising major Ariane Robinson also expresses her style in conjunction with her taste in music. She loves wearing statement pieces and takes inspiration from Pinterest. In regards to music, Robinson listens to R&B and neo-soul, with some of her favorite artists being H.E.R. and Fana Hues. She went on to say, "I definitely think that my music taste influences the way I dress for the day. I take a lot of inspiration from my favorite artists on what the latest trends are and I look for ways to incorporate that into my own personal style." Robinson connects her music taste to the way she follows trends, as her favorite artists are some of the people who introduce her to them, giving her the confidence to try new styles.
Aislinn Foran, a sophomore public relations major, describes her style as "comfortable and somewhat trendy" as she takes influence from when Billie Eilish used to wear baggier clothes. Foran's all-time favorite artist is Taylor Swift, and she also loves Clairo, girl in red and the Driver Era. Foran said, "I really like how relatable the lyrics are" in these artists' music. Foran doesn't see the strongest connection between her music taste and style, but doesn't feel like there's nothing there either.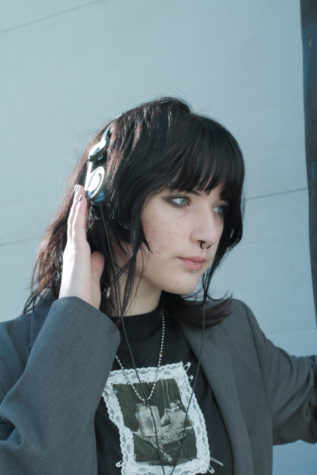 Ian Willmore, a senior fashion merchandising major, sees his style as being rooted in longevity. Willmore said, "I just buy what I know I like and what I know I'll be able to wear and restyle for a long time." His favorite color to wear is black, but also incorporates burnt oranges, animal prints and florals. As far as his taste in music, Willmore goes towards classic rock and bedroom pop, with his favorite artists being Fleetwood Mac and Lana Del Rey. His connection between style and music is primarily linked in his love for the 1970s, whether that be thrifting pieces from the eras of his favorite artists or taking inspiration from what they wear.
Some of us are more confident in the connection between style and music than others. Freshman studio art major Kenzie Borsch listens to a lot of "independent music such as bedroom pop, punk and lofi" and gravitates towards punk culture for style. Borsch knows where her inspiration comes from and how it affects her expression. "Music is the biggest influence in my fashion," Borsch said. "Exploring audios on TikTok allows you to see a group who likes the song and how they dress." Finding inspiration from new places allows Borsch to experiment with new styles, along with finding new artists and people.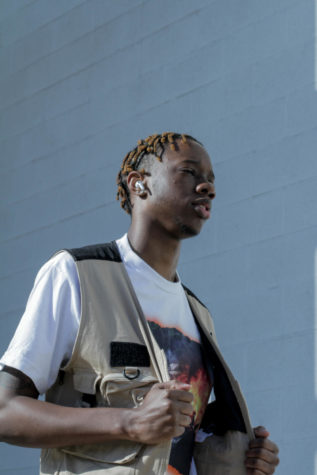 Rachel Ray, a sophomore fashion merchandising major, also sees a connection between her music taste and personal style. "Especially that music is connected to emotions while style can also be connected to emotions," Ray said. Ray continued, "My love for rock n' roll creates my retro side of style and my love for alternative music brings in my grunge look." She is always looking for inspirations from creators such as Clara Perlmutter (@tinyjewishgirl) and Myra Magdalen (@myramagdalen) for new, creative ways to mix up her look. 
 Style and music are reflections of how we feel on the inside, as junior interior design major Kollin Battle emphasizes. Battle said, "There's something haunting about seeing someone wear all black in comparison to the usual color clothing. It makes me feel like a true individual." Wearing dark colors is a method of self expression and it goes hand in hand with his taste in music. Battle listens to a mix of genres, going from classical to alternative to country. His favorite artists include Kanye West and The Weeknd, as they resonate with him personally through their lyrics and storytelling. Battle sees a connection in his music taste and style through messages they convey and the deep emotion involved. Expression of emotions through style and the music we listen to is something that Battle has garnered a deep understanding of.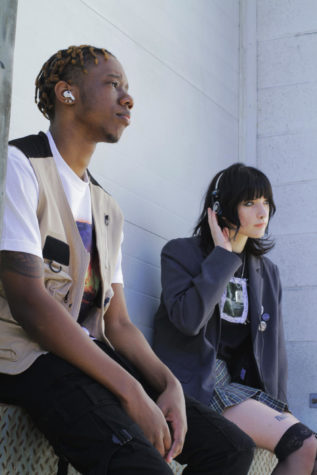 Jenna King, a sophomore psychology major at Ohio University, sees the correlation between her style and music taste as well, but in a different way from many others. King feels emotionally connected to the artists she listens to in the same way she does her style. Dressing comfortably comes from both a place of feeling good about herself and "also because it distracts from the male gaze and draws less unwanted attention." She gravitates towards indie and alternative, with some of her favorite artists being $uicideboy$, Playboi Carti, Alex G and Title Fight. King said, "I listen to them very frequently, so I would say that comfort is a big reason for both the way I dress and my music taste." Overall, dressing comfortably reflects a sense of inner peace for King, as it allows her to express a variety of interests, just like her music taste.
While we all have different styles and tastes in music, it does seem that we all share one thing in common – a connection between them. That connection could be taking direct inspiration from what our favorite artists wear on stage or how they make us feel inside, but there is certainly a correlation between the two. 
Support Student Media
Hi, I'm Grace Avery, the Editor In Chief of A Magazine. My staff and I are committed to bringing you the most important and entertaining news from the realms of fashion, beauty and culture. We are full-time students and hard-working journalists. While we get support from the student media fee and earned revenue such as advertising, both of those continue to decline. Your generous gift of any amount will help enhance our student experience as we grow into working professionals. Please go here to donate to A Magazine.