top 5 fashion places to see in new york city
If you're interested in fashion and find yourself in New York City, here's your guide to the best places to visit and shop. New York City is a must-see for many tourists, but the city can be overwhelming, so here's places to visit from experienced New Yorkers of can't-miss shops and museums.
View this post on Instagram
Location: Fifth Avenue, on the edge of Central Park.
The Metropolitan Museum of Art, also known as the Met, is open to the public every day except on Wednesdays, holidays and the first Monday in May. Every year on the first Monday in May, the Metropolitan Museum holds the star-studded Met Gala. This is a celebrity event that presents a brand-new fashion exhibit and serves as a fundraiser for the museum. This year's theme is "In America: An Anthology of Fashion." This exhibit will be open to the public from May 7 through Sept. 9. Tickets are $25 for adults, $17 for seniors and $12 for students. 
The Met is Lauren Copeland's favorite place to visit in New York City. Copeland is an assistant professor at Kent State University's School of Fashion and teaches fashion fundamentals and other fashion lectures. 
"I would say the Met would be a great place to visit," Copeland said. "It explores American fashion from the 19th century through the mid-late 20th century." 
2. Down Fifth Avenue
View this post on Instagram
Fifth Avenue remains a popular shopping site with many high-end stores. It includes Bergdorf Goodman, Saks, Bulgari, Gucci, Armani and Dior. 
"I know it's a well-known spot, but it's a staple," junior fashion merchandising major Janelle Sessoms said.
"It's a great area to window shop and admire the visual merchandising," Megan Silinsky, a senior fashion merchandising major said. Silinsky has been living in New York City since January and she appreciates the city and fashion now more than ever.
Location: West 25th Street, between Fifth and Sixth Avenues.
The Chelsea Flea opens every Saturday and Sunday from 8 a.m. to 5 p.m., and it is a completely outdoor flea market. It includes about 50 vendors selling jewelry, clothing and many other antique items. 
According to Ann Walter, the director of the New York City studio, the Chelsea Flea is very popular among students. Walter has been living in New York for about 25 years and she enjoys the access the city provides for her, allowing her to know the best places to visit while in the city.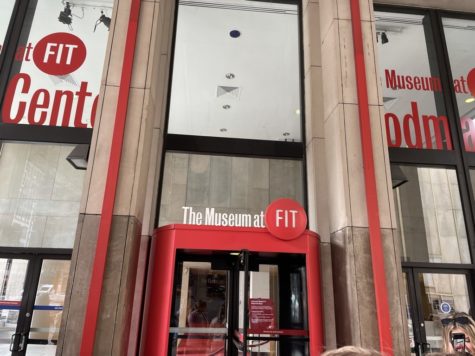 Location: Seventh Avenue and 27 Street
Open until May 15, the FIT Museum's current exhibit is "Head to Toe." This exhibit displays approximately 200 years of women's clothing and accessories from 1800 to the 21st century. Art and fashion go hand in hand and visiting museums such as FIT is a good opportunity for people in the fashion industry. It's open Wednesday through Friday from noon to 8 p.m. and Saturday and Sunday from 10 a.m. to 5 p.m. Admission into this museum is free, so it's a great place to visit in the city while on a budget.  
Location: 160 Lexington Avenue
The Dover Street Market is open 11 a.m. to 6 p.m. Monday through Saturday and noon to 5 p.m. on Sundays. Walter describes it as a "high-end fashion boutique." It showcases emerging and popular brands including Converse, Nike, Balenciaga and Supreme. 
"Dover Street Market has mini collections of a bunch of different high fashion designers, and their displays are amazing," Silinsky said. 
New York City is known as one of the fashion capitals of the world, therefore it attracts many tourists interested in the fashion industry. No matter your budget, or what type of fashion you enjoy, the city is destined to have something for you to enjoy.
Support Student Media
Hi, I'm Grace Avery, the Editor In Chief of A Magazine. My staff and I are committed to bringing you the most important and entertaining news from the realms of fashion, beauty and culture. We are full-time students and hard-working journalists. While we get support from the student media fee and earned revenue such as advertising, both of those continue to decline. Your generous gift of any amount will help enhance our student experience as we grow into working professionals. Please go here to donate to A Magazine.