a guide on socks and sandals
Socks and sandals; some of us love them, some of us hate them, but why so much controversy? As it starts to warm up and we continue transitioning from winter to spring, we will definitely be seeing more people rocking socks and sandals, whether that be the classic Birkenstocks and Nike socks or something a little more edgy, like Doc Martens with neon pink socks (a personal favorite of mine). Because of that, I wanted to write a guide covering all the essentials of socks and sandals to prepare you for the upcoming season, whether you have never experimented with them or are a regular wearer.
So first of all, why socks and sandals? First of all, they're incredibly comfortable. Need to break in your new pair before the summer starts? Wear them with a pair of socks and save yourself the blisters. Second, it's not consistently warm out yet, and committing to sandals is a lot when you know the temperature is going to drop once the sun sets. So why not throw on a pair of socks with them? It's the perfect transition from colder weather to warm.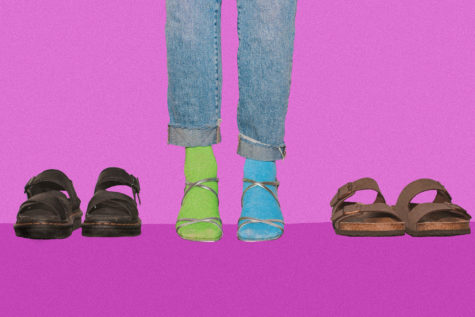 But how do I style that? Well there are lots of ways to go about it, some of which I briefly mentioned already. Personally, I love wearing a pair of big black sandals with neon socks, as it's one of the easiest ways to bring the top half of your outfit down to the bottom. Personally, I have the Doc Marten's Voss II style, which I love because they have the crossed straps rather than straight across gladiator style ones. If you want to dress things up a bit, try wearing a strappier, more formal style, such as these Dolce Vita Noles Heels. Playing with metallics or bright colors in the shoe itself, rather than the socks, could be a fun way to experiment with color combinations, or even a solid black sock to make a silver or gold really pop. Going for a more outdoorsy look? Tevas and Birkenstocks are a classic match with socks, whether you choose something with a fun pattern or just a solid color.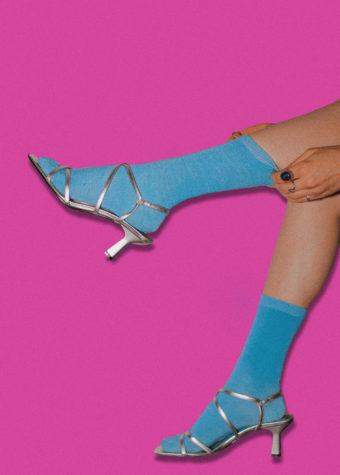 Socks can say a lot within an outfit; they can help tie the top half with the bottom through color or pattern, whether it's the same or a complement. Whether or not they say it, a lot of people notice the socks you choose when they're visible and well-incorporated. Socks and sandals are the perfect way to showcase a new pair of socks, whether they be a bright, solid color or a fun pattern or texture. That being said, you don't need to pull out a fancy pair to make the outfit– just use what you have and embrace that added element.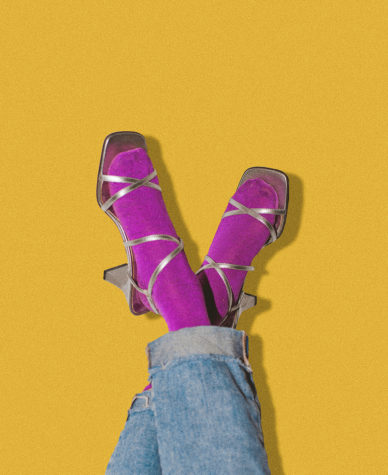 As far as styling with an outfit goes, I always think that jeans will work, whether they are skinny or baggy, blue or black, ripped or not; denim is a classic choice. You could also dress them up with a skirt or a dress, whether you go for a miniskirt (as seen here, by DèPio) or an ankle length dress. I like to think of styling these outfits as doing it in the same way you would without the socks. They aren't changing anything about the shoe itself, so why drastically change what you would wear with it? It's all about adding a little fun or some comfort to an already classic look, and hey, sometimes you can change a previously worn outfit a little bit with the addition of some socks!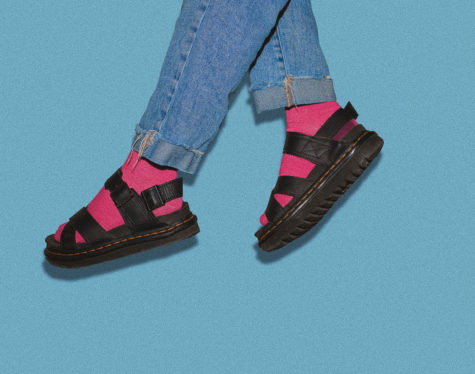 Okay, so when should I wear socks and sandals? Personally, I would say anytime. Going on a hike, hanging out with friends, going out to eat, shopping or getting coffee are all great opportunities to either try out the look, or continue to wear the look. It's all about having the confidence that you look good; if you're rocking it, no one will think it's out of place. Sure, they can be a bit of a hot topic to some people, but if you love it, who cares what some random person has to think or say?
Support Student Media
Hi, I'm Grace Avery, the Editor In Chief of A Magazine. My staff and I are committed to bringing you the most important and entertaining news from the realms of fashion, beauty and culture. We are full-time students and hard-working journalists. While we get support from the student media fee and earned revenue such as advertising, both of those continue to decline. Your generous gift of any amount will help enhance our student experience as we grow into working professionals. Please go here to donate to A Magazine.