fso brings ballet-core to its annual fashion show
Pointe shoes, candlelights and floral arrangements set the scene for the Fashion Student Organization's (FSO) Art of Contrast fashion show on Friday night. FSO's production team executed a ballet-themed show that immersed the audience into a memorable experience.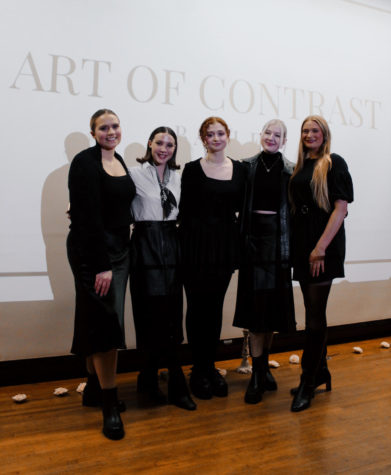 The theme itself was decided among FSO members. "As a board, we will brainstorm and come up with a couple of different themes," FSO president Angelina Savich said. "Then we post an Instagram survey to let our members pick their favorite one."  
Despite not being able to have a show in the organization's usual setting of Rockwell Hall auditorium, the show went on in a lecture hall in Bowman Hall. "With Rockwell being under construction it was a struggle for us to find a place to have our show," Savich said. "Luckily we were able to roll with the challenge and make Bowman just as special as Rockwell." 
William Perrine, FSO's faculty advisor, continues to put his heart into FSO as he always does within the School of Fashion. "My favorite part was the energy and excitement leading up to showtime. It's also fun to meet friends and families that attend the show," Perrine said. 
From feathers and lace to silk and grace, all 30 designers along with their models delivered their own ballet-inspired silhouettes. Many looks featured leg warmers over heels, tutus and ribbons. 
"There was definitely room for the looks to all look the same with the ballet theme, but I was so happy to see how different each look was from the next. We have such talented members," FSO Vice President Kate Crake said. 
Crake created a playlist for the show in which she included quartet versions of "Running Up That Hill" by Kate Bush and "Paparazzi" by Lady Gaga. She stated that she was worried about how the music would turn out, but the instrumentals added to the ballet theme. "It was so fulfilling to see everyone walk to it," Crake said.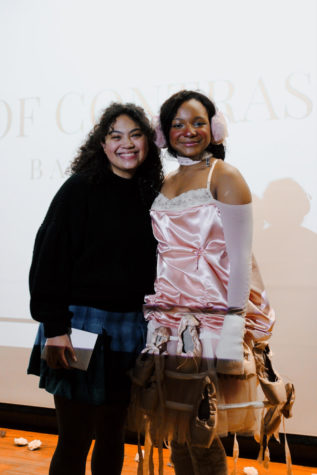 To end the evening, a panel of judges decided on the best look of the show. Said judges included fashion professor Kat Novak, assistant professor for the School of Fashion Michelle Burton and a guest FSO member. Sophia Fleming, a sophomore fashion design student, was awarded best in show alongside her model, Camille McPherson. 
With an upbringing in ballet, Fleming brought what she knew into her design but added a twist. Fleming said her message behind her design was to convey the hapless truth when it comes to eating disorders in ballet. Using items she originally used when in ballet, her look featured a pink measuring tape necklace to reference sizing in the ballet realm. She said she decided to merge this idea with the current "cold makeup" trend. This includes cool-toned blush with a diffused red lip to give a "cold" appearance. To further lean into the trend, she included fingerless gloves, earmuffs and leg warmers.
"Overall I really wanted to push myself creatively; my look is supposed to be more camp and theatrical because ballet core can be elitist and superficial," Fleming said. 
"We felt that it pushed the envelope regarding silhouette and materials," Novak said. "It utilized ballet shoes as decorative elements giving a hint of movement with the ribbon hanging down. The hoop skirt emulated the elements of tulle fabric that is associated with traditional ballet material and is transparent but in an expanded format. The entire ensemble was well thought out from the arm warmers, earmuffs, to the models walk. It felt like it could transform to fit any occasion by adding or omitting accessories."
The intricately designed or styled ensembles perfectly brought to life a ballet fantasy. From beginning to end, the high quality show was able to transport its audience to a night at the ballet—and it was night that will never be forgotten.  
---
Support Student Media
Hi! I'm Catie Pusateri, A Magazine's editor-in-chief. My staff and I are committed to bringing you the most important and entertaining news from the realms of fashion, beauty and culture. We are full-time students and hard-working journalists. While we get support from the student media fee and earned revenue such as advertising, both of those continue to decline. Your generous gift of any amount will help enhance our student experience as we grow into working professionals. Please go here to donate to A Magazine.