modista's 'machina' fashion show channels retrofuturism
Modista Fashion Group's annual fashion show was based on the theme Machina: The Emergence of Fashion & Tech. The theme references the idea of retrofuturism, a creative design movement based on the past's ideas of what the future would look like. The central vision was inspired by the 1960s and the space race, and predictions on what technology might look like in the near future as it was quickly-expanding. For Modista's designers and stylists, the focus was on how themes of technology and physical clothing merge, dreaming of a world where technology could rule.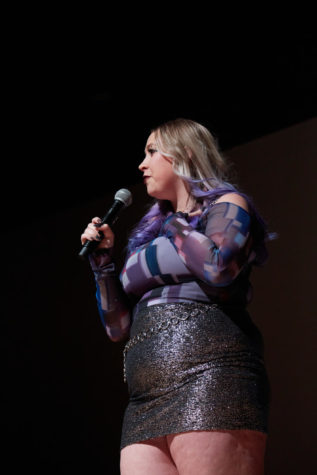 "We wanted a theme that was completely different from last year's fashion show, Heaven & Hell," Modista President Maddie Snavely said. "The first thought for a theme was intergalactic or retro, but we wanted to add a unique spin so the looks could be more cohesive but still up for interpretation." 
Snavely said that the themes chosen must be straightforward enough so that there is unity within the designers' visions, but would still allow them enough space to be creative and display work they feel inspired by. 
Snavely explains that Modista chose the name Machina to reference its Greek meaning of machine or tool. This, combined with the narrative "The Emergence of Fashion & Tech", is what became the theme for the show.
"This year's show compared to previous years became a lot larger in scale and truly highlighted the talents of our designers, stylists, models, board members and committee members," Snavely said.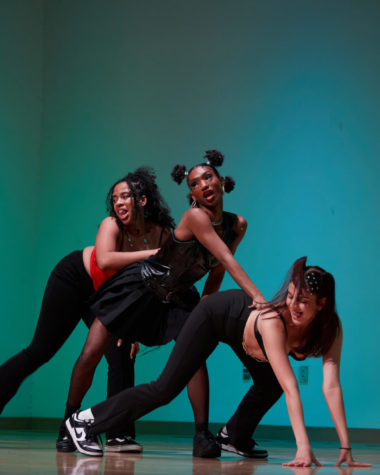 The show opened with an explosive performance from Kent State's Legacy Dance Team. Dancers wore coordinating black outfits, and some dancers incorporated red accents. They danced to a mash-up of pop, house and hip-hop songs, and were very well received by the crowd, receiving numerous rounds of applause throughout their performance. Once the crowd was warmed up, the spotlights came on and models hit the stage.
Junior fashion design major Sarah Ensminger began the creative process with lots of inspiration in mind. "For me personally, retro-futuristic designs can go in so many directions. It was actually really hard to settle on what I was going to do," Ensminger said. "I came down to the decision to do designs inspired by '90s streetwear." Her designs featured bright clashes of orange vinyl and green fabrics, and a handbag designed with a QR code printed on it. 
One collection that wowed the crowd was Star Girl by freshman fashion design major Emileigh Paulus. The collection of four was inspired by '60s eye candy colors and incorporated a star motif into each look. The collection also featured a metallic dress with a skirt that opens like an umbrella.
"I knew I wanted to add that machine twist to it," Paulus said. "I also thought that would be an interesting silhouette and add something fun to the collection." 
Freshman fashion design major Isaac Szejbach drew inspiration from a biological and technological perspective. Szejbach's designs were sculptural, with one top made out of manipulated wires, mimicking organic motifs like a ribcage, wings and the ovule of a flower. His other look was created with a spray-painted plastic spine, made to look like a metallic tail. 
"Both of my pieces drew inspiration from nature and how nature and technology interconnect both physically and aesthetically," Szejbach said. 
Szejbach also noted that even though he just learned to sew while involved with the show, he is proud of the work he did and thanks Modista for supporting him throughout the process. 
Modista Vice President Kollin Battle praised all involved in the show, as it took weeks of planning to come to fruition.  
"Working with such a talented and diverse group of people helped make the vision a reality," Battle said. "My executive board, the designers and stylists were like a well-oiled machine that created the Machina show." 
The show was capped off with a special visit from the co-founder of Modista, Kori C. Fields. She reiterated the initial goal of creating a space for those underrepresented in the fashion community and expressed her pride in Modista for becoming such an established and well-organized group. She encouraged designers to continue creating wonderful things and conveyed the importance of community and support.
"We can't deny that our world today is being even more so integrated with technology and our fashion as well," Battle said. 
---
Support Student Media
Hi! I'm Catie Pusateri, A Magazine's editor-in-chief. My staff and I are committed to bringing you the most important and entertaining news from the realms of fashion, beauty and culture. We are full-time students and hard-working journalists. While we get support from the student media fee and earned revenue such as advertising, both of those continue to decline. Your generous gift of any amount will help enhance our student experience as we grow into working professionals. Please go here to donate to A Magazine.