my journey to embracing my wavy hair
For as long as I can remember, I hated my natural hair. Any time I let it air dry, it would look frizzy and have the worst stringy texture. I normally style my hair by blowing it dry or curling it from its air-dried state, meaning I use a good amount of heat on my hair. I typically try to avoid my natural hair as much as possible. 
However, this all changed when my best friend, Emma, tried her curly hair routine on my hair. Once she did, I was in shock, as my hair was pretty for once. I felt like a new person. From that moment on, I decided it was time to embrace my natural hair and find a routine that would work for me. I always knew I had wavy hair, but I struggled to style it. I loved Emma's hair routine, but I decided I should try other methods and explore my options. 
Routine 1 
Products: 
BB Hairdresser's Invisible Oil Primer 
TRESemmé Flawless Curls Moisturizing Hair Mousse 
Ultra-Glued Invincible Styling Gel 
InfinitiPro by Conair Lightweight Rose Gold 1875 Watt Hair Dryer
The Process 
I started off the week by doing a simple hair routine with products that I already owned. After I got out of the shower, I wet my hair again, as I knew the hair needed to stay wet in order for the waves to form. Next, I evenly distributed the oil primer and brushed it through to make sure it was incorporated into my hair. I then sectioned my hair into two even layers. I applied the mousse to the bottom layer and brushed it through. 
Next, I brushed medium-sized sections with the Denman Brush in a downward motion. I placed the brush underneath the hair strand to create tension. This brush was specifically designed to define naturally curly hair, but it can be used on wavy hair too. After each piece was brushed through, I scrunched it upward to define the wave. This method is not the traditional way of using a Denman Brush, as most people twirl the hair around the brush handle to form curls, in a method known as "brush-curling."
Once all the strands were brushed and scrunched, I scrunched again with the gel. I then repeated these steps for the top section. The last step was diffusing my hair. A hair diffuser is an attachment that goes on the end of the hair dryer nozzle and it is specifically designed to dry wavy and curly hair. I diffused for about 10 minutes and then let my hair air dry the rest of the way.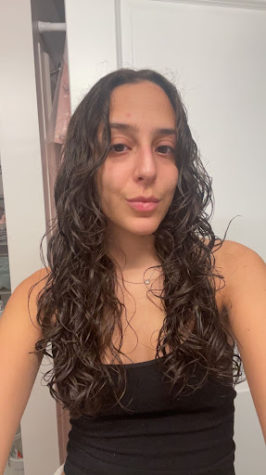 My Thoughts
This routine was pretty low effort and only took me about 30 minutes. My only complaint was that my hair was a little crunchy from the gel, but I think a good hair oil would have fixed that. I had one on the way, so I wish I could have used it to finish up this routine. As for the waves themselves, they had a lot of volume and definition on the bottom half of my hair, but the top was flat. I have never seen my waves this defined before, so I was satisfied with this routine. 
Rating: 7/10
Rewind & Refresh
If there is one thing that I have learned from this journey so far, it is that refresh days are the worst. Nothing compares to freshly washed and styled waves and I definitely do not have the time or energy to wash my hair every day. I slept with my hair in a loose bun, but somehow my waves were flattened and misshapen from sleep. As a result, it was time to renew the waves and save my hair from looking like a rat's nest. 
I started by spraying my hair until it was damp and then I scrunched in some more mousse. At this point, I was waiting for my new products to arrive, so I was working with what I had on hand. I decided to brush style select pieces, such as the front sections of my hair and a few strands from the top layer. Before using the Denman brush, I coated each strand with mousse and gel. There was no denying that I had accidentally created a few curls. I was shocked. I never knew my hair was capable of achieving such bouncy ringlets, and I seriously feel like I had been granted a new identity. The hair that I once despised was transformed into something that made me feel confident and renewed, and all it took was proper styling techniques.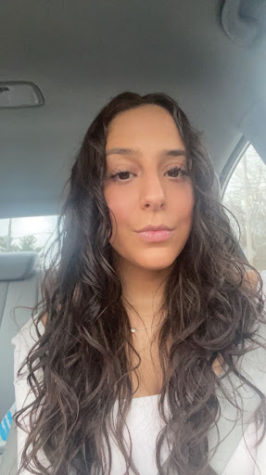 Routine #2
: 
Products:
Rhyme and Reason Wave Revival Shampoo 
Rhyme and Reason Wave Revival Conditioner
Rhyme and Reason Wave Revival Gel Serum 
Ecoco Style Professional Olive Styling Gel 
InfinitiPro by Conair Lightweight Rose Gold 1875 Watt Hair Dryer
I browsed the Target website for some new products, and I came across the Rhyme and Reason brand. It has a line specifically for waves, which intrigued me because most products are for curls. The reviews raved about how the line unleashed a new texture in many people's hair. The best part about these products was that they were only $8.99 each. I also decided to purchase a leave-in conditioner and hair oil to reduce frizz and add extra moisture. I landed on the brand Odele because it was moderately priced and top-rated. I decided to buy a new gel, as my previous one was a bit too strong. 
I started this routine at the source with a new shampoo and conditioner. I could already tell that my hair was starting to form a wave pattern in the shower with this new shampoo, which I had never seen before with my previous shampoo. 
After getting out of the shower, I evenly distributed some leave-in conditioner and brushed it through. I then sectioned my hair into top and bottom sections, so I could evenly coat my hair with the gel serum. 
My plan was to coat each piece with the gel serum and brush style each piece since I had been successful with brush curls in the days prior. However, this product was not strong enough to hold brush curls on my hair. Instead, I just scrunched the gel serum into my hair. I felt like my hair needed some extra hold, so I scrunched in some regular gel and the end result was a soft wave texture that I had never seen my hair do. I diffused my hair to set the waves and did so until my hair was mostly dry. Once my hair had dried completely, I added some hair oil, which helped to eliminate the crunchiness from the gel.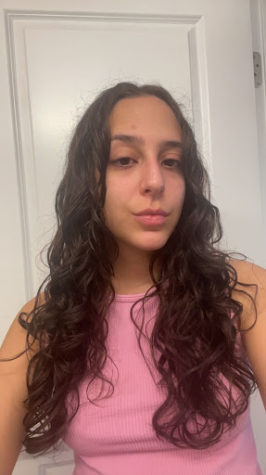 My Thoughts 
The end result was a soft bouncy wave. It almost looked like I had heat-styled my hair with a regular curling iron. I was shocked at how my natural texture could look so similar to the result of a curling iron. Why have I spent years perfecting the curling iron when my hair could achieve a similar look naturally? This routine was slightly more effort than the first one, and I would definitely continue this method. 
Rating: 8/10 
Rewind and Refresh…Again 
I was determined to brush-curl my hair. I had been successful in my first refresh, so why not try it again? I rewet my hair and applied the gel serum and a regular gel this time. 
I started the process and to my surprise, it worked. I brush-curled my whole head in large sections, which surprisingly did not take that long. I diffused and added hair oil, and the result was beautiful. My hair was a combination of wavy and curly, which leads me to believe that my hair is somewhere in between the two.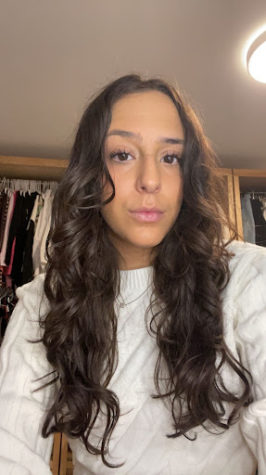 Routine 3:
Products 
Rhyme and Reason Wave Revival Shampoo 
Rhyme and Reason Wave Revival Conditioner
Rhyme and Reason Wave Revival Gel Serum 
TRESemmé Flawless Curls Moisturizing Hair Mousse 
Ecoco Style Professional Olive Styling Gel 
InfinitiPro by Conair Lightweight Rose Gold 1875 Watt Hair Dryer
This routine uses most of the same products as the prior routine, but it was the method of creating the waves that was different. I started in the shower by scrunching in my conditioner to define my wave pattern early. To rinse out the conditioner, I just scrunched in some water and kept scrunching until it felt like there was no conditioner left in my hair. 
My first mistake happened here: I should have rewet my hair because my hair had accumulated some frizz. However, I thought that it would go away when I scrunched in more products. 
The first step to this routine was plopping. Plopping is a method of defining curls or waves that involves flipping the head upside down and "plopping" the hair down onto a cotton T-shirt or microfiber towel. This method helps to reduce frizz and is better than using a regular towel, as it helps to reduce friction on the hair. You then wrap the towel around the head and let it dry. The hair gets placed into a scrunched position and it sits on top of the head to define the wave or curl pattern. 
I let my "plop" dry for 20 minutes and then I continued with the rest of my routine. I immediately noticed how defined my waves were, and they had the most volume and bounce out of all the methods I had tried. I then scrunched some more with the gel serum, mousse and regular gel. 
When I try this method next time, I will most likely leave out the mousse, as I think it created more frizz by scrunching too much. I was able to remedy the frizz with the hair oil at the end, but over-scrunching can lead to frizz. 
I diffused for a very long time, as I needed my hair to be completely dry before I went to bed or else I would risk messing up the waves. 
My Thoughts
This routine provided the most volume, and I will definitely be "plopping" my hair more often. This method created bouncy waves and had the most volume starting at the root. Compared to the other methods, it looks the most natural and beachy. 
Rating: 9/10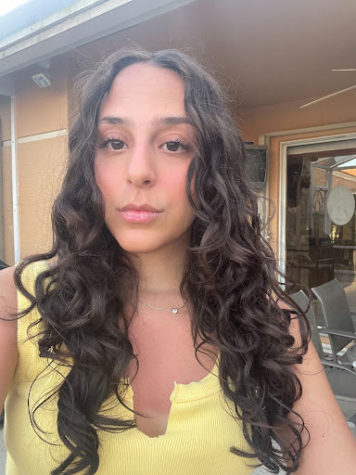 The Rundown
I do not think I have a favorite routine, as each created very different waves. It will just come down to how much effort I feel like putting into my hair and what kind of waves I am in the mood to create. 
I have finally embraced my natural hair and I am so glad to have learned how to style it. Yes, my natural hair without styling is monstrous, but with the right products and techniques, it can be managed. Although I have not found my holy grail 10/10 hair routine, I will keep experimenting until I do. I am at the beginning of this journey, so with practice and experimentation, I am sure I will find what works best for my hair. In the meantime, I feel renewed from this process and I feel like an authentic version of myself. My hair is supposed to look like this and I love it. 
Most importantly, natural hair is the most authentic version of you. It is a true version of beauty without any additions. It is truly original. I encourage you to embrace your natural hair by finding the right products to define your natural texture. I feel like a new person knowing what my hair is capable of and I am so glad I decided to find out.
---
Support Student Media
Hi! I'm Catie Pusateri, A Magazine's editor-in-chief. My staff and I are committed to bringing you the most important and entertaining news from the realms of fashion, beauty and culture. We are full-time students and hard-working journalists. While we get support from the student media fee and earned revenue such as advertising, both of those continue to decline. Your generous gift of any amount will help enhance our student experience as we grow into working professionals. Please go here to donate to A Magazine.