Erika Lipps: Rise to Instagram Fame
Most college students and young twenty-somethings have at least one social media account. Whether it be Facebook, Twitter, Instagram or Snapchat, you can surely find someone utilizin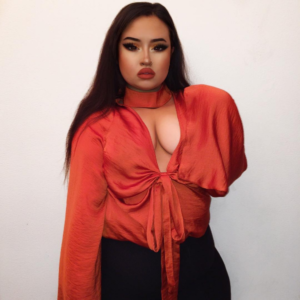 g these platforms to showcase themselves with their followers. It can be snippets, snapshots, stories or even trials and tribulations that one deals with daily. With today's generation, some users can even gain recognition and fame from their posts by the way they brand and market themselves to the cyber world.  
Erika Lipps, a Kent State alumna who studied communication studies, has recently found herself as an A-list Instagram user. Lipps, (Instagram username @ErikaLipps), has over 121 thousand Instagram followers and continues to gain hundreds and thousands of followers daily.
Before her come up on social media, Lipps has always been interested in the idea of online branding and how social media can give someone the opportunity to reach large scale audiences. During a speech she gave at Kent State in a high impact speaking class, Lipps shared that she was discovered online through her fashion posts once by Teen Vogue. They posted her style on its website, and that made Lipps want to continue to brand herself more on the web.
"I gave up fashion blogging for five years when I came to Kent State," Lipps said. "However, with my internship this past summer, it sparked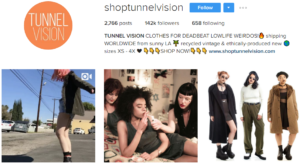 a fire in me and made me want to start blogging again."
Lipps was lucky enough to be awarded an internship with clothing company Tunnel Vision in Los Angeles this past summer, where she modeled its clothing. The exposure she received from its Instagram account helped her gain followers instantly. Even though her following is larger than ever before, she always had visions of herself fulfilling these dreams and aspirations.
"I have always been passionate about storytelling and visual journalism, so starting an Instagram dedicated to my personal narrative and fashion blogging went hand in hand together," Lipps said.
Whether you want to call her a model, advocate or public figure, Miss Lipps is breaking the mold of what your average Instagram fame individual fits. Her account has caught the eye of thousands of users, and it continues to grow. Her posts are artistic and beautiful, yet sincere and candid. She shares everything from what makeup brands she uses and clothing she is rocking to the issues she faces within herself, beliefs and struggles.
"I talk about this a lot on my Instagram, but I feel like I always need to remind people that you can't believe everything you see online," Lipps said. "We need to push women to stop comparing ourselves to other girls, especially Instagram girls or models. Self-love takes time. I am not there yet, but I hope to be one day, and I hope that other people can relate to my journey through my Instagram page."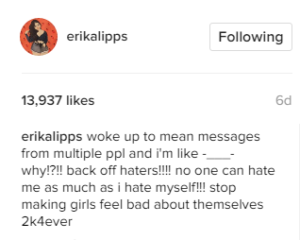 Admitting to dealing with confidence issues and self-love herself, she advocates to her followers the misconception that Instagram has forecasted over her: confidence.
"I knew that I wanted to utilize this platform to reach out and help young girls who are in similar situations as me," Lipps said. "I wanted to share my story with my followers because I know how important representation is for young women. I wanted to show girls that you do not need to fit into mainstream beauty standards to be worthy or beautiful."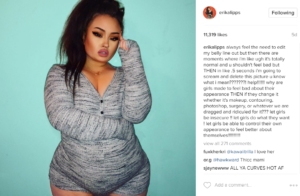 Rising to stardom online can come with rewards like recognition, fame, fans and even business opportunities. Lipps' Instagram feed is flooded with many #friendartfriday posts, where hundreds of other artists recreate Lipps in their version and she posts them on her page. She has also had significant business ventures with other fashion brands wanting to work and collaborate with her, like Fashion Nova and Deb Shops. She recently just announced that she will also be collaborating with the Missguided plus size range as well. 
With all this fame and recognition, there also comes a dark-side: the haters. Lipps admits that this is the hardest part of gaining a following online.
"I am incredibly sensitive to the negative things people say about me and the only way to deal with it is to try to ignore it – as well as delete and block everyone who says anything mean to me ever," Lipps said. "I think a lot of people don't realize how overwhelming the hate can be. There are thousands of haters and only one of me, so I do find it very difficult to deal with."
Lipps also mentioned how emotional, blessed and privileged she feels to be working and modeling with companies while being 5'0 and plus size.
"Throughout my life, I have always struggled with identity issues regarding body image. I think a lot of this has to do with a lack of representation of plus size women in mainstream media. Thankfully, through social media, we can see so much more diversity and representation because Instagram is such an accessible platform for everyone to use."
Lipps continues to break the stereotypes and shake the haters off by focusing her energy on people who support and love her. Her future is bright, and she won't let any mischief's stop her from conquering her goals.
Show the gorgeous fashionista some love on her instagram, @erikalipps. Also, be on the lookout for deals and discounts she shares for beauty and clothing companies.
** ALL PICTURES PULLED FROM ERIKA'S INSTAGRAM**