Wear whatever you want with zero fear. Often times people in our lives love to dictate what certain body types can and cannot wear. It's time to think for ourselves, debunk style rumors and break style barriers. These are a few of A Mag's styling tips on how to ditch the myths of body stereotypes.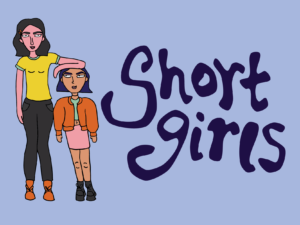 Short girls
"Short girls can't wear knee high boots."
False.
With the right proportions on top, this look can be done very well. Aim for a simple silhouette that will draw attention to the boots instead over overpowering them.
"Short girls can't wear long skirts."
Whether you're trying to master the maxi or the midi, both can be done.
When picking out a longer skirt, try heading over to the petite section to find the perfect length; also consider getting it tailored for the perfect fit. So much of pulling this look off is your shoe of choice. Try pairing it with a cute pair of heels or a shoe that gives you extra height.
"Short girls can't wear boyfriend jeans."
Myth.
A lot of baggy styles can make a small frame appear smaller. This all comes down to finding the correct style. Try to find a slimmer fit of boyfriend jeans, especially a pair that gradually gets slimmer at the ankle. Pair your boyfriend jeans with a winning pair of strappy heels to elongate your legs even more.
Curvy girls
"Curvy girls shouldn't wear crop tops."
Yeah right.
If someone ever told you not to wear a crop top, ignore them; you don't need that kind of negativity in your life. Try pairing your crop top with a trendy pair of highwaisted trousers and adding contrast with a duster coat or bomber jacket.
"Curvy girls should avoid anything body hugging."
False.
These styles look amazing on a curvy figures because they accentuate all the right areas. If you do have problem areas, opt for a body hugging outfit with a thicker fabric. This will smooth everything out while still showing off your best assets.
"Curvy girls should never wear loud prints."
Incorrect.
It all just a matter of proportions. Size doesn't matter in this case (yay!). Just be sure to stray away from overly mixing different patterns at the same time.
Tall girls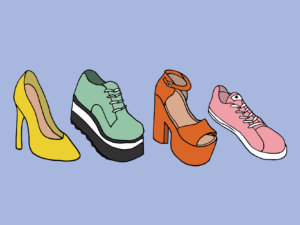 "Tall girls can't wear heels."
Super false.
Tall girls look amazing in heels. Don't worry about how you look in heels because "being too tall" isn't a thing. Strut like you mean it while showcasing your killer legs.

"Tall girls aren't feminine."
Not true.
What makes a woman feminine is certainly not her height. Your height makes you unique, and statements like this are downright false. If you have a girly style, rock it, no matter what your height is.                
"Tall girls can't find jeans."
Wrong.
This problem is a definite issue. Luckily, it just takes some trial and error, but many girlies find luck at stores like Zara and Express that carry jeans with long inseams.
No matter the size, the most important thing a girl can wear is her confidence; that's where your true power stems from. Whatever trend you decide to rock, make sure you're comfortable. Go ahead and break the barriers of the style norms and embrace your true slay.