In slip-on Adidas that were once white but now scuffed and torn, Mark Fleming stops skating for a brief moment to make small talk with other skateboarders at the Lakewood Park where he comes once a week. From his shoes to his dirtied, loose-fitting pants and thrifted hat, someone passing him on the street could say he looks like any other skateboarder.
However, the stereotypical image of a skateboarder we grew up knowing is no longer defined, as the sport has opened up to more people than originally imagined. Mainstream fashion, the internet and technological advancements are part of reshaping who is societally allowed into the counterculture.
Fleming is a 21-year-old film student at Cleveland State University who recalls a time in his youth before he picked up a skateboard in real life. Fleming grew up playing video games like Tony Hawk, which was what he calls his "first avenue into the world of skateboarding." That lead him to start skateboarding around the age of 15.
"It's about having fun and skating just for yourself," Fleming says. "It's a sport, I won't say it's not, but I consider it more of just a personal thing. Like an art."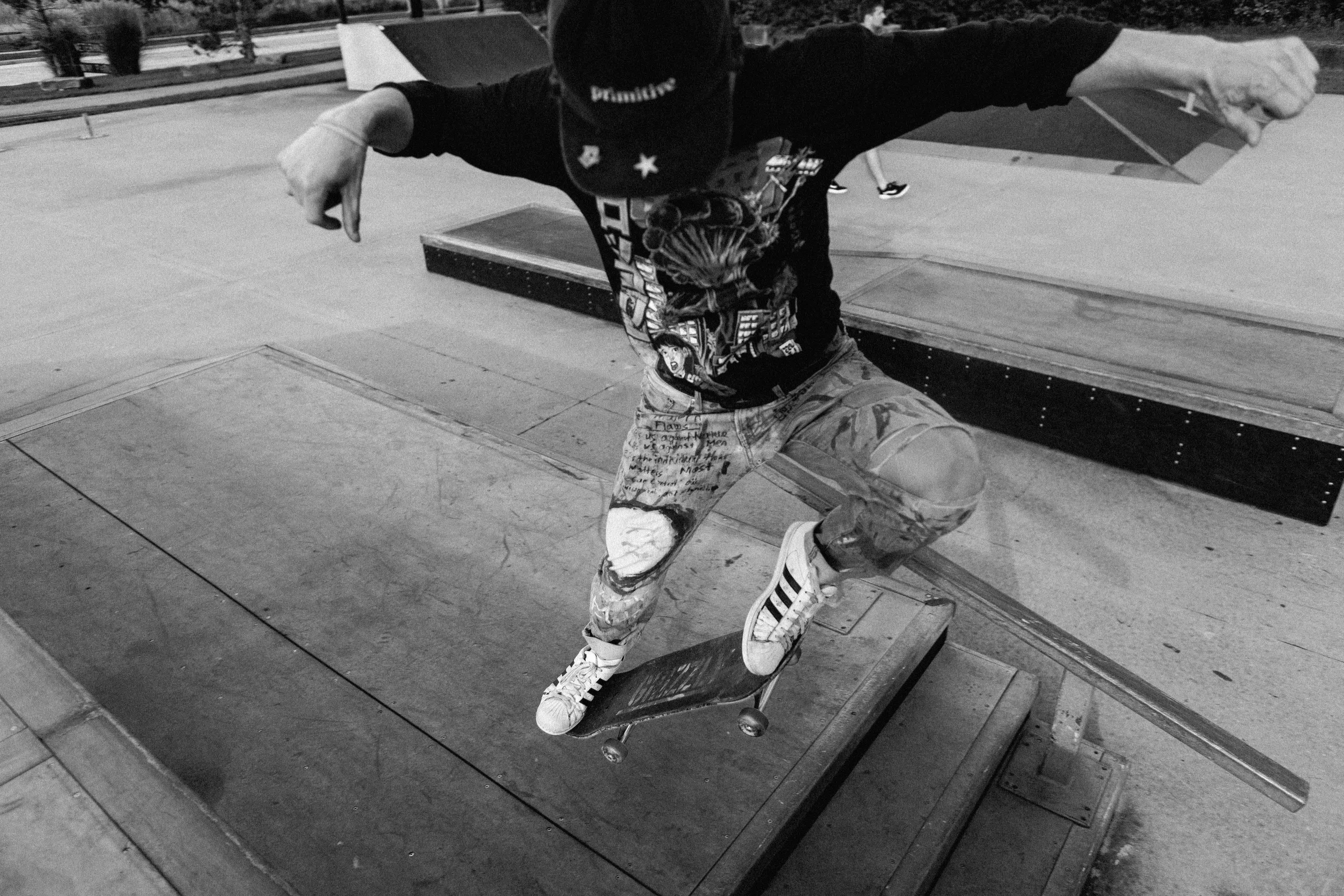 The art of skateboarding reaches all the way back to the '50s, but didn't form a distinct image and culture that stuck until the mid '90s. That's when Tony Hawk prospered in the X Games and the stereotype of baggy pants, long hair and destructive behavior was born.
During that same decade, the first Supreme shop opened in Manhattan with only a handful of T-shirt options and the same open-minded ideology of the skate world. Today it is a high-fashion phenomenon. In recent years, prominent cities like Tokyo and Paris have opened Supreme stores, and opened the general public up to its image. That also goes for Thrasher, which grew known as a skateboarding magazine in the '80s and now has dozens of T-shirts and hoodies at Zumiez, a skate and snow driven retailer for young men and women. 
Fleming would never purchase a Supreme or Thrasher item being sold today. He prefers to shop at small skate shops, which honors where skateboarding all started before it became a huge industry. His favorite is West Side Skates in Lakewood because of the connection he has with the employees. 
"I'd like to think that a skateboarder isn't someone that's wearing really expensive clothes all the time and doing it just sort of as a fashion statement," Fleming says. "I would prefer to see people doing it 'cause they love to skate, and that'll never go away."
Quinn McCandless is a sophomore at Kent State University who started skating on and off when she was 7 years old on the flat-paved roads of Ottawa, Illinois. Sitting on her couch in loose overalls and an oversized T-shirt, she explains the lifestyle of dressing for comfort. "I think this might be men's, I don't even know," McCandless says as she looks down and grips onto her plain navy shirt. "If you're in skinny jeans skating you probably wouldn't be able to move. The baggier the better."
The only brands that really matter for Fleming and McCandless are shoe lines for function. Brands like Vans, Converse, Adidas, and Nike all provide flat-bottomed shoes that make controlling a board easier. 
Kent State sophomore Dylan Krone skates with McCandless and two others friends at least once a week on campus. He emphasizes that the skateboarding "image" truly comes from its laid-back culture and mindlessly throwing on clothes for the day. "I've been free livin' since '99," Krone says. "Skateboarding has always just been linked with free living, not 'get a haircut' living. Do what you want."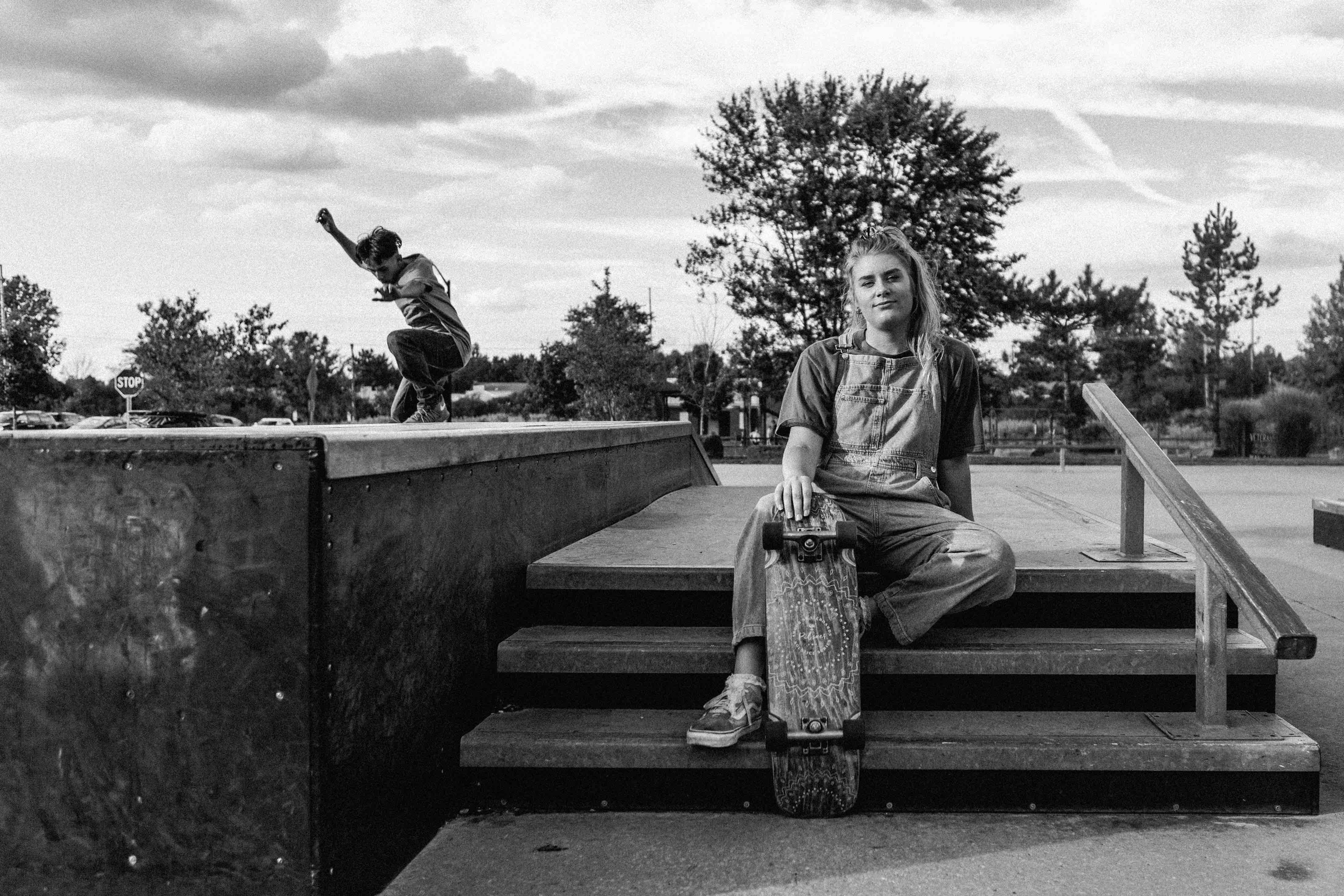 While Krone is open-minded, he knows other skateboarders who have a judgemental mindset towards anyone walking around in mainstream skating brands. "If you take a group of straight-edge punk rock guys and you introduce them to a group of people who aren't straight-edge, they probably won't want to hang out with each other, even if they're into the same exact thing," Krone says. He says that as skateboarding culture pushes forward in time, all skateboarders should support each other around the act of skating. 
Although skateboarding culture is fairly, organically diverse at Kent State due to the acceptive nature present on campus, Fleming noticed an even more diverse community when he transferred from Kent to CSU this year. He didn't know many female skaters at Kent, but those were some of his first friends in Cleveland. "It's a male dominated sport and I don't know why," Fleming says. "There's no reason it should be a gendered activity at all."
Today, platforms like Instagram and Youtube act as a gateway into the skateboarding world for more people, including females. McCandless recently noticed people she went to high school with getting into skateboarding on social media. She says she thinks part of their inspiration is from their exposure to videos online, including a film called "The Skate Kitchen," which features a group of female skateboarders and their lifestyle in New York City. 
McCandless also observed the penny board trend take off when trendy stores like Urban Outfitters started selling them and when Youtuber's advertised them. She says she thinks Youtube makeup gurus, like Eva Gutowski and Alisha Marie, sharing that they own a penny board has influenced more people to buy them.
McCandless and her friends don't mind the subculture of longboards and penny boards. But on the other hand, Fleming finds a cultural difference between skateboarders and someone just trying to "get around." He always approaches someone he sees by on a skateboard to talk about whatever skate parts just came out. He can't do that with someone on a longboard. "It's a completely different world." he says.
Skate culture is more prone to opening up to so many people because of how receptive new generations are to hobbies, without caring about a reputation or image associated with it. Krone brings up hip hop artists like Tyler the Creator and Lil Wayne normalizing skateboarding for groups of people who may have never felt they fit into that lifestyle before. "Were moving towards a unanimous culture or something, and culture is kind of toxic because it has a lot of identity in it," Krone says. 
With a change in culture can come a loss of identity. There is no doubt skateboarders have carried a specific identity throughout the decades, whether they meant to follow it or not. Fleming says he sees skateboarding possibly heading towards a more monetized and commercial state.
"As something grows, it's definitely going to lose some of the original core values that it was created upon. But, there'll always be people skating for the right reasons," Fleming says. He predicts there will be a divide created between those who do it for the action and those who do it for the image. 
Innovations in skate parts and technology will most likely contribute to a cultural divide. A variety of electric skateboards have made it easier to go up hill and get from one destination to the next faster and with less effort. This deters from the culture of sweating and working towards mastering a new trick, which is part of what Krone admires. "Skateboarding has some of the craziest technique as far as I'm concerned. You work out muscles in your legs that no one else does in the sport world," he says.
With more people longboarding or looking to new skate technology for convenience, this may just be a stepping stone into traditional skateboarding for them. As advancements are made, the culture will continue to grow and evolve. And even 5 years from now, we'll look back and see what changes have been made for future generations.