kent state's stylish poet: kristal moseley
Kristal Moseley stood backstage at Chicago's 2019 Pitchfork Music Festival avoiding peeking through the curtain in fear of catching a glimpse of the audience. Seeing the crowd a moment before her performance would further fuel her severe stage fright. She needed to face the audience head on. 
Moseley quietly repeated her personal mantra to prepare herself for her performance: "Whatever I'm trying to say is bigger than what I'm scared of."
As she heard her introduction end, she swallowed her fear and walked on stage with a smile on her face. The applause softened, and Moseley introduced her original poem, "My Deadbeat Dad Is a Superhero," without a hint of fear in her voice.
Her mother, Krishena Moseley, stood in the audience with tears in her eyes as she filmed her daughter's shining moment. This was the first time Krishena heard this poem, which at its core is a thank-you poem to her. 
Moseley was born and raised on the South Side of Chicago by her mother and maternal grandmother. Her biological father, who she first met when she was 8 years old, was not part of her life. 
Fueled by the Pitchfork audience's reactions and her mother's unwavering support, Moseley began her performance. She divulged pieces of her soul on stage and described her father as a "savior" for freeing her from his stifling presence. 
The audience cheered after Moseley delivered her final blow: "Thanks, Dad. Keep saving people from your bullshit."
Moseley, a junior fashion design major at Kent State University, expresses herself through her two passions: poetry and fashion design. Moseley wrote her first poem at 9 years old as a way to process her emotions surrounding meeting her biological father. Her poetry has evolved over the years, and she often pulls from her own experiences as a Black woman. 
"A lot of my work with poetry specifically involves the love and hate I had for my hair when I was younger," Moseley said. "The process of learning to love my hair for what it is and what it's not, and some of that has transferred into my fashion."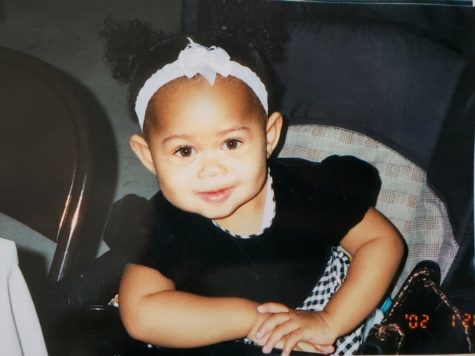 One of Moseley's favorite poems she has ever written is titled "Tales from a Girl who Does Box Braids in Her Grandmother's Basement." She performed this poem at the Black United Students' 2019 Renaissance Ball and won Queen. 
This poem delves into the realities many Black women face surrounding their hair, specifically unwarranted comments, pressures to assimilate to Eurocentric beauty standards and the ongoing journey towards accepting one's hair. Separated into three parts titled Assimilation, Rebellion and Self Worth, Moseley's poem spotlights her own experiences of styling her hair and ends triumphantly as a woman who no longer caters to expectations, or as Moseley says, "'good hair' commandments."
Hair holds great significance in the Black community, as it has been celebrated as an artform, an expression of individuality and a bonding experience. While Black hair can serve as a means of empowerment, it has often been targeted and oppressed by white beauty standards. Just this year, Congress passed the CROWN Act which bans hair discrimination based on texture or style, but the act has yet to pass in the Senate. 
Many Black hairstyles such as braids, twists, locs, cornrows and Afros are seen as "unprofessional" in our predominantly white society, thus discriminating against natural and protective hairstyles. With straight (often blonde) hair being the Americanized ideal, Black hair is pushed to the sidelines as Black people are expected to conform to white hairstyles and textures.
Moseley often addresses her personal journey with accepting her hair in her poetry because she had a love-hate relationship with her hair growing up. Her poem, "Tales from a Girl who Does Box Braids in Her Grandmother's Basement," helped her work through her struggles and show other Black women they are not alone in their hair experiences.
"It was around that time where I finally realized that I love my hair no matter what state it's in," Moseley said. "No matter if it's in my natural state, no matter if I have it under a wig like right now, no matter if it's in box braids, if it's in twists, if it's short, if it's long; My hair is my hair and I love it."
Chazzlyn Jackson, a senior Africana studies major and the Undergraduate Student Government student body president, particularly felt represented by Moseley's poetry. After Moseley's 2019 Renaissance Ball performance, Jackson asked her to send her a copy of her poem because she recognized her younger self within Moseley's words. 
"Her words have a very special way of connecting to the Black audience and especially Black women in that audience," Jackson said. "[…] That poem really spoke to me because when I tell you that was me, that was me. It was my mom in the basement or my mom in the living room doing my hair, doing my box braids, getting me all pearled up and dolled up for the following school day. That was our bonding moment."
Jackson was Moseley's Flash Guide at Destination Kent State, and ever since then, Moseley has viewed Jackson as a mentor. Both Moseley and Jackson have a passion for the Black community and strive to be leaders in their fields. Moseley specifically takes charge in artistic fields such as poetry and fashion, both of which have often been predominantly occupied by white people.
"She is fighting for the inclusion of Black expression in art, in the fashion world, and in a grander scheme of things, that's fighting for Black inclusion period," Jackson said. "[…] So I think that is what stands out to me from Kristal — that she never lost touch of herself. If anything, she grew louder, she grew bolder, she grew more content and just affirmed who she is, who she comes from as a Black woman in fashion."
Similar to her poetry, Moseley also carries her experiences as a Black woman into her fashion designs and aspires to create collections centered around Blackness. Her favorite collection she has designed thus far has been the Pyer Moss capsule collection she created for the Fashion Scholarship Fund Competition. 
Pyer Moss, a brand created in 2013 by Haitian-American designer Kerby Jean-Raymond, bases many collections around the Black experience. This inspired Moseley to design a collection with the Pyer Moss brand in mind, including a line of graphic T-shirts. One of the staple graphic T-shirts from her collection read, "You protested against masks? I protested against racism. We are NOT the same."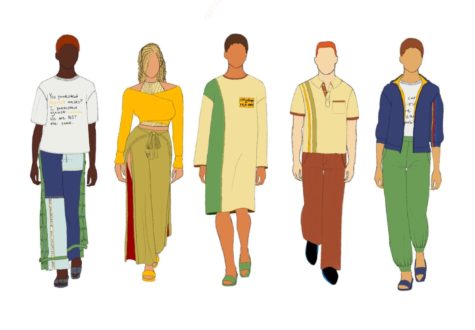 From an early age, Moseley expressed her creativity and love for fashion by drawing out her fashion designs. When Moseley tried to cover the upstairs wall in her home with her designs, her mother Krishena stopped her to preserve the paint on the walls. However, she was not going to suppress her daughter's artistic talent, so she let Moseley use the basement walls as her vision board. 
The basement walls were soon completely covered with Moseley's designs, colorfully displaying a young girl's bright future in fashion.
"I really feel like she has an eye, and I'm not just saying this cause I'm her mother," Krishena said. "But I do, I feel like she has so many innate talents and I really think that she has not even tapped into everything that she's capable of just yet."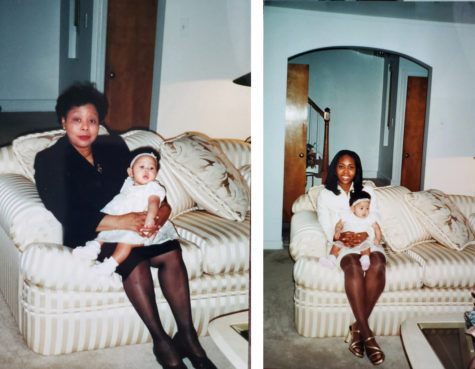 Growing up, Moseley admired the two most stylish women in her life: Krishena and her grandmother, Juanita. Krishena describes her mother as a "fashionista" back in the '70s during her days as a college professor. While her mother rocked suits and heeled boots, Krishena's golden age of personal style was the '90s when she wore "everything from tuxedo suits to leather bustiers."
Moseley credits her mother and grandmother's fashion-forward outfits as her inspiration for pursuing a career in fashion design.
"They always made sure no matter where they went to step out on the scene looking good and that rubbed off on me, especially when I started to dress myself as I got older," Moseley said. "That ultimately translated into me wanting to make good-looking clothes for beautiful women, beautiful people period, so that they too can also feel good about themselves."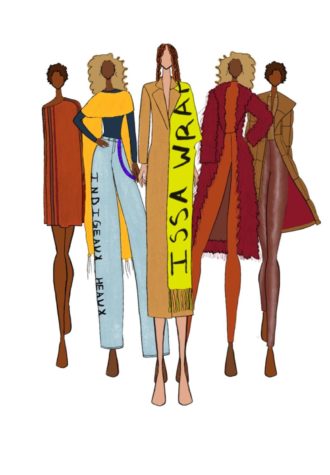 After the pandemic stalled Moseley's college experience, there's no slowing her down this semester. Moseley is the first director of A Magazine's Diversity Committee, as well as one of A Magazine's stylists (Note: The author is A Magazine's managing editor). She's the lead presentation stylist for the Kent State School of Fashion's Annual Fashion Show. She's on the Youth Advisory Council for Young Chicago Authors, the Community Affairs Committee for Black United Students and the Community Service and Civic Engagement Committee for Sister Circle. 
She throws herself into her passions and pursuits, never faltering in her advocacy for the Black community. 
"I know ultimately at the end of the day I have something really important to say," Moseley said. "I have something really important to share and I'm not going to let my fear of talking to people or performing in front of people get in the way of that."
After listening to Moseley's story, I wanted to know what inspires her to keep writing, to keep designing and to keep demanding change. She paused, but a smile washed over her face as she thought about her answer. "My community," she said softly, her voice slightly wavering with emotion. 
At the heart of Moseley's work is her desire to uplift her community and amplify Black experiences. She refuses to fall to her stage fright and stands on stages reciting her poetry for her community. She shares personal experiences about celebrating Black hair knowing that those in the audience can understand the particular pain that comes from a hot comb or a tight braid. 
She is the girl who does box braids in her grandmother's basement.
Support Student Media
Hi, I'm Grace Avery, the Editor In Chief of A Magazine. My staff and I are committed to bringing you the most important and entertaining news from the realms of fashion, beauty and culture. We are full-time students and hard-working journalists. While we get support from the student media fee and earned revenue such as advertising, both of those continue to decline. Your generous gift of any amount will help enhance our student experience as we grow into working professionals. Please go here to donate to A Magazine.