Matilda Djerf is a Swedish fashion influencer and entrepreneur known for her "clean girl" and "old money" aesthetic, in which she dresses in a classy and minimalist fashion. Djerf has 3.1 million followers on Instagram and popularized the famous curtain-bang cut in 2017. I showed my hairdresser a photo of her hair when she asked me what I wanted because she is the prime example of a curtain-bang cut. Her classic and timeless style is all over my Pinterest board and fans alike. Still, Djerf is so much more than her perfectly blown-out hair or her natural makeup.
Her brand, Djerf Avenue, had an expected $22 million in sales revenue last year, according to The New York Times. She ethically sources and produces her clothes with full transparency for customers. On the Djerf Avenue website, the "About Us" section shows where garments are produced, their core values, the actions the company is taking for a sustainable future and their promise to never edit any photos.
At the bottom of the website, there is a "Our Factories" page that lists every single factory working for Djerf Avenue and they specifically mention that these factories, "have been carefully chosen in order to guarantee high-quality standards and each factory follows the European laws and policies regarding Labour relations practices." Djerf's concern for sustainability and representation built her loyal customer base and "it-girl" status. She is not just preaching about advocacy, but is actually ensuring that her own company follows these guidelines, which resonates with her community.
On Sept. 3, Djerf Avenue hosted its first fashion show at the famous New York City Guggenheim Museum for 270 lucky guests who won the tickets from a lottery posted on the brand's website. The runway, "featured limited edition remake items that have been reimagined and produced from pre-existing Djerf Avenue styles, and were modeled entirely by our very own DA Angels." said Djerf Avenue in a statement on their website. The show featured models from all sizes, shapes and abilities to showcase their commitment to diversity. As Djerf said in a pep talk before the runaway that was posted on her Instagram, "We are going to show the fashion industry that we can be more than one size, one kind of girl."
Djerf also opened a Soho pop-up store for her New York City consumers she told L'Officiel, as many of the brand's customers are in New York and the city has so much foot traffic, it would be the perfect opportunity to meet them. Still, she underestimated how successful the pop-up would turn out to be. Customers were lining up at 5.a.m., when the store opened at 10 a.m. The line went around the block with fans eager to shop at Djerf Avenue and meet the founder and style icon.
Lylla Hinchcliff, a fashion production assistant, was one of the fans who went to her pop store in New York City and met Djerf. "I love the brand and love Matilda," she said. "I saw the pop-up was happening and I was available on the weekend that was happening. I was like, 'I might have the chance to meet her' and I got to meet her and she was really sweet. It was a really interesting experience because I initially planned on showing up whenever, but some people that I saw went the day before and they said to get there really early. So, I ended up getting in line at 6:30 a.m."
Although her interaction with Djerf was brief, Hinchcliff thought the influencer was sweet and nice. "When I met her, I told her that I was really inspired by how she moves in the world as this strong businesswoman but remains soft. I was thanking her for being so inspiring," said Hinchcliff.
Initially, what drew Hinchcliff to Matilda was her ability to balance, "the business side of her and also a certain level of softness and femininity that I think a lot of women really strive towards," said Hinchcliff. "Just with the branding, having studied fashion and working with that, I think she sets a really great example for how the industry should be."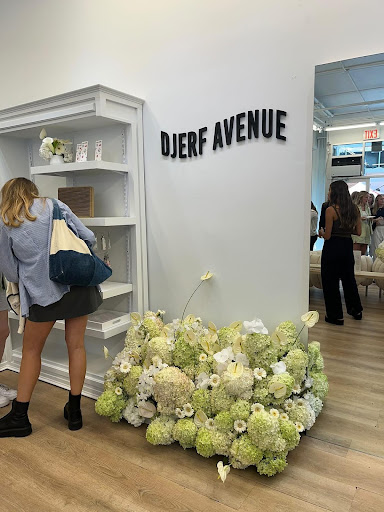 Djerf had the idea to create her own brand alongside her long-time boyfriend, Rasmus Johansson, with no business plan in mind. The idea came after she did some design collaborations with other brands and realized that she had a lot to bring to the table, whereas these brands were not offering much in return. Djerf tells Forbes, "I wanted to decide where items were produced, what models to use, and how to shoot the model photos, as well as whether or not to retouch. But I wasn't allowed into that decision-making."
The influencer also told Glossy, that when she was doing modeling gigs, she saw first-hand how photos were retouched, how clothes were clipped with clamps and how different clothing looked in real life than on websites. So, she and her boyfriend decided to launch their own brand, so customers could get exactly what they see.
The brand prides itself on the fact they do not edit photos, instead they come straight from the camera roll. As Djerf told Vogue Scandinavia, "Djerf Avenue works diligently to create more representation on its website and in e-commerce. Showing how garments fit on bodies from XXS to XXL is a no-brainer for Matilda. It reflects the world we live in." The decision to show models as they are is not common in the fashion industry, and differentiates the brand from its competitors as more authentic and inclusive.
Djerf Avenue is famous for its oversized blazers, classic button-ups, trench coats and trousers that give a versatile look for both the office and the club. While it would have been odd to see someone wearing a blazer to a club, now it is "giving Matilda," as Courtney Loth describes in an article for Truself. Whenever she or her friends are wearing an outfit that Matilda would wear, they use that phrase, which shows the influence Djerf has on fashion.
Djerf also focuses on slow fashion, meaning her clothes are timeless and made from high-quality materials that are easy to care for. Thus, consumers do not need to rush to buy the latest pieces, instead, have some staples they can re-wear through the years.
The brand also offers styling sessions on its website, with one-on-one 20-minute virtual sessions. Thus, they create a better and more personalized shopping experience by connecting with their audience, and developing a more loyal customer base.
Another feature that sets them apart from their competitors is their resell website, where consumers can shop and sell Djerf Avenue's used clothing for lower prices, promoting a circular economy that aims to reduce waste. It also makes clothes more accessible without losing any quality, as it would if shoppers looked for dupes instead.
Matilda Djerf may seem like another influencer with perfect hair, who does OOTDs and makeup tutorials, but she is much more than that. She is an advocate for sustainability and inclusivity in the fashion industry and an entrepreneur who launched a million-dollar business from ground zero, all while remaining humble and true to her core values. Other brands might learn a thing or two from the 26-year-old.
---
Support Student Media
Hi! I'm Annie Gleydura, A Magazine's editor-in-chief. My staff and I are committed to bringing you the most important and entertaining news from the realms of fashion, beauty and culture. We are full-time students and hard-working journalists. While we get support from the student media fee and earned revenue such as advertising, both of those continue to decline. Your generous gift of any amount will help enhance our student experience as we grow into working professionals. Please go here to donate to A Magazine.