Concert in Review: Coast Modern
Coast Modern is an up-and-coming indie-pop band that made its way to the Beachland Ballroom in Cleveland on Wednesday, Sept. 20. The venue sold out quickly to 150 fans of all ages with tickets being only $15.
Formed in Los Angeles, Coleman Trapp and Luke Atlas started creating music and released their first single "Hollow Life" in 2015. Since then, Coast Modern has been on four national tours and is now on their first headlining tour.
When arriving at the venue around 5 p.m., there was already a line forming of eager fans. The first person to arrive to the show got there at noon and has been following the band on their tour.
"After this show I am flying out to Washington D.C. to see them perform," says Coast Modern fan Darby Dennis.
When the doors opened at 7:30 p.m., everyone crowded into the intimate room that would soon be filled with amazing energy.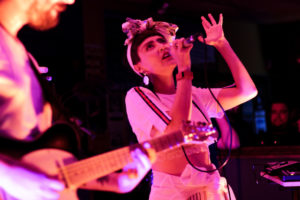 First on stage was opening act Salt Cathedral, an indie-alternative group from Columbia and currently rooted in Brooklyn, New York. They eased the crowd with their smooth music, using a variety of synths, keyboard and other technological sounds in their songs. Their cover of "Say My Name" by Destiny's Child was a crowd favorite.
Soon enough, it was 9:30 p.m., and Coast Modern was running up onto the stage. They opened up the show with "Going Down," which is off of their first album, Coast Modern, released earlier this year.
As frontman Trapp's energy was contagious and the crowd was singing along to every word, Atlas on guitar also had an unforgettable connection with everyone.
Even though this is Coast Modern's first headlining tour, the set they played was as professional as a band that toured for many years. Their West Coast roots were prevalent throughout their songs, as they have a carefree sound that anyone can vibe to.
Towards the end of the set, Atlas broke a string and made a scene, throwing his guitar and storming off stage to get a new one. This kept the entertainment aspect high and the audience enticed all night.
The last song they performed was "Run It Up," which left everyone in great spirits. They weren't even halfway off the stage when the crowd begged Coast Modern for an encore.
Everyone impressed the two enough to come back and sing a couple more songs before leaving.
Coast Modern ended the night just as they started their career with "Hollow Life." This was the highlight of the night with what seemed like every single person in the crowd singing along.
Trapp and Atlas were generous enough to hang out after the set and meet all of their fans and take photos. As their tour comes to an end Oct. 10, A Magazine will be looking forward to Coast Modern's next album and opportunity to see them live again.