Lisa Helland completely transformed her neutrals-filled closet two years ago, and now with bright pink hair and LEGO brick earrings, she embraces her colorful aesthetic. Helland, a senior photography major, makes her own statement earrings and often gravitates toward fruit pendants.
"I just like how earrings can totally transform a look," Helland said. "By pushing it a little bit further and making these really bright, unique, conversation-piece earrings, it just brings it to a whole new level."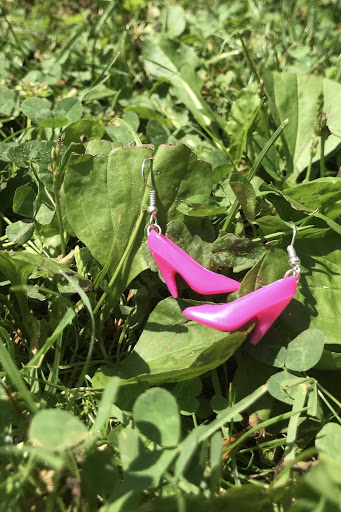 Statement earrings became popular during the past year as the world shifted to Zoom calls, which only show a person's head and shoulders. Wearing bold earrings served as a way to accessorize and display one's personality through the screen since most people opted to wear sweatpants below the camera's view.
Helland began making her own unique earrings about two years ago, and she sold them to friends and students around campus through Instagram. She wears clip-on earrings and started making her own because she said she struggled to find bold clip-on earrings that were not childish.
"I originally was just trying to make them for myself and I was experimenting with things that I had around the house because I wanted some really unique, interesting, colorful earrings that would go with my outfits," Helland said. "A lot of my wardrobe is very colorful and bright and earrings and clip-on earrings don't always match my vibe, so I was trying to make something that fit more for me."
Helland turned vintage Barbie shoes and plastic fruit slices into earrings because she said she likes fun earrings that stand out from the norm. Helland said she always keeps a pair of earrings on or in her bag because they function as confidence boosters.
Stephanie Chapagain and Sarah Singh, two sisters from Georgia, share Helland's love of statement earrings and created their own Etsy shop called Sloth Sisters Designs last year.
Sloth Sisters Designs offers bold handmade earrings, such as their best-selling brownie earrings. Since opening, the shop received more than 800 orders and hopes to participate in art shows and festivals to get more business.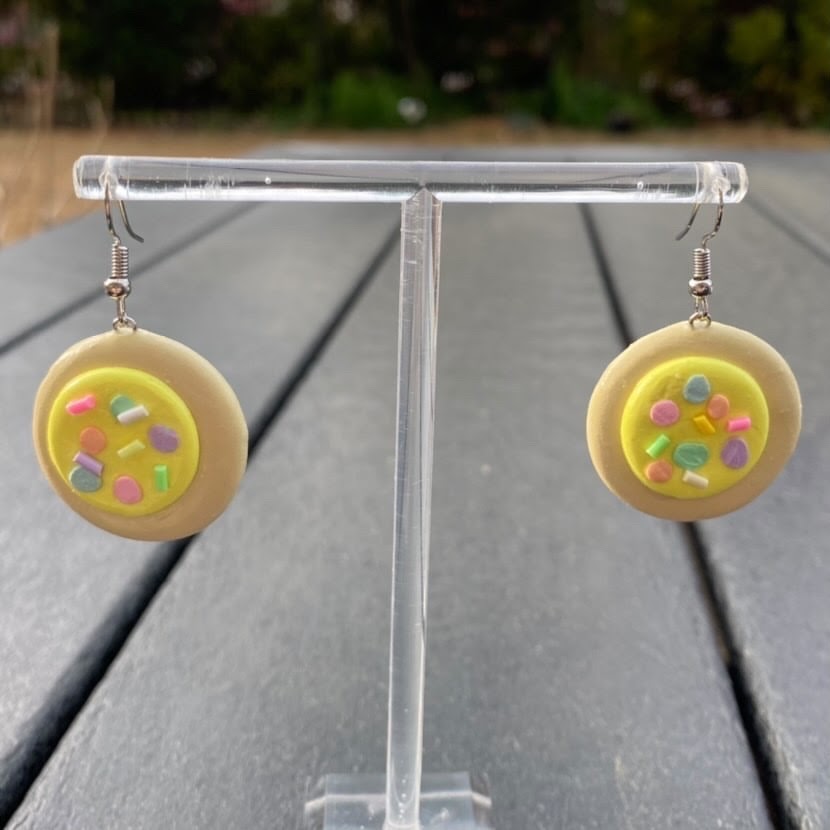 Chapagain, a 38-year-old business project manager, describes Sloth Sisters Designs as her creative outlet and said she gets "so excited like a kid" when creating earrings for the shop.
The shop receives custom order requests for unique earrings, and the sisters have turned pumpkin pies, mangoes and eye charts into earrings.
"I personally like the more crazy, off-the-wall things because it pushes us to say, 'OK, can we do this? We've never made one before, how are we going to do it?'" Chapagain said.
Singh, a 21-year-old art major at Georgia State University, said she loves the kidcore aesthetic, which she channels through the shop's brightly colored, nostalgic earrings. Singh said she designs earrings with flowers, rainbows and smiley faces which are reminiscent of childhood memories.
Statement earrings may be intimidating at first, and Singh said she felt self-conscious when she first began wearing eye-catching earrings.
"I was kind of afraid at first and I would ask my mom, 'Do you think these are too big?' and now I do not care," Singh said. "People are going to follow in your footsteps and you're going to be a trendsetter basically, so just do it."
Emma Packer, a senior at Santiago High School in Corona, California, also created her own Etsy shop to sell her statement earrings. Packer's shop, emmalineave, specializes in earrings inspired by pop culture.
Packer began making earrings last year during quarantine and some of her earrings use silver oval frames that encase pictures of different celebrities or characters.
With close to 1,200 sales in two years, Packer specifically takes inspiration from Harry Styles and Taylor Swift and caters her earrings to fellow fans.
Packer said her earrings "dive more into the weird" because she takes internet memes and turns them into earrings. For example, her best-selling earrings depict Harry Styles as Mr. Peanut.
"Honestly, I think especially in this past year, people have been way more open in showing their interests and things that they like," Packer said. "I feel like it's not as scary now that we've been through a global pandemic to wear the earrings that you like in public because if someone doesn't like it, that's their problem."
Olivia Meyer, a sophomore fashion merchandising major, said she used to hate dangly earrings, but recently leaned into the statement earring trend.
"If I am going to wear a post earring, it's going to be on the bigger side because I think if an earring is too small, it's just like what's the point of wearing it?" Meyer said.
Meyer said earrings "add so much depth to an outfit" and starting with smaller earrings may help in the transition to bold statement earrings.
Statement earrings, whether a bright pink Lego brick or a miniature clay brownie, serve as a way to spice up outfits and challenge comfort zones. Bold earrings add an element of fun to a look, Helland said.
"Life's too short to be boring and to try to fit into a puzzle that you aren't shaped for," Helland said.