social media's influence on college students' fashion
Fashion and social media are closely related because both give off inspiration and influence. Be it birthdays, weddings or "just-because"photos for Instagram, we always look to social media to see what we can recreate ourselves. Many of us also view social media to keep up with hot new trends, and because of this, social media has changed the way that we dress everyday. Fashion is constantly being posted on various platforms for all to gaze at the beauty before us, sparking within us the need to view more and keep what posts we saw in the back of our minds as inspiration for our next ensemble.
Students serve looks everyday walking through campus with different colors, patterns and silhouettes coming together to create a picture-worthy moment. Every student's signature style is a source of significant inspiration, so A Magazine sought to find out just how prominent social media is to some Kent State students when choosing their fits.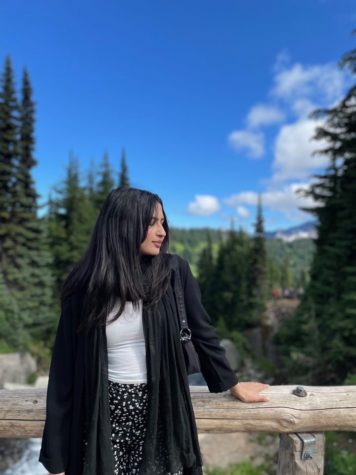 Reja Wasty, Junior Fashion Merchandising Major
Social media influences Reja's personal style by keeping her familiar with trends and giving her outfits inspiration. "I love watching 'get ready with me' videos, they give me new ideas to style pieces in my wardrobe," Reja said.
There isn't one specific person that she looks at on social media for inspiration, Reja said. However, she is fond of Kirsten and Erika Titus's styles, which shows off Gen Z's depiction of Y2K styles. The Titus sisters are social media influencers, and their content ranges from beauty videos, thrift hauls and dance videos.
TikTok is Reja's go-to platform when looking for inspiration because she is able to discover new creators and their styles. If she wants to see a specific style, however, Reja heads to Pinterest.
Reja said she uses social media quite often because it opens her up to more outfit possibilities. She tends to base clothing choices on social media personality Tabitha Swatosh because they have a similar body type to her. "It's refreshing to look at outfits on people who have similar body types to me because the models on companies websites don't always look how I would look in the clothing," Reja said.
View this post on Instagram
Jaida Jude, Senior Fashion Merchandising Major
Jude expressed that social media has improved her style for the better. She said she's able to figure out what she likes, what she doesn't like and which items look good with one another. "I can put together an outfit without overdoing it. I don't go along with trends since they come and go, but I use it as my guide to show how I can mix up my style every once in a while," Jude said.
Although she doesn't look to anyone for fashion inspiration, she follows multiple fashion pages and people to find what she's looking for. "They showcase their own personal style and ideas, as well as sharing their thoughts on the fashion industry as a whole," Jude said.
Two social platforms that Jude uses are Instagram and TikTok because that's where most of the fashion influencers and pages post to reach their audiences. "Since TikTok has become more popular over the last couple of years, I've seen more fashion inspiration and trends coming from there than any other social media platform," Jude said.
Unlike many college students, she uses social media occasionally, only because it gets repetitive, she said. In Jude's view, many pages post the same thing in a different font or only what's trending. When Jude does engage in social media it's because she "wants to change up her style a bit."
View this post on Instagram
Antonia Richardson, Senior Advertising Major and Fashion Media Minor
"I like to have my own personal fashion taste guide, my decision-making for styling. I feel that intentionally gaining inspiration can stunt my personal creative process," Richardson said.
She says that if there are fashion trends circulating on social media that she takes away what she likes from the trends and mixes them with her style. Richardson avoids trends altogether and doesn't fully immerse herself in fashion fads, although social media does influence where she posts her content and how she curates her photos.
There isn't a particular person that she looks to for fashion inspiration, but she does admire the style choices of De'arra Taylor and Bella Hadid. "I resonate with their chic, hip, classy style and love that they take fashion risks," Richardson said.
When she wants to find specific items or looks, Pinterest is her go-to app. Richardson typically looks on social media as often as there is a special occasion that comes up or if there is a certain look she is going for. "I usually have a picture in my head of a style I am wanting to go for then I look for the items online to piece the look together," Richardson said.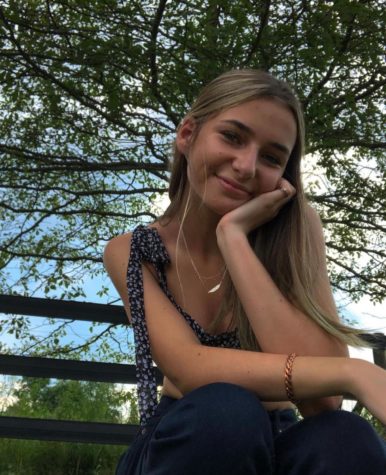 Nichole Herendeen, Freshman Exploratory Major Focusing in Early Childhood Education
Herendeen often uses social media for inspiration for certain outfit ideas. "If I'm trying to figure out how to style a piece of clothing, I like looking at how others incorporate it in their clothing," Herendeen said. 
Two social media influencers that she takes inspiration from are Jules LeBlanc and Ellie Thumann. She feels that these two influencers have similar styles that are unique. She looks up to their style of dress because she believes that LeBlanc and Thumann have the same body type as herself. "I love how confident they rock their style," Herendeen said. 
Pinterest and Instagram are where her need for fashion inspiration is met. She also looks up specific influencers on Instagram to see what types of outfits they are wearing to different occasions. On Pinterest she said she likes to look up specific aesthetics to scroll to look for what she needs.
"I wouldn't say that I get my fashion inspo off of social media," Herendeen said. "I usually like to see what I can put together myself." She explains that if she is scrolling through Instagram and sees something she likes, she takes note of it for future reference.
Social media influences our personal style in more ways than you may think. We engage in it so much for various reasons, and we're bound to encounter some sort of fashion representation. We have access to so many different styles that the possibility to create a killer look is inevitable. If you're in need of fashion inspiration check out your favorite social platforms, something is bound to catch your eye.
---
Support Student Media
Hi! I'm Catie Pusateri, A Magazine's editor-in-chief. My staff and I are committed to bringing you the most important and entertaining news from the realms of fashion, beauty and culture. We are full-time students and hard-working journalists. While we get support from the student media fee and earned revenue such as advertising, both of those continue to decline. Your generous gift of any amount will help enhance our student experience as we grow into working professionals. Please go here to donate to A Magazine.