'hi sweetie': being a woman in a leadership role
Dressed in my head-to-toe pink tweed suit set and pink platform pumps, I glanced in the mirror and was convinced I was serving Elle Woods and embodying her unique superpower: a refusal to abandon her femininity in favor of drab professionalism. Once I left the safety of my room and arrived at my destination, I felt consumed by the fear I wouldn't be taken seriously as an editor in chief of a student magazine. Maybe I'm not serving Elle Woods—maybe I'm sticking out like a sore thumb in a sea of black blazers and button-ups.
Maybe I looked like my third-grade self playing dress up, a little girl who knew nothing about respectability politics. Suddenly, I felt transported back to middle school where embracing your feminine side labeled you as "just like other girls," which was somehow a capital offense. Would I be dismissed because I look like a ginger Barbie on career day? Would my love of fashion condemn me to the background of the conversation?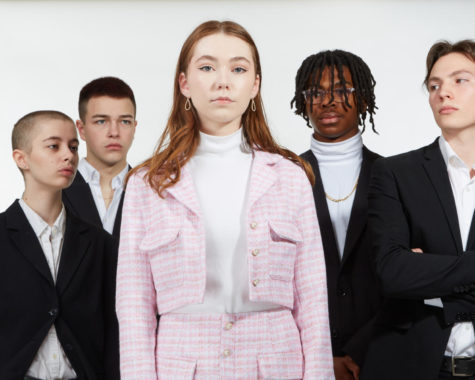 A brush with the patriarchy isn't a rarity. It's an omnipresent figure that every woman keeps her eye on, waiting for it to consume her. It found me this semester when I was repeatedly and intentionally addressed as "sweetie" by someone who disagreed with me. Instead of calling me by my name, they opted to use a condescending and misogynistic pet name in an attempt to belittle me.
Being reduced to "sweetie" reminded me of the stark reality that no matter how hard I work or how professional I am, I and my fellow female leaders will always have to work twice as hard to receive half as much respect.
As a young woman in a leadership role, a looming sense of imposter syndrome often creeps into my mind during budget meetings, fundraisers or even when sending a simple staff email. I'm not alone in these feelings –– 75% of 750 executive women reported experiencing imposter syndrome at least once in their careers, according to a poll by KPMG for its 2020 Women's Leadership Summit Report. 
Imposter syndrome, a term first coined by an Oberlin College clinician named Dr. Pauline Clance, is a phenomenon where someone experiences feeling unqualified or undeserving of their role. This feeling can stem from many different areas, and it is not exclusive to women or femme-presenting people. However, leaders are commonly defined by stereotypically masculine traits –– assertiveness, drive, determination –– which is often at odds with some female leaders who practice compassionate and empathetic leadership.
Specifically within the global workplace, women are filling more leadership roles. The proportion of women in senior management positions grew from 29% in 2019 to 31% in 2021, the highest proportion ever recorded according to Grant Thornton International.
Despite women rising within the corporate ranks and outnumbering men in the pursuit of higher education, they are often overworked or underestimated. When it comes to women of color in the workplace, they face even more microaggressions or barriers to advancement, according to McKinsey's Women in the Workplace 2022 report.
As I grapple with feeling more confident as a woman in a leadership position, I always find myself unable to escape the fact that it's a man's world. Every extraneous exclamation point in my emails sends a signal that I am worried my words will be interpreted as domineering, aggressive or worse – unlikable – a condemnation reserved for only the most successful female leaders.  
Though I sometimes wish I could be as petrifying as Miranda Priestly where the mere mention of my name sends people "girding their loins," a woman's power as a leader should not have to come from a place of fear but rather from a place of compassion. While embracing a form of machismo may be accepted by some leaders, there should be room for empathy and mutual respect.
My role as a student media leader has offered me some of the most rewarding experiences of my life, especially those that have knocked me down and forced me to find my way back up. My personal expression of femininity can coexist with my role as a leader because my pink pumps do not stop me from running this magazine.
What, like it's hard?
---
Support Student Media
Hi! I'm Catie Pusateri, A Magazine's editor-in-chief. My staff and I are committed to bringing you the most important and entertaining news from the realms of fashion, beauty and culture. We are full-time students and hard-working journalists. While we get support from the student media fee and earned revenue such as advertising, both of those continue to decline. Your generous gift of any amount will help enhance our student experience as we grow into working professionals. Please go here to donate to A Magazine.