a day in the city: my guide to nyc
Hey A Mag! Regan Simpson here, a freshman fashion merchandising student. This past weekend I got the opportunity to go to New York City on the Fashion Student Organization (FSO) trip, and it was so amazing. I can't wait to share with you what all I did with my one full day in the city, including the places to go, good eats and of course the best places to take pictures! 
My friends and I started our Saturday bright and early with some New York bagels. You simply can't go to the city without getting a bagel (or two). We stopped at the Market Crates for breakfast, and let me tell you, it was delicious. Of course, we needed coffee too, so we stopped at Gregorys Coffee for a fun Nutella cold brew. The multitude of cute coffee shops hidden on every corner is one of my absolute favorite things about NYC. 
Next, we headed to my favorite stop of the day, The Museum at FIT. The Fashion Institute of Technology is right there with Kent State when it comes to top fashion schools in the nation, so we obviously had to check it out. We got lucky enough to see their new "Fresh, Fly, and Fabulous: Fifty Years of Hip Hop" exhibition, which was full of unique hip hop pieces from all decades, all inspired by Black fashion culture. This was by far the coolest thing we did all day, getting to see pieces varying from vintage Ralph Lauren and Tommy Hilfiger, to recent pieces worn by Megan Thee Stallion and Doja Cat.
After we were done fan-girling over all of the insanely cool pieces, we made our way to Chelsea. I love the Chelsea area because of its artsy vibes and community life, and would totally recommend making the trip there. We shopped around at the Chelsea Flea, supporting small and unique local businesses. Of course, we had to stop at another cute coffee shop called Kona Coffee Roasters, where we enjoyed coconut matchas and lavender lattes, before heading to our next destination.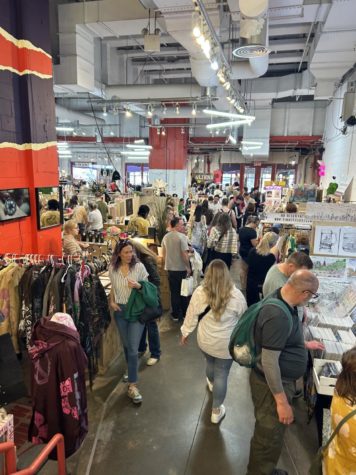 What's New York without shopping?! My favorite place in the world to shop is SoHo, so we stopped there next. SoHo is filled with so many of my favorite stores, from new retail to unique vintage. Our first SoHo destination was 2nd Street, a super stylish vintage store. This was such a cool place to shop around, and there were so many hidden gems there. Next, we stopped at the new Glossier New York location, which was the coolest store ever. Not only was it full of so many goodies, but it introduced a new futuristic way of shopping. There, you tell an associate what you want, tap your card on the reader and head to the waiting room to pick up your bag. This in-person automatic delivery system was something I had never seen before, but was so cool. We also stopped at some more of my favorites, like Aritzia and lululemon, because I can shop til I drop when I'm in New York. 
While we were in SoHo, we stopped for a bite to eat. Since we were in New York, we wanted to find someplace we couldn't go in Kent. We ended up at the cutest vegetarian-friendly burger joint, called Bareburger. This was in the cutest park area (another one of my favorite things about SoHo), and it was so delicious. Only having one weekend in the city made us determined to find the cutest and tastiest places to eat.
Our last shopping stop of the day was the Manhattan Vintage Show. When I say this was a one-of-a-kind event, I mean it. Located in the Metropolitan Pavilion, this vintage market held 90 vintage vendors, all with their own unique collections. Shopping around and seeing all of the fabulous vintage pieces was such a fun experience. This event is held only twice a year, happening again Oct. 20-21, and I would 100% recommend adding this to your list of stops if you have the chance. This show is definitely something I would attend again. 
After a few subway rides and an outfit change, we were ready to start our night. When in New York, Italian is a must. Let me tell you, we definitely made the right choice with Nittis. This classic Italian restaurant was everything we could have wanted, each getting our own favorite pastas and finishing every bite. The ambiance of this restaurant was perfect for what we were looking for, being the perfect amount of both intimate and friendly. As if it needed to get even better, the tiramisu was totally worth every cent. 10/10 would recommend!
One of two goals for the night had been completed, but we still needed the perfect photos to sum up our trip. The best way to get inspiration in New York is to walk the streets until you see the perfect photoshoot location. A good Instagram post is vital to complete a weekend in the city. Pictures make the memories last forever!
To end the night, we headed to Koreatown for some super cool dessert. This was simultaneously one of the most interesting yet fun experiences I have ever had. We stopped into Grace Street, a Korean cafe serving "traditional Asian desserts with a modern NYC twist." We couldn't just choose one, so we got both the Elixir Shaved Snow and the Matcha Beignets. While the beignets were insanely good, the shaved snow was something completely new to me. This dessert was green tea shaved ice, condensed milk, red beans, diced taro and lychee jelly. Let's just say some of us liked this, and some of us didn't. Either way, it was such a cool experience and definitely worth the try.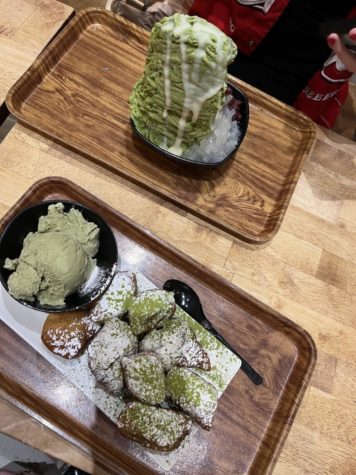 Even though the trip was short, it was everything I could have wanted. New York is one of my favorite places in the world, and I'm so glad I got to share what a NYC day in my life looks like. I'm counting down the days until I can go back to explore (and shop) even more! 
---
Support Student Media
Hi! I'm Catie Pusateri, A Magazine's editor-in-chief. My staff and I are committed to bringing you the most important and entertaining news from the realms of fashion, beauty and culture. We are full-time students and hard-working journalists. While we get support from the student media fee and earned revenue such as advertising, both of those continue to decline. Your generous gift of any amount will help enhance our student experience as we grow into working professionals. Please go here to donate to A Magazine.