Study Abroad to Seoul, Korea | Fashion Week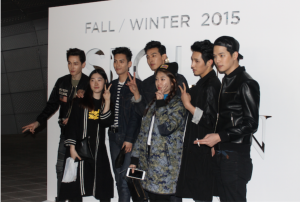 Fashion Week in New York, Milan, London, Paris and Tokyo have been highly popularized by dominant fashion houses that have worldwide media coverage and celebrity attendance through the seasons.
With biannual shows, these cities have been placed on the map as Fashion Capital's, making the competition tight for those less recognized.
But many fashion enthusiasts already know this. What some may not know is that Seoul, South Korea has quickly risen in fashion popularity– treading closely behind its neighboring country of Japan– to take its place as another exclusive fashion capital.
In front of Dongdaemun Plaza
As a part of Kent State's Spring International Multimedia Storytelling course, Journalism and Mass Communication students were awarded the opportunity to travel within Seoul, Korea for eleven days and assigned student translators from Dankook University. The result was a multimedia storytelling project with a free range in topics to pursue.
Stumbling across the opportunity to attend my first fashion week show while abroad, I chose to focus my project on Seoul Fashion Week and its rise to fashion dominance.
Although not yet sponsored by Mercedes Benz, and only five years experience of producing large-scale shows, Seoul has established itself as culturally traditional yet modern in regards to trends.
With major influences through social media, its developing economy and influences from the west, trends have become more expressive and individualized.
Front Row at the Jehee Sheen Show
Two Korean Designers Posing For the Paparazzi
Peggy Gould, London's correspondent for Harper's BAZAAR Korea, said although she is not a big fan of Korean fashion, she appreciates the movement towards more modernized looks.
"My favorite show was HIECH ES HIECH," she said. "Shows like his break the mold of the too trendy and allow for individuality and the separation of tradition."
Occurring biannually like its competitors, Seoul will host its sixth annual Fall/Winter collection this October in its most popular foreign attraction: Dongdaemun Plaza.
These events will be showcased and split between three different sections: The Seoul Collection will highlight high-end Korean designs; Generation Next will showcase designs made from those with under five years in designing experience; and the Seoul Fashion Fair will exhibit local designers.
Renowned French powerhouse Chanel was the first fashion house to take an interest in Seoul when it premiered its  Seoul Cruise Collection last Spring.
Soon after, Dior set up its largest flagship store in Asia just across the street from the popular Dongdaemun Plaza.
Seoul, South  Korea has created its own fashion culture and has proven with its consistent and detailed designs, the world should start paying attention to what Seoul has in store for its October collections. This is fully exemplified by designers like  Jehee Sheen paying respect to Korean values and Tae Young with Beyond Closet paying homage to young hipsters.

K-POP Stars Posing With Locals In Front of Dongdaemun
Seoul Fashion Week begins Thursday, October 15th with Bakangchi designs
kicking off the festivities at 7p.m. Korean time, 6 a.m. eastern standard time. Some of my favorite designers to look out for this season are Cres E. Dim, Beyond Closet, PUSHBUTTON, Heich Es Heich and KYE.
Traveling abroad truly broadens your understanding of the world when you get to experience  languages and customs that are so distinct in comparison to your own and trends unique to anything you've ever seen.
I learned from this trip the importance in understanding how culture influences fashion and recommend traveling abroad if pursuing any career in fashion or marketing.
Front Row at S=KYZ Show
Below are the pictures I shot on my DSLR while in Seoul, South Korea.
Front Row With President of Front Row at Jehee Sheen
Project Run Vietnam at The J KOO Show
Korean actresses posing for the paparazzi at the Beyond Closet
More Korean actresses posing for the paparazzi at Beyond Closet
Street style seen near Dongdaemun Plaza, Seoul Korea
Front Row at S=KYZ Show
For more information, click here to watch the video of my trip.