Trends Our Parents Wore That Shaped Fashion Today
The year is 1976 and you step outside in your favorite bell-bottom jeans while listening to "Silly Love Songs" by Wings. Fast-forward to 1987 and you're wearing a power suit on your way to have brunch with your girlfriends. Now it's 1993 and you are putting on a grungy flannel with a pair of combat boots, headed to a Nirvana concert. It's 2003 and you decide to spice up your style by buying velour tracksuits in every color.
Now it's 2021, and after traveling through time, you now find yourself wearing those same bell bottom jeans with a power suit blazer and a pair of combat boots. The fashion our parents once wore has become prominent in today's society. We might not always realize it, but we wear fashion from their era more than we think, because some of these trends seem to never go out of style.
The 1970s: Bell-Bottom Jeans & Hair Scarves
Whether you were inspired by watching "Mamma Mia" as a kid or you are channeling your inner Janis Joplin, you probably own a pair of bell-bottom jeans in your closet. Bell-bottom jeans have made a significant impact on the fashion world. You can pair them with a cute crop top or a flowy blouse. They come in many different colors that coordinate with anything and fit almost any body type.
Bell-bottom jeans aren't the only thing that has come back in style since the 70s. Hair scarves have become a trendy accessory that completes that boho chic look you are looking to achieve. Whether you wear it draped around your head like a bandana or use it to accent a half up-half down hairstyle, the options are endless.
The 1980s: Powersuits, High-Waisted Jeans, & Workout Leggings
The 80s' was a decade of iconic clothing from powersuits to leggings in all colors. These trends of the past have begun to resurface and transition into more of a style that appeals to our generation.
Millennials today can often be seen wearing a plaid blazer over almost anything and something that was once a power suit has now become a power move. Society has normalized working women over the years and wearing a casual blazer with the right top underneath sends an empowering message to women everywhere. The 80s introduced the idea of the power suit, and although we have definitely taken the shoulder pads out of them, they still give off that same sophisticated appeal.
High waisted jeans seem to be the only kind of jeans worn today. The 1980s introduced what has become everyone's favorite style of jeans and our parents probably thought they would never make a comeback. They are the perfect pair of jeans to wear with any kind of crop top and come in all different styles.
The leggings you now wear to the gym or lounge around your house were once very influential in the 80s. The 1980s leggings trend was made popular by everyone's aerobics fever and Madonna's "Like a Virgin" video. They have made a major comeback since then and society has adopted them as a part of our everyday attire.
"I see fashion differentiate with my generation and the younger generation when it comes to leggings." Kent State Class of '91 Alumni Jill Griffith said, "They were always fine for the gym, but when people started wearing them again I was surprised."
The 1990s: Combat Boots & Mom Jeans
Most people probably own a pair of Doc Martens in their closet that they love to wear with almost anything, but they probably didn't know that this trend dates back to the 90s. The 1990s brought the idea of chunky boots long before our generation did. And now they are the perfect pair of shoes to wear with a casual dress or any denim attire.
The 1990s was the decade of baggy clothing and the idea of grunge fashion. You probably saw pictures of your mom wearing those baggy jeans that you now consider hip and cool but they were never called mom jeans. Jeans have become more distressed and have evolved into a more comfortable fit.
"Clothes now are very different. Cuts are very different and clothes were even more baggier then." Griffith said. "I look at distressed jeans now and think I could never wear them. But if I were that age too, I would be all over them."
The 2000s: Athleisure
Kim Kardashian and Paris Hilton were definitely the inventors of the Juicy Couture tracksuit look that began a fashion revolution.
"In the early 2000's, the Juicy Couture tracksuit really started athleisure and the Kardashians." Sophomore fashion merchandising student Willa Mumme said, "A lot of people now wear a lot of casual pieces and the early 2000's really kicked it off."
We went from a society that forced women to wear only skirts and dresses to a society of allowing women to wear comfortable clothing. Especially in the midst of the pandemic, people have transitioned to a comfier attire and we have seen a lot of these old trends make a significant comeback. Whether you are wearing a cute comfy set or your older sister's Juicy Couture tracksuit, you hold a piece of the 2000s in your closet.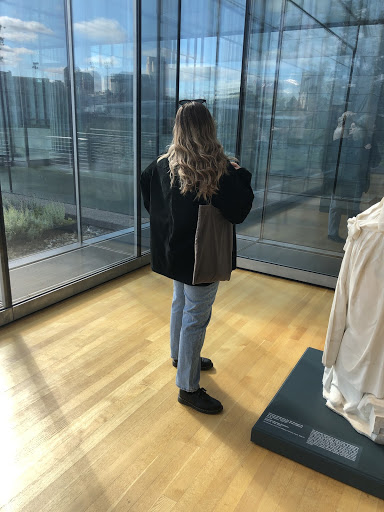 Fashion Today
The evolution of fashion has shaped some of the prominent trends we see today. We all own a piece of clothing from one of these eras either from influence or a desire to wear vintage fashion. The style you wear today came from somewhere and as we change fashion changes with us.
"As we get older we stop experimenting with fashion," Sophomore fashion merchandising student Willa Mumme said."But, we still have little touches of our younger selves within our style."
Support Student Media
Hi, I'm Maria McGinnis, a senior journalism student from Stow, Ohio. I'm also the editor in chief of A Magazine. My staff and I are committed to bringing you the most important and entertaining news from the realms of fashion, beauty and culture. We are full-time students and hard-working journalists. While we get support from the student media fee and earned revenue such as advertising, both of those continue to decline. Your generous gift of any amount will help enhance our student experience as we grow into working professionals. Please go here to donate to A Magazine.