introducing the "ally" behind locally made 13
Ally Taylor, a freshman at Kent State, does it all: from being a division one athlete to running her own jewelry business, known as LocAlly Made 13.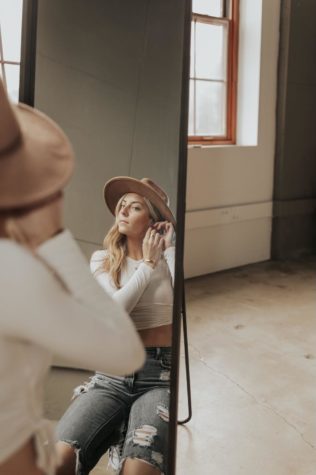 With a major in communication studies and a minor in advertising, Taylor chose Kent State because of its close proximity to her home in Hartfield, Ohio, about 20 minutes south, the high leveled cheer program and of course to continue being able to run her business. 
When and Where It All Began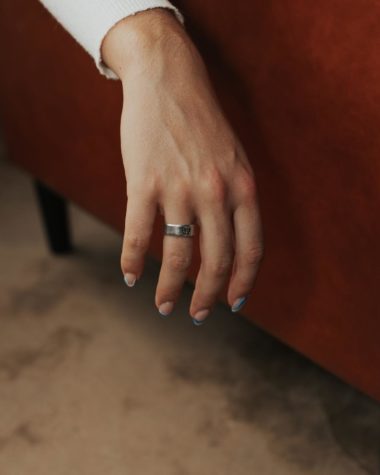 Taylor began LocAlly Made in December of 2020, right out of her very own bedroom. She was inspired by her dad, who also runs his own business, Taylor Companies of Ohio, right here in Kent. Conveniently, she uses a space in her dad's office to create every single one of her products. She says that her dad was very helpful and walked her through the process of how to run her own business smoothly.
She started selling her jewelry through Instagram @locallymade13, which she strictly used from December of 2020 to May of 2021. Customers would DM her what product they wanted and she would simply just ship it to them. This method of selling was a lot of work considering she had to calculate and keep track of all the orders on her own. Then, in May 2021, LocAlly Made 13 opened up an Etsy Shop. 
Choosing a Brand Name 
When choosing a name for her business, Taylor expressed how she is a huge believer in the fact that everything has to have a meaning behind it. For instance, even her tattoos have some sort of significant meaning. So, she immediately knew she could not just think of any random name for her business. "Locally," being self explanatory that the business is local/in the area was the first step. Then, she wanted to add the 13 because it is her favorite number ever since she's been a fan of Taylor Swift. Taylor Swift's lucky number is 13, the day she was born on, but Swift has also stated that when she has been seated in a row at an award show, she has won every time she's sat in the 13th seat. Taylor hadn't realized until after the fact that the word locally had "Ally" in it, that is when she decided to capitalize the "A." Hence, LocAlly Made 13 was born.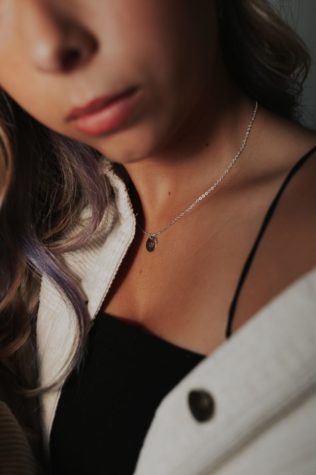 The Jewelry 
LocAlly Made sells all kinds of stamped jewelry from necklaces to rings. In order to make the jewelry, Taylor uses certain materials to provide the best quality for her customers. The rings come in silver made out of aluminum, gold made out of brass and rose gold made out of copper. Just recently, Taylor began moving towards an anti-tarnishing material, which she feels people like more. Taylor's rings are her most popular seller, she says, and they are also her favorite piece to make! 
What Makes LocAlly Made Stand Out? 
The thing that makes LocAlly Made jewelry stand out is that everything is customizable. Each custom piece of jewelry can be stamped on the front and back if you would like. Customers can choose from a total of 165 stamps along with three full alphabet letter sets! The stamps range from zodiac signs to numbers to different fonts and other fun symbols such as a pineapple, mountains, a flower and even a lightning bolt. (Go Flashes!)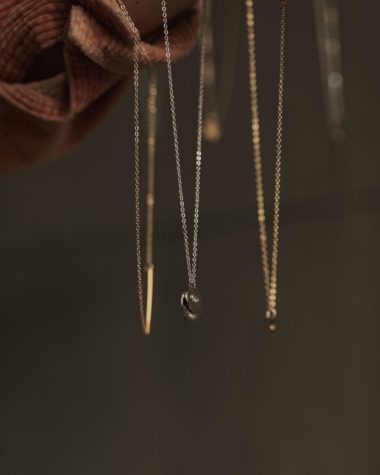 The Different Kinds of Jewelry Sold 
Currently on the Etsy Shop, 14 products are being sold. Below is a list of the jewelry in stock, the prices and the different styles the product comes in. 
Huggie Earrings – $13.00 (gold stars, gold lightning bolts or silver moons) 

Custom Cuff Bracelet – $10.00 (gold or silver)

Custom Single Pendant Necklace – $16.00 (gold or silver) 

Custom Pull Chain Bar Bracelet – $13.00 (gold or silver)

Custom Double Pendant Necklace – $17.00 (gold or silver)

Stamped Pendant Chain Anklet – $13.00 (gold 8.5-9.5 inches or silver 8.5-9.5 inches)   

Custom Rings – $10.00 (skinny: silver or gold, thin: silver, gold or rose gold, thick sliver, or wrap: silver or gold)  

Vertical Bar Stamped Necklace – $16.00 (silver)

Star Charm Stamped Necklace – $16.00 (gold) 

Half Circle Stamped Necklace – $16.00 (gold or silver)

Double Stacked Necklace – $18.00 (gold or silver)

Stamped Keychains – $11.00 (gold or silver) *after what is left in stock is sold, done selling*

Horizontal Bar Necklace (Non-Tarnish) – $20.00 (gold or silver)

Stamped Circle Huggie Earrings – $15.00 (gold or silver)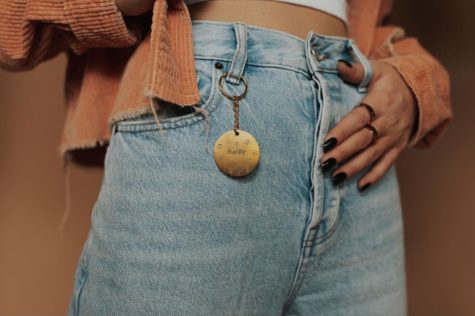 Determining Pricing 
When determining the price of her jewelry, Taylor explains that she must keep in mind a set range that balances giving her customers an affordable piece of jewelry she herself would want to buy but also being able to make some sort of a profit at the end of the day. She strives to be reasonable with her prices, while still making sure she produces quality jewelry for her customers. 
"I take it from my perspective, if I was looking at this ring, would I want to buy it for the price it is? What quality is it? Will I like it… I just try to put myself in a customer's shoes," Taylor said. She feels that being an amiable person is also an attraction to customers. She said she believes that if a customer knows you, they will be more persuaded to buy something from you to show support.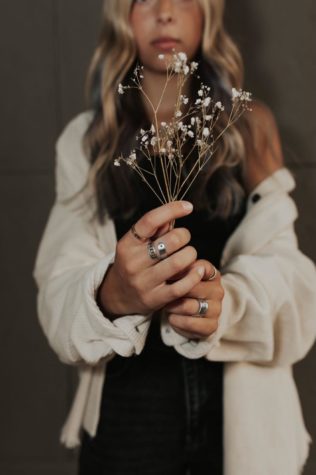 What Goes Into An Order 
Taylor goes through a series of steps before she ships off her packages to her customers. Here is a little behind the scenes step-by-step guide Taylor follows while completing a ring order (her favorite piece to make): 
1. Taylor receives an order through Etsy. 
2. She orders her ring material from Etsy itself. 
3. Then she uses her stamping hammer and wooden plate to stamp the ring with the symbol her customer ordered.
4. To engrave the symbol, she has to ink the stamp. 
5. She uses a tool that curves the rings to fit her customer's finger. 
6. She packages the jewelry up, which consists of a thank you note, a business card, stickers and even can contain a personal note if you requested one on your order. 
7. The order is shipped off!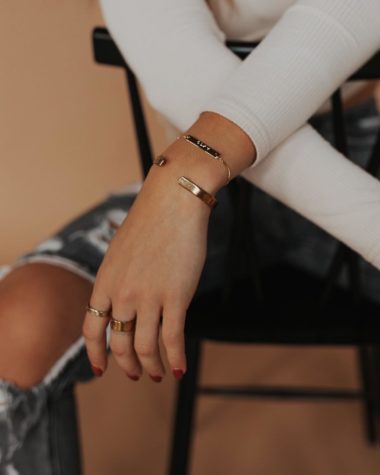 The Biggest Challenge 
Taylor's biggest challenge is making sure she makes the shipments by the dates her customers are expecting to receive their order. On Etsy, she gives herself a seven day window, so once a customer orders she has to ship it by that marked day. She sometimes has so much going on that she struggles to even make it into work. Although, she tries to maintain getting an order done and shipped out between three to seven days, which then gets to her customer's house in about three to five days. On top of that, she also works another job at a boutique in her hometown called Alyx Marie & Co, where she is the social media manager. However, thankfully Taylor said all of her customers are very understanding and support her no matter what. When Taylor knows she is going to be behind on an order, she lets her followers know and gives them updates on her Instagram story to let them know when shipments are sent out and on their way. 
Setbacks From The Pandemic? 
During the pandemic, LocAlly Made 13 thrived sales wise. As more people looked to the internet to shop online, small businesses such as LocAlly Made 13, weren't negatively impacted. Taylor used the effects of the pandemic to her advantage by really taking the time to work on marketing her business to target audiences. For instance, she stayed active on social media making daily posts and content to grow her followers.
Social Media's Influence 
Starting off on Instagram, Taylor eventually took LocAlly Made to other social media apps including: TikTok, Facebook and Pinterest, all which can be found in the Linktree located in the bio of her Instagram. Using the same Linktree, individuals can subscribe to emails as well as find a direct link to LocAlly Made's Etsy Shop. 
Currently, on Instagram, LocAlly Made has a growing following at more than 2,300 followers. Taylor takes advantage of reels, videos and Instagram stories. Beginning from the window seat of her bedroom, Taylor originally took her own product pictures to upload, that is until she finally had a professional photoshoot done by Alan Chavez, an Ohio wedding and family photographer, in April of 2021. You can check out more of Chavez's photography either at his website or his Instagram @alanchavez. She was excited when this happened because it truly showed how far LocAlly Made has come. She does giveaways and works with other small businesses to help promote her business. She makes an effort to dedicate a post every so often that re-introduces herself to her followers and gives them some insight on who she is as a person and more about her business. In the summer, Taylor takes LocAlly Made to markets where her family helps her sell her products. She also sells her jewelry at the boutique she works at, Alyx Marie & Co, and also at Reign Outfitters.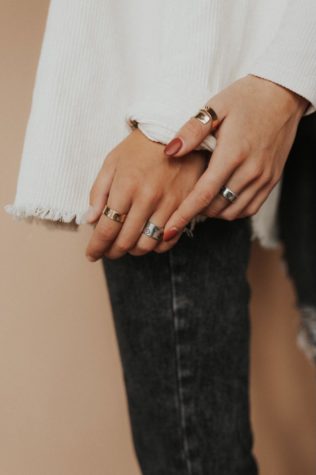 On her Etsy Shop, Taylor has made a total of 827 sales and is rated five stars. Taylor explained that during this past Christmas, she ran out of materials because of how many orders she was receiving. She adds that she never wants to run out of materials again and is always ordering new inventory.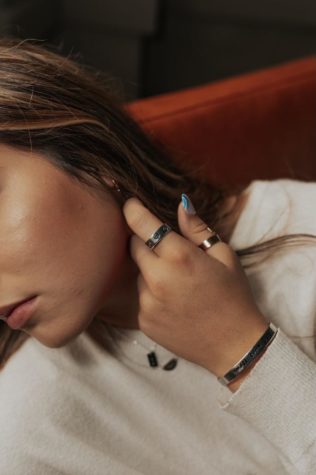 Continuing to Grow 
Taylor is always looking for ways to expand her reach. In order to grow her business, she reached out to growing influencers to help expose LocAlly Made to a wider audience. The first influencer she contacted was McKenzie Morgan, a fashion, travel and college lifestyle blogger who attends Kent State. With 35.5k followers on her Instagram @styledbymckenz and 68.4k subscribers on YouTube, Taylor says that working with Morgan was a really big deal for her. 
"Oh she [Taylor] is just the sweetest thing ever! She reached out to me last school year mentioning that she was going to be attending Kent and would love to send me some pieces," Morgan said. "She made me the cutest custom rings with my SBM logo on them and threw in a few other goodies. I've worn and loved her jewelry for nearly a year now and am so excited watching her business grow! I hope to see more entrepreneurs like her getting after it here at Kent!"
Taylor explains how most of her orders are in Kent, so she is trying to expand to other nearby areas such as Akron by contacting local influencers. Reaching out to these influencers can help get Taylor's products out there to reach that next level. Currently, she said she feels her orders have been very stagnant since the big holidays have passed like Christmas and Valentine's Day.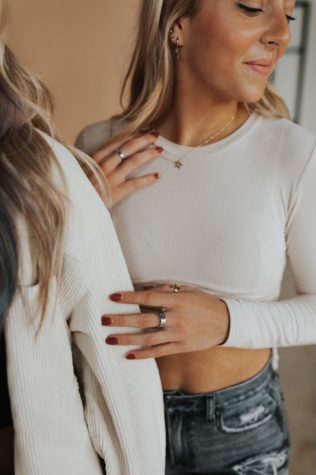 Running a Business Alone As a College Student 
Navigating a business is a hard thing for an 18-year-old woman to do, especially all by herself, on top of being a full-time student and division one cheerleader. Taylor says that any free time she has away from her busy day to day schedule, she spends it getting her orders done. Whether she has 20 minutes or two hours, she takes advantage of it. Taylor stated that she feels she is very good at managing her time as well as balancing it all. In order to stay organized, every Sunday she writes down her upcoming weekly schedule, consisting of what she has for the week class wise, when she will go to work and her cheer practice times. She makes it very clear she runs her business alone besides the occasional help from her mother or sister. 
Customer's Feedback/Experiences 
In order to gain some insight behind how others view LocAlly Made 13, I reached out to a few individuals who have been customers of Taylor's. 
Calista Ring, a student at Ohio State, stated, "I met Ally years ago through dance and we've always stayed in touch! I followed her brand LocAlly Made when she first started and it's amazing to see how much she's grown her business! I am truly in awe of how hardworking she is and her jewelry is a staple piece for me everyday, her products are amazing!" 
Another customer, Sophia O'Leary, remarked, "I have loved her jewelry since the beginning! She is so sweet and kind and I love how affordable her jewelry is! I love her style and will continue purchasing from her." 
Karly Svachula, a freshmen fashion merchandising major here at Kent State, exclaimed, "Her jewelry is really affordable and so fitting for any kind of occasion. I got my friends and I matching stamp rings and we love them! She works extremely hard with cheer, managing social media for a small business, while running her own, and still attending classes. I am so proud of her dedication and can't wait to see what the future has in store for LocAlly Made!" 
Eventually, Taylor hopes to move towards doing all non-tarnish jewelry that is still affordable. She is also looking forward to creating and managing her own website for her business rather than using Etsy, this way it is more personal. In closing, the next time you or a friend is looking for a new ring or necklace, remember LocAlly Made 13, the perfect place to find cute, trendy and quality jewelry.  
Support Student Media
Hi, I'm Grace Avery, the Editor In Chief of A Magazine. My staff and I are committed to bringing you the most important and entertaining news from the realms of fashion, beauty and culture. We are full-time students and hard-working journalists. While we get support from the student media fee and earned revenue such as advertising, both of those continue to decline. Your generous gift of any amount will help enhance our student experience as we grow into working professionals. Please go here to donate to A Magazine.