i tried a capsule wardrobe for a week and here are my thoughts
While scrolling through my TikTok one morning as I procrastinated getting up and getting ready for the day, I came across a video detailing something called a capsule wardrobe. I was immediately intrigued as the influencer spoke of how she has spent less time getting ready in the morning since starting her capsule wardrobe. A capsule wardrobe is a collection of 25-50 pieces of clothing that can all match to create interchangeable outfits. To start this type of wardrobe, one must first pick a base color to orbit everything else around. This base color can either be navy or black, it just depends on personal preference. Then, you can pick a pop of color to keep your own personal sense of style. Pieces in a capsule wardrobe are normally basics, such as jeans, t-shirts, jackets, skirts, sweaters, and layering pieces. The key here is simple, high-quality basics that can be worn together with ease. Eliminating pieces that you do not normally wear reduces clutter in your wardrobe and cuts down time when deciding what to wear, so they say. When your whole wardrobe matches without much effort, you will get more wear out of your clothes, spend less money on clothes and ultimately feel like you always have something to wear. Now, these benefits sounded intriguing to me, so I decided to try out a capsule wardrobe for a week to see if it was worth it or made my life any easier. 
Narrowing Down 
I went with black for my base color because I felt more comfortable styling those pieces and I only own a few navy items. First, I narrowed down my jeans to two pairs, something that was very difficult for me because I have a slight emotional attachment to my jeans. Next, I chose a few basic tops. It was difficult to pick these pieces and I tried to pick pieces that I thought would be versatile and be easy to style together. For the sake of this article, I kept my choices pretty limited, as I was only trying this experiment for one week. Narrowing down my closet was honestly very difficult and part of me was very sad to not be able to wear some of my favorite pieces. At this point, I was excited to see where the week would take me and what outfits I could style. 
What I chose: 
Pants
Zara full-length jeans

Slimmer-fitting Zara mom jeans

Zara black leather pants 

Garage Clothing brown leather pants 
Tops
Zara tan mock neck tank top

Zara brown mock neck tank top 

Black bodysuit 

Zara white long sleeve top

Black tank top 
Outerwear 
Black leather jacket 

Brown leather shirt jacket 

White button-up

Thrifted denim jacket 
Shoes
Black platform Converse

White platform Converse 
Day 1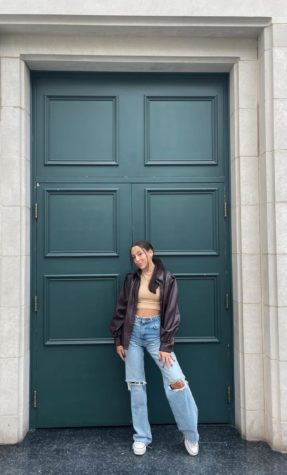 Starting off strong, I chose the wider-legged Zara jeans with a tan mock-neck tank top. Then, I went for my brown leather shirt-jacket and finished the look with my white Converse. I am not going to lie, but I felt very put together this day and picked this outfit out in about two minutes, which I would say is pretty fast. I was very enthusiastic about this new wardrobe at this point, and I was feeling like I had this week in the bag. 
Day 2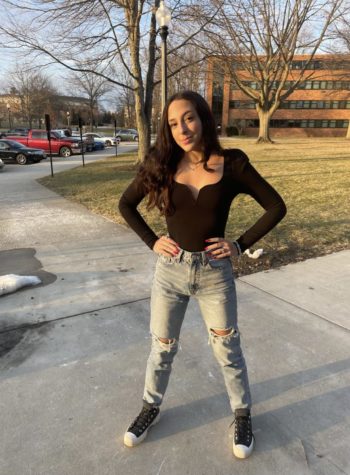 This day I had an early morning lecture at the fashion building, so I wanted to perfect this outfit, but I was also very tired. I opted for the black bodysuit and paired it with the slimmer Zara jeans. I threw on my black converse to bring a balance to the outfit by having black on the top and bottom. I ran out the door and went to the lecture feeling very chic, and I was able to get ready without much fuss. I got ready in about four minutes this day because I toyed around with the idea of wearing my black leather pants for an all-black outfit, but I decided against it. 
Day 3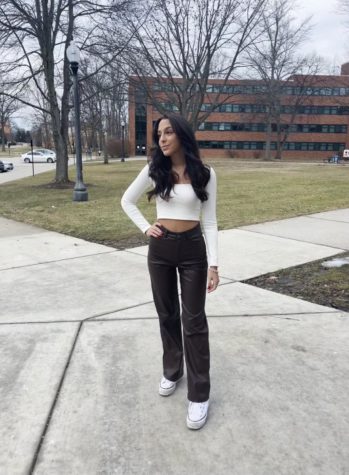 This day I woke up and decided I wanted to wear leather pants, so I immediately gravitated towards my brown ones. I chose the white long sleeve top to pair with them and it created such a simple, yet put-together look. I picked my white Converse to wear and went on my way. Once again, I got ready very quickly, probably in about two minutes, and I stuck with this combination. I was really starting to like the ease of this challenge and I was really enjoying how short it was taking me to get ready for the day. 
Day 4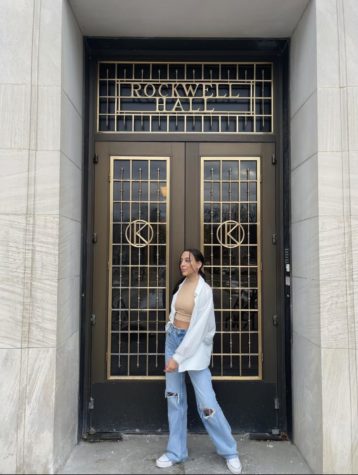 On this day I had a full schedule with classes all day, so I wanted an outfit that would give me enough confidence to get me through the day. My wide-leg Zara jeans seemed like the best choice for today because they always give me that extra boost of confidence. I styled my outfit around these jeans and decided to wear my white button-down. For underneath, I struggled at first and played around with a few different options. I settled on a tan mock-neck. This outfit was almost identical to Day 1's outfit, just with a different top layer. I also wore my white converse. I was starting to feel like my outfits were getting repetitive, but I was in a rush so I did not fuss anymore. I got ready much slower this day and it took me about ten minutes to finally determine my outfit. This day was the turning point for where I was starting to get frustrated with my options. 
Day 5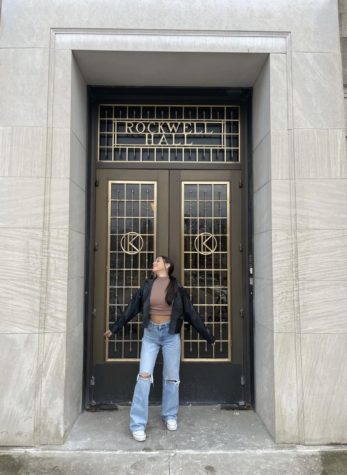 After the previous day's outfit, I had lost all motivation to come up with an outfit with these clothes. I am not going to lie, but I took a little gap between these days because I was getting sick of these clothes. I wanted some variety in my life and I abandoned my capsule wardrobe for around four days. After my short break, I was ready to go back to this challenge. I wanted to wear all my layering pieces and the only ones I had left were my black leather jacket and my jean jacket. I decided to wear my wide-leg jeans for the third time, although I was very tired of them. I then went with the same mock-neck, but it was another color. I wore my white Converse, as well. I got ready in about five minutes this day, as I stared at my very limited options and finally created this outfit. 
Day 6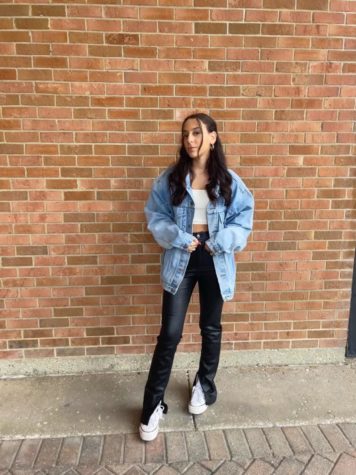 My last layering piece was my denim jacket and I decided to pair it with my black leather pants. For underneath, I decided to wear the same white long sleeve top from Day 3 and it completed the outfit very nicely. I finished the look with my white converse to complement my top and I was very pleased with this pairing. I normally would not wear this jacket with these pants, but with the capsule wardrobe I was forced to improvise and I think it turned out very stylish. I picked this outfit in one try and did not change any elements, so I got dressed in about three minutes. 
Day 7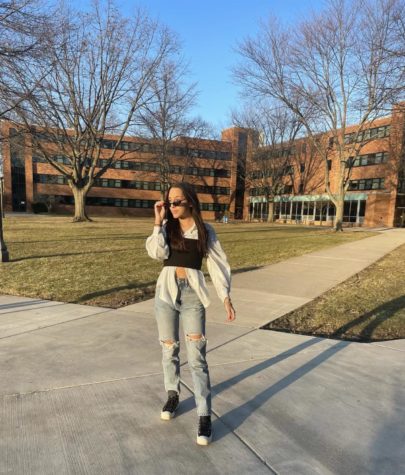 Finally, the last day of this challenge was here and I could not be more excited to wear anything but these same pieces. I was feeling very burnt out at this point and I wanted to try something a little unconventional. I was struggling with this last outfit and it took me a couple of tries to get this right. I have seen people layer tank tops over button-downs, so I wanted to give it a go. I buttoned the middle buttons on my white shirt and I layered a black tank top over it. I left the bottom buttons open so there was a little skin showing. I chose the slimmer Zara jeans to match it, but I think this look may have looked better with the black leather pants or even leather leggings. I opted for my black Converse. This may be cheating, but I pulled out these fun black sunglasses because I just felt they would complete the outfit. I still cannot decide if I like this outfit or not, but I was working with what little options I had, and I think it is kind of fun. 
My Thoughts
What a crazy week this was. I was expecting this to be easier, and I think it was partially my fault because I do not think I included enough items in my capsule wardrobe. All together I probably had about 15 pieces that I created outfits with. I think if I had a minimum of 20 pieces this might have gone a little better. I managed to wear everything in the capsule and it definitely simplified my morning routines in the beginning. However, as I went throughout the week, I started to struggle and felt like I was styling very repetitive outfits. I think this changed my perspective in a way because I am not the type of person to re-wear my clothes very often. I was forced to re-wear my clothes multiple times this week, and it made me appreciate my clothes even more. I definitely felt restricted at certain points during the week, but it forced me to be creative when styling my clothes. I probably could not commit to this full-time, but I am sure there are people who would thrive doing so. I am just not cut out for this, but it was fun to give it a try. At the end of the day, I missed my other clothes too much and I felt like I was dressing in ways that did not necessarily fit my style. I understand the benefits that this type of wardrobe has and I agree that this type of wardrobe has the potential to save time getting ready and one can get more wear out of their clothes. I am glad that I tried out this challenge, but I now know that I need more variety in my wardrobe and I get bored easily when it comes to my outfits. Now back to wearing my favorite colors and bold patterns. 
A very special thanks to my friends, Emma Elliot, Kelly Owens, Paige Coffey and Sophie Hovius for graciously being my photographers this week.
Support Student Media
Hi, I'm Grace Avery, the Editor In Chief of A Magazine. My staff and I are committed to bringing you the most important and entertaining news from the realms of fashion, beauty and culture. We are full-time students and hard-working journalists. While we get support from the student media fee and earned revenue such as advertising, both of those continue to decline. Your generous gift of any amount will help enhance our student experience as we grow into working professionals. Please go here to donate to A Magazine.