ever heard of rent the runway?
How many times have you bought a piece of clothing only to wear it once and have it sit in your closet? Possibly for a special event such as a wedding, prom or graduation? I can admit that this has happened to me more times than I can count. Then you are left staring at this clothing item and you realize it probably will never be worn again, feeling guilty at the thought of how much you paid for it. Fortunately, there is a solution to this problem. May I present Rent the Runway, a service where you can rent a garment for a short period of time and then return it once your event is over. The items available for rent are all high-end, designer pieces with retail prices going up to thousands of dollars. For a fee, oftentimes $30 to $400, you can rent these pieces. 
The Rundown: 
To choose your outfit, you can either search through Rent the Runway's app or website by filtering your search by the date you need the garment and your preferred size. Rent the Runway then offers two options: A one-time rental or a membership program. For a one-time rental, you choose the garment you wish to borrow and you can either rent it for four or eight days. The garment will arrive one to two days before your rental period begins. There is even an option for a backup size, just in case the item runs too big or too small. After your rental is up, you ship the item back by placing it on the original hanger and in the bag it was delivered in. Rent the Runway handles the dry cleaning, so each garment is cleaned and sanitized for the next customer. In addition, Rent the Runway also offers a subscription service, where members can choose different plans, depending on their lifestyle and budget. The lowest plan, at $94 a month, offers four items per month in one shipment. The middle plan, at $144 a month, offers eight items per month in two shipments. The highest plan, at $235 a month, offers 16 items per month in four shipments. The first month is a trial month at a discounted price, so you can test it out before you commit to paying the full price. This option allows individuals to bring some variety into their closets on a regular basis, and for those who love designer clothes, this is a great way to incorporate designer items into their wardrobe without committing to a hefty price tag. With the membership, the items have no return date, but there is a cut-off at four items rented at once. 
Pros 
Rent the Runway can be cheaper than buying a new outfit for a one-time occasion. Plus, you can rock designer clothes for a fraction of the price. Invited to a black-tie wedding and have nothing to wear? Rent the Runway. Need an outfit for your birthday dinner? Rent the Runway. Invited to a last-minute formal event? Rent the Runway. Have you been eyeing an item and do not want to pay the full retail price? It may just be on Rent the Runway. I can not stop thinking about this For Love and Lemons Petal Mini Dress, and I saw that it was available on Rent The Runway, so I might just have to rent it for fun. Individuals can try out new styles that they normally would not wear, without the commitment of buying them. Rent the Runway is perfect for standout pieces that would normally just sit collecting dust in the back of your closet. For instance, these Ted Baker Sequin Pants are definitely a show-stopper, but not an everyday closet staple, so these pants would be amazing for a special event. Rent the Runway has over 700 items to choose from with new items being added every Saturday, including dresses, pants, skirts, jumpsuits, tops, jeans, shoes and accessories. There is also a maternity section, which could be very helpful for expectant mothers who may not want to spend a lot of money on clothes that they are only wearing for a couple of months. The website and app are very easy to use and you can sort by occasion, color, embellishments, age range and price range. People also leave reviews on the items, so it is easy to see how the garments fit on certain sizes and body types. 
Cons
Although Rent the Runway provides a free backup size, there is no guarantee that every item will fit perfectly. Brands' sizes run differently, so there is always the chance that the item will not fit right. This can ruin the whole look, and there is not much one can do to fix an item that is not theirs. In the event that a customer is not satisfied with their selection, they should have a second option, maybe from their wardrobe, just as a precaution. This can be disappointing, but is not necessarily a problem with Rent The Runway, but mainly the garment itself. One thing to be careful of, however, is that Rent the Runway has hidden Terms of Service, that if broken may cost a pretty penny. If a customer returns their garment later than their return date, they will be charged $50 per day. If the item is not returned within seven days after the return date, it is considered to be a "non-return" and the customer will have to pay the retail price of the garment, which could be pricey. Rent the Runway covers the expenses of normal wear and tear, but anything beyond that (major stains, rips, theft, loss, etc.) will result in the customer being charged for the full payment of the item. Although these events are unlikely, it is definitely something to keep in mind before going through with this service. 
Top Picks: 
Occasion: black-tie wedding 
Designer: Black Halo
Rental Price: $53-68 (depending on the date rented) 
Retail Price: $575 
This blue gown has stunning detailing in the bodice, and the color will be sure to turn heads. Its fit will be flattering thanks to its silhouette. 
Occasion: Party 
Designer: Nookie 
Rental Price: $30
Retail Price: $189 
This top is so fun with its illusion tulle sleeves, and it would be the perfect addition to a party outfit. Style with black leather pants or a skirt for a chic all-black look, or add some bright-colored bottoms for a nice pop. 
Occasion: Date/Party
Designer: Bardot 
Rental Price: $30 
Retail Price: $79 
This black faux leather skirt is very on-trend with its strappy tie. This skirt would pair well with a puff-sleeve top or corset. Add some fun heels to dress it up, or grab some sneakers to dress it down. 
The Inside Scoop 
I was able to find someone who has used Rent the Runway to see an inside perspective. This is Jordenne Gregory, and she is a Kent State Fashion Alumni. Here is what she had to say: 
"I have been using RTR on and off for the past 3 years for working in the office/at home, special events, and weekend plans.  The experience has been phenomenal. When I lived in NYC, it took 1 day to get to my apartment. However, now living in Pittsburgh, it takes 2-3 days. I pay $144 for 8 items a month. The items have always fit and looked great, people review the items so it is easy to find the perfect fit for you. RTR takes care of the dry cleaning which was one of the biggest positives for me. They also have more than just clothing; they have bedding and accessories, as well.  I started Rent The Runway when I took a sustainability of fashion class at Kent State. I never understood how fast fashion impacts not only the planet but people in third-world countries. Instead of buying three things at Zara for $200, I can rent 8 pieces from RTR for less than that. I have now built a strong capsule wardrobe and can spice up my outfits with fun pieces from RTR each month. I do not have any negatives, however, there are so many rental services out there. I have tried Fashion Pass, which is cheaper, however, the pieces are less expensive overall and a little more trendy. Currently, I do RTR and Nuuly, which is owned by the URBN corporation. I also pay $89 a month for 6 items for Nuuly. If you are someone who wants to try out a subscription service, I highly recommend either RTR or Nuuly."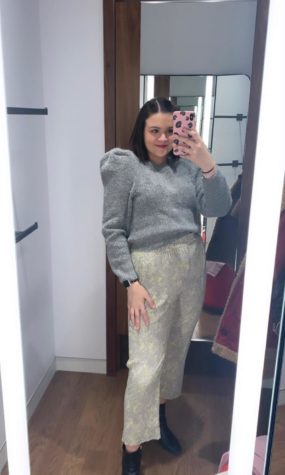 Gregory rented both top and bottom, the top is from Philosophy di Lorenzo Serafini (retail $300), and the bottoms are Equipment ($395). 
Overall, Rent the Runway seems like such an innovative and useful service, and I would definitely be willing to try it in the future. It is especially beneficial for special occasions or just to spice up your wardrobe. I love the idea of the membership, as it allows customers to wear pieces they would never consider wearing. Still, I would be concerned with the item not fitting, but that is just the risk you have to take. The next time I have an event that I need to dress up for, I will think twice before I buy something new and will consider using Rent the Runway. 
Support Student Media
Hi, I'm Grace Avery, the Editor In Chief of A Magazine. My staff and I are committed to bringing you the most important and entertaining news from the realms of fashion, beauty and culture. We are full-time students and hard-working journalists. While we get support from the student media fee and earned revenue such as advertising, both of those continue to decline. Your generous gift of any amount will help enhance our student experience as we grow into working professionals. Please go here to donate to A Magazine.