m&s schmalberg: the garment district's prized handmade flower maker
When you think of New York City's Garment District, fashion is probably the first thing that comes to your mind. After attending class twice a week in the center of the Garment District this summer, I got a glimpse into the world of manufacturing and saw the process of how a product is made. Behind the scenes of a world typically associated with glam lies an industry of unseen, hardworking craftspeople. The district I spent my summer exploring is unlike what I thought it was going to be and different from the one that used to exist.
The garment industry's roots trace all the way back to the Lower East Side, which was an area where many Jewish immigrants worked and lived. Manufacturers spread throughout the North and West Side, eventually zeroing in on the West Side location extending from 34th Street to 40th Street, Sixth to Ninth Avenue. Since New York provided much of the nation's textile storage, it makes sense that by the time that World War II ended, the garment industry became the largest manufacturing center in the country. The majority of garment production was done in the homes of Jewish immigrants where families and children worked in unsafe apartment conditions as there was lack of proper ventilation and light. Years after World War II, production moved overseas to lower cost areas. By the 1980s, a considerable amount of manufacturing had left the Garment District. Despite the decline in production, some pieces of the previous Garment District still remain as reminders of its history as a hub of fashion.
M&S Schmalberg is a gem within the bustling streets of the Garment District. Many of our favorite celebrities have worn hand-made flowers from M&S Schmalberg. They have created for Vera Wang, J.Crew, Oscar de la Renta, Chanel, Disney, Katy Perry, Drew Barrymore, Gwen Stefani, Beyoncé, Meghan Markle the Duchess of Sussex and more. M&S Schmalberg flowers have also made appearances in beloved shows such as "The Gilded Age," "The Marvelous Mrs. Maisel" and Emmy-nominated Netflix hit "Bridgerton." Examine one of your favorite celebs or shows and you may spot M&S Schmalberg flowers.
View this post on Instagram
M&S Schmalberg is a family-owned and handmade flower business located in the Garment District, where it has been since Sam and Morris Schmalberg opened the company's doors in 1916. Over 100 years later, business is still booming. Adam Brand, vice president of M&S Schmalberg, has taken the reins of the business from his father Warren Brand (nicknamed The Flower Man), who is the president of M&S Schmalberg. Adam has maintained the business post pandemic and predicts the promising growth of the business. The Garment District evolves over time and to keep up with it, you have to put in the work to keep a business afloat.
"The business has changed so much over the years. Thirty to 40 years ago, you could pick a building in the Garment District, and you could knock on every single door and try to sell your flowers. Everybody was into fashion," Adam Brand said.
In terms of expanding the business, Brand set his sights on the internet. "The internet is such a wonderful tool. We've been able to create a nice business on Etsy and Amazon," Brand said.
Brand's approach is different from his father's hands-on method of flower making, but it has been effective for business. He was interviewed by costume historian Bernadette Banner who has a large following on social media. After the interview, orders poured into the Etsy system. "It went from 20 to 30 orders, by the time I got into the office, there were about 500 orders," Brand said. He is also capitalizing on opportunities to expand business engagement via social media. According to Brand, social media is the new wave of attracting customers. Brand has social media interns who understand today's digital era and exclusively work on the business's social platforms. He understands how important attracting customers is through content creation. However, when Brand is needed to cut, count or package, he fills the role focusing on finding clients and getting orders completed and sent out.
Quality and connection comes with each order through every flower. Each petal is shaped thoroughly and delicately to match the desired flower design. Brand and his team make clients' dreams a reality by bringing their idea to life whether it is creating a design from a family heirloom or providing them with sample flowers. Each day looks different for Brand. One day he's doing an interview or giving a tour of the factory, and the next he's cutting 14,000 flower petals for a Canadian designer. But what sets M&S Schmalberg apart from its manufacturing competitors is quality and connection, Brand said.
"Made in China has become the poster child and so much of the world revolves around that," Brand said. "We have this world where people are kind of broken—just expect everything to be cheap. That has been the struggle ever since."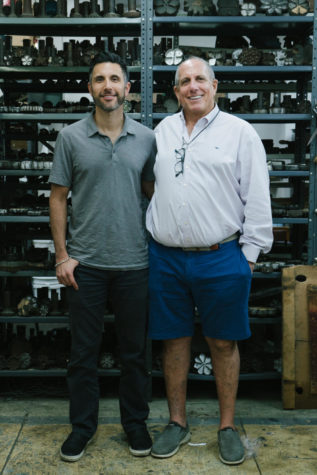 Having such a complex business means having a team who can match the skills needed to get the job done and orders sent out. Flowers need to be cut out, embossed and then assembled, which can be a long process depending on the type of flower requested. Since 1979, Miriam has been working at M&S Schmalberg. She was seeking employment and was led in the direction of flower making through a union called Garment Workers United, where she is still a member today. She was sent to an older factory and soon discovered a love of flower making. She learned how to make different parts of flowers, but it wasn't until she started working at M&S Schmalberg that she was able to showcase her abilities.
"I loved it from the beginning," Miriam said. "When I started at this company I was free to make whatever I liked. We are like family. I am treated like a person which means a lot to me. Every day you do something different and the beauty is wonderful."
The era of sustainable fashion is something that all companies are striving to master, but M&S Schmalberg has always practiced sustainability. During the flower creation process, Brand expressed that not much material goes to waste. Throughout the process there are a lot of flower cutouts, but instead of being thrown away the extras are sold to customers, given to students or donated.
M&S Schmalberg is the last of its kind in the Garment District which makes it all the more unique. Sticking to its roots yet evolving in areas such as social media is what has kept it so successful in the industry. Understanding the history of the Garment District adds even more appreciation to M&S Schmalberg and other manufacturers still working out of the district today.
For students looking for internship opportunities, reach out to Adam Brand with a resume and cover letter. For all of your authentic custom flower needs, check out the M&S Schmalberg website.
---
Support Student Media
Hi! I'm Catie Pusateri, A Magazine's editor-in-chief. My staff and I are committed to bringing you the most important and entertaining news from the realms of fashion, beauty and culture. We are full-time students and hard-working journalists. While we get support from the student media fee and earned revenue such as advertising, both of those continue to decline. Your generous gift of any amount will help enhance our student experience as we grow into working professionals. Please go here to donate to A Magazine.