kentucky to kauai to nyc: the unstoppable force of frances brunner
From Kentucky, to Kent, to Kauai, to New York City – Frances Brunner is no stranger to diving into the unknown. Born and raised in Louisville, Kentucky (hometown of our beloved Jack Harlow), Brunner was a big fish in a small pond whose raw charisma and passion was far too ambitious for life in the south. 
Growing up in Kentucky, Brunner's childhood took place in a strict, conservative household. The modest life and style of her parents was not something that she identified with. Being the youngest of four sisters, she was always forced to wear hand-me-downs, even though her young heart desired sequin tops from Justice. 
Her love of fashion led her to use her creativity to style her sister's old clothes in new ways to spice up her outfits. She shared the same ideology with her childhood best friend Mary Glenn so by the time they were in high school they began playing around with entrepreneurial ideas about selling and making clothes. 
One Friday night, they met up at Brunner's house to embroider their shoes with beads and stitches. They imagined themselves embroidering shirts and selling them under the brand name "Frank and Glenn", which was an homage to an old childhood joke about the two girls attending a prestigious all-boys school under the aliases of Frank and Glenn. Unfortunately, that Friday night ended up being Mary Glenn's last one because she tragically took her life the following Tuesday. 
With no other outlets for her to put her to grief, Brunner turned to the brand. She put all the sadness and grief that she was dealing with into "Frank and Glenn" and created something amazing. She sold T-shirts under "Frank and Glenn" for the remainder of high school, donating a percentage of her sales to The Mental Health organization as a tribute to Mary Glenn. 
After attending Kent State University as a fashion design major for two years, something inside of her was yearning for change. She needed a season of reflection and meditation to help her find clarity on the path she was meant to take. She needed to get away. She landed on the idea of a gap year away in Kauai, an island in the central Pacific part of Hawaii. 
During her time there she stayed at a hostel and landed a job at a boutique called "Hunter Gatherer", admittedly, with the goal of meeting someone with some type of leverage in the fashion industry. Spoiler alert: It worked.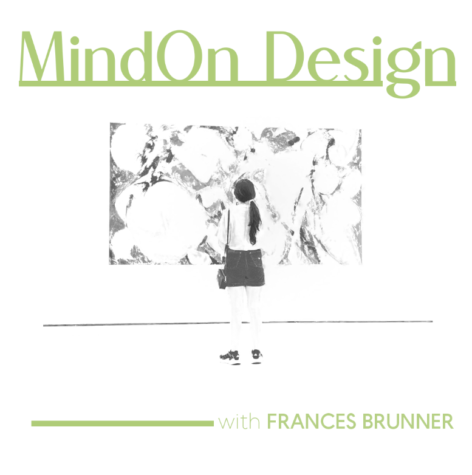 I sat down with Brunner on her podcast "MindOn Design," featured on Black Squirrel Radio, to discuss how that experience led her to New York Fashion Week '22. 
After taking the leap and moving to Kauai, Brunner was riding on a feeling that "something good" was coming her way. With the knowledge of "those who do not ask, do not receive," she made it her mission to network expeditiously. She framed her million dollar question as, "Do you know anyone in the fashion industry? I'm looking for an internship." It was that question that led her to her next destination: New York City. 
One day, while she was working her shift at the boutique, a group of women walked in and immediately caught her attention. They were extremely friendly and were having a great time bantering with her. After getting to know the ladies, she was ready to pop her million dollar question. It was a good thing that she did because one of them happened to be a sculptural artist from NYC, who personally knew the designer Cynthia Rowley who is best known for cornering the market of fashionable yet functional wetsuits. She gave Brunner her email address and after messaging back and forth, she landed an internship. 
A couple months later, she touched down at LaGuardia Airport and began an intense summer of hard work and acclimation. NYC's culture is drastically different from Kentucky's and even more different from Kauai's. The fast paced, unforgiving attitude of the city, mixed with cliché fashion internship grunt work was difficult for Brunner to navigate and also showed her that NYC was not her final destination.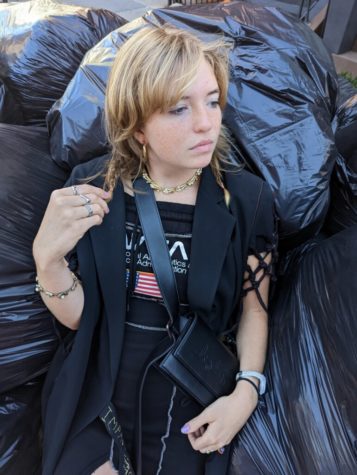 Although it was tough, it was all worth it when she was invited to work at Cynthia Rowley's NYFW '22 show. Working at NYFW is a dream come true for any fashion student and there she was with the opportunity of a lifetime at her fingertips. 
After her internship concluded, Brunner returned to Kent for a month to begin her junior year before trekking back to NYC in her 2003 Saab station wagon (AKA the swaggiest car known to man). She drove into the city on Sept. 11, giving her only one full day to prepare for the show. 
The morning of Sept. 13, she grabbed a coffee from Laughing Man Cafe, which she said is the unofficial official coffee shop for everyone that works at Cynthia Rowley, and made her way into the studio at 10 a.m. The pressure was already on. When she walked in, the team was gluing model cards which are essentially a description of each look in conglomeration with the model's picture, name and look number. There were two looks for each model, which meant that dressers had to hustle.
Brunner was assigned a model to dress, whose looks were numbers 25 and 38. After she finished gluing model cards, she was sent on a mission by Rowley to hem a pair of pants. She shouted out her basics of apparel construction class for teaching her the skill. 
Brunner worked alongside her fellow summer interns, which put them at an advantage since the other volunteers had just met the Cynthia Rowley team that day. Since they were far more familiar with the brand and its goals, Brunner and her friends felt confident enough to take the lead and direct the other volunteers, acting as a liaison between them and Rowley's team. 
That confidence is something Brunner stresses every intern should have. Taking initiative is something that will set you apart from everyone else, and ensure to whoever you are working for that you are cognizant about what they want and you will do whatever it takes to achieve it.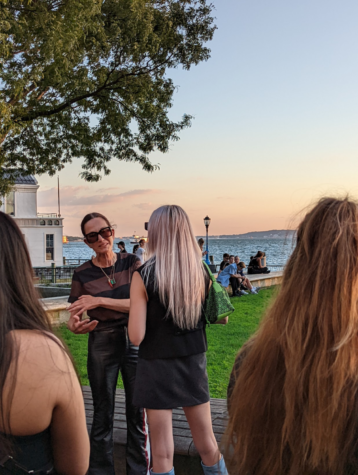 After running around 38th Street picking up samples, she made her way to Battery Park where the show was taking place. The scenic location had a perfect view of NYC's biggest critic: Lady Liberty. Everyone made their way to the hidden backstage tents and began prepping for the show. The models rehearsed the show twice, went backstage to get dressed and in no time the show was ready to commence. 
There were people stationed around directing everyone and keeping the pace of the show. In a production like this, timing is everything – and so is energy. Rowley was hyping up the models and keeping the excitement going backstage throughout the show. 
The first walk through went smoothly, and now it was time for her model's outfit change. A helpful tip from Brunner to every fashion show dresser: Communicate with your model beforehand about how each outfit change will go. "You zip this, while I unbutton that" will go a long way when you only have 60 seconds to change. 
The second walk through was a breeze and just like that, the highly anticipated show was over. For Brunner, the most beautiful aspect of her experience was seeing Rowley's artistic vision come to life and being immersed into "how she wants to paint the world."
View this post on Instagram
The show was an experience that she will remember for the rest of her life, Brunner said, however the highlight of her NYC trip happened off the runway. On her last day in NYC she was "cruisin around SoHo" with friends who by the end of the day wanted to make their way back to Brooklyn, but Brunner had an intuition that she needed to stay in Manhattan. As she was taking the streets, she witnessed a group of fashionable people walk by and she wondered what they were up to. Then, she saw another group. Something was going on.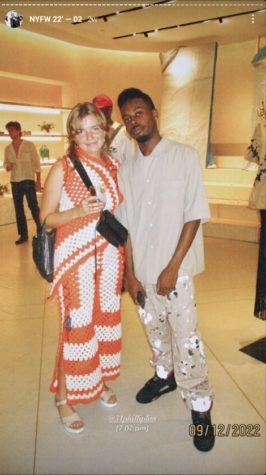 She nonchalantly followed them and was led to what looked like an exclusive NYFW after party at Phillip Lim's store. She debated sneaking in, but she was apprehensive. It wasn't until a 6-year-old influencer pulled up in a tinted out Escalade, and strutted into the event with her agent and photographer in hand that Brunner knew she needed to get into that party. 
She waited for a big group to approach and slid into the party with them. Inside were people from every sector of the industry: models, designers, influencers, different employees of fashion houses and brands and even a few celebrities. Brunner was decked out in one of her own designs, a crochet set made from an upcycled blanket from Village Discount. She had a surreal moment when a guest asked her the famed question, "Who are you wearing?" "Me," she was able to vehemently say. In that moment, she was able to see herself through the lens of the industry, as a confident, well-established designer. She became aware of the value of her work, which now makes her unstoppable. 
Brunner's future in fashion is unknown but undoubtedly bright. With her mighty intuition and glass half full mentality, she will be a driving force in whatever path she chooses to take. 
You can listen to our conversation on Spotify on: "MindOn Design"
If you are interested in being a guest on "MindOn Design" email Fran Brunner at [email protected]
---
Support Student Media
Hi, I'm Catie Pusateri, the Editor-in-Chief of A Magazine. My staff and I are committed to bringing you the most important and entertaining news from the realms of fashion, beauty and culture. We are full-time students and hard-working journalists. While we receive support from the student media fee and earned revenue such as advertising, both of those continue to decline. Your generous gift of any amount will help enhance our student experience as we grow into working professionals. Please go here to donate to A Magazine.