exploring my heritage in the jewish quarters of amsterdam
Religion was always a topic that seemed very complex to me growing up. My parents were from different religions; my mom was Catholic, and my dad was Jewish. I was always confused about what to tell people. What I did know was that I got double the holidays, lots of good food and both Hanukkah and Christmas presents, which were the most important things as a kid. As I have gotten older, I have realized how much more there is to being a person of Jewish descent. 
I will never forget the first time I read "The Diary of a Young Girl," Anne Frank's diary. I was in fourth grade, which was the first time I learned about the Holocaust. Even at that age, I could not believe that something so horrible could happen to a girl simply because of her religion. A girl with dreams and ambition who was so smart and had such a passion for life.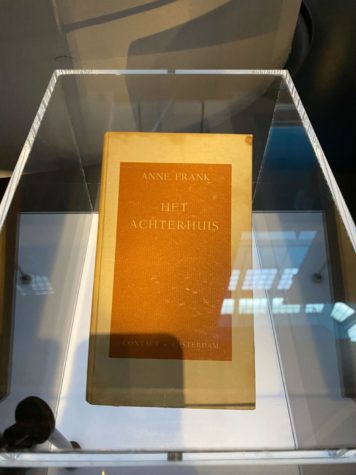 From then on, I knew the importance of visiting Amsterdam, the place where many Jewish people resided during WWII. 
The first thing I did upon my arrival in Amsterdam was the Anne Frank walking tour. It was a guided walk through the historic Jewish quarters in Amsterdam. We walked through her neighborhood and did the walk that the Frank family did on their way to the Secret Annex, the streets where they took their final walk.
Unfortunately, the tickets to see the real Secret Annex must be bought months in advance, so we did not get the opportunity to visit the actual living quarters. Although at the end of the walking tour, they had a virtual tour of the Annex, so we still got to experience it. 
The whole tour was very emotional – learning even more about the Frank family and the details of their life makes what happened to them and so many other Jewish families like them even more tragic. They all enjoyed reading, cooking and spending time together as a family. They were just regular people living normal lives until the horrid acts of the Nazis turned their lives upside down.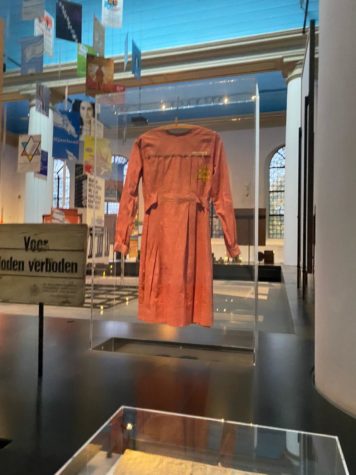 After the walking tour, we visited the Joods Historisch Museum, which is a museum that focuses on the history of Jewish people local to Amsterdam. The museum is set up in chronological order, starting from when the Jewish people started migrating to Amsterdam up until post-war when many of them left. 
The museum contained art by Jewish artists and many religious artifacts. The exhibits really allowed the visitors to try to understand what life was like as a Jewish person living in Amsterdam pre, during and post-war. 
What happened in those years was absolutely horrific, and the aftermath of such a tragedy has passed down trauma for generations in the Jewish community. Survivors not only lost their families and friends, but most also had their belongings and their money taken by the Nazis. As stated in the New York Times, "The report estimates the value of plundered Jewish property at $125 billion, at current prices. It estimates the loss of income at $104 billion to $155 billion and unpaid wages of forced laborers at $11 billion to $52 billion."  
Even in the hardest of times, so many of the Jewish families suffering still found ways to stay optimistic. Their resilience and hope live on and can be learned from to this day. Even after all that she went through, Anne Frank wrote in her diary, "I don't think of all the misery but of the beauty that still remains."
---
Support Student Media
Hi, I'm Catie Pusateri, the Editor-in-Chief of A Magazine. My staff and I are committed to bringing you the most important and entertaining news from the realms of fashion, beauty and culture. We are full-time students and hard-working journalists. While we receive support from the student media fee and earned revenue such as advertising, both of those continue to decline. Your generous gift of any amount will help enhance our student experience as we grow into working professionals. Please go here to donate to A Magazine.