Kent State Fashion's New York City studio is the hub for the New York students. Although it occupies only two floors of a packed Garment District office building, what happens on and off campus is unlike anything you will experience in Kent, Ohio.
Fashion in the Media, a three-credit course offered at the NYC studio, is an immersive experience that simulates what being on a real editorial team is like. The course is structured around creating a full print issue of Vignette: the NYC studio's official magazine.
There are no tests or quizzes, and very few traditional assignments. Instead, each class period is spent further developing the ideas of each editorial team.
This semester began with an exercise that put everyone on different sides of the room based on their interests. Split between fashion, beauty, art, music and culture, our passions and interests determined our teams. The first few weeks of class were spent discussing the different aspects of editorial. We had the opportunity to hear from well-established industry professionals, such as photographer, Richard Koek, whose work has graced the covers of many magazines, including Interview Magazine.
This semester, the course is being facilitated by D'angelo Thompson, a master of all editorial trades. Thompson is a Daytime Emmy Award-winning hair artist, Daytime Emmy nominated makeup artist, published author, editor-at-large and entrepreneur. Thompson is highly respected in both editorial and entertainment. He most notably has worked on the "Wendy Williams Show" and has been featured in Interview Magazine. His clients include Hulu, Bravo, Dillard's and Gap, to name a few. His entrepreneurial ventures allow him to provide students with valuable insight into the business end of the editorial industry.
As shown through his diverse portfolio of professional experience, Thompson is an incredibly motivated individual, and he definitely brings passion into the classroom. The class's structure is meant to teach students important skills that they will not only need in editorial endeavors but in any fashion-oriented career they plan on pursuing.
"I hope students will understand the pre-production and post-production process, time management, how to be a team player, voicing their opinions and paying attention to fashion and trends around them but from an editorial eye," said Thompson.
Each semester, the issues are unique because students are fully responsible for the concepts found inside. Vignette is meant to signify the sign of the times for that semester. "I think it's very important for the students to be clear on their POV, and I want to give them ownership of this project, a time capsule of sorts," Thompson added. Although there is no established "theme" of the issue, each team's ideas begin to mold together to create one cohesive testimony of what the world looks like through the eyes of transplanted NYC fashion students.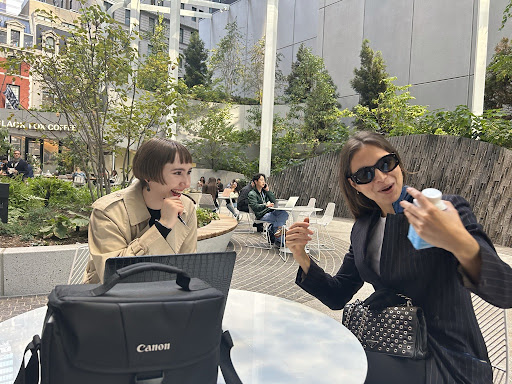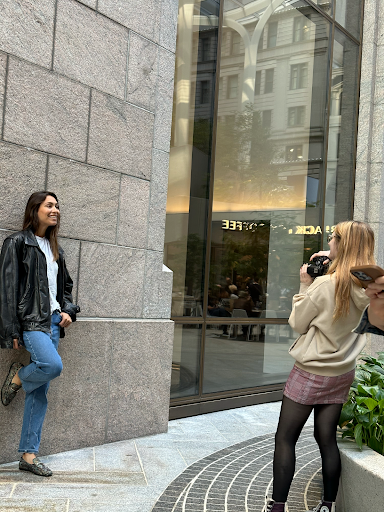 Senior fashion merchandising major, Logan Diener, is on Vignette's fashion team. She and her partner curated three concepts for editorial shoots: silhouette, androgyny and accents. According to Diener, they chose these concepts because of their "overall importance to cohesive fashion looks." Once their ideas were presented to Thompson, they were able to begin the pre-production process which entailed everything like securing models, styling, planning and finding a location. When asked what the inspiration for the shoot was, Diener expressed it was to "showcase contrasting elements merged to create cohesive concepts." Once the shoots are finished, the teams are advised to choose options that will be up for debate by the entire team.
"All of our shoots were really fun and enjoyable to partake in," said Diener. "This class truly makes you feel like you are in the industry as a creative director executing editorial shoots," said Diener.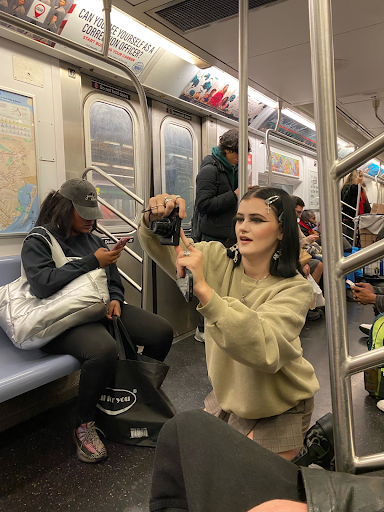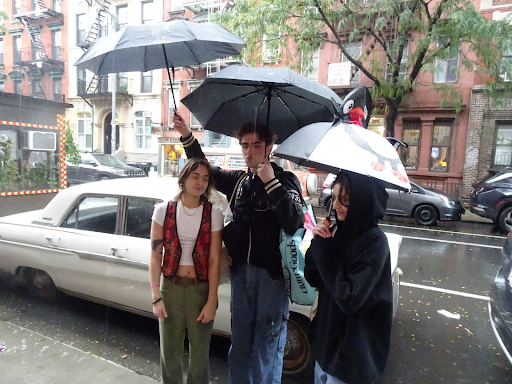 Vignette's Fall '23 shoots and articles are currently in the post-production phase. Throughout the next month, each class will be focused on refining the content and discussing placement, format and aesthetics with the entire team. While we are led by Thompson, the class is fully responsible for every step of the process.
The magazine will be finalized and printed during finals week, and each student is set to receive their own copy. Additionally, Vignette will be available for public purchase. If you want to keep up with the post-production process, follow the official Instagram @vignette.nycfashion where we continuously post updates and street photography taken by the class.
---
Support Student Media
Hi! I'm Annie Gleydura, A Magazine's editor-in-chief. My staff and I are committed to bringing you the most important and entertaining news from the realms of fashion, beauty and culture. We are full-time students and hard-working journalists. While we get support from the student media fee and earned revenue such as advertising, both of those continue to decline. Your generous gift of any amount will help enhance our student experience as we grow into working professionals. Please go here to donate to A Magazine.