solo travel diaries: my time in munich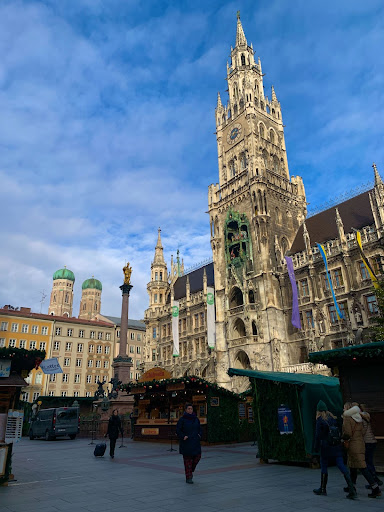 I've only ever seen Germany while alone, and Berlin was the reason I chose to see Munich for Thanksgiving break. Thanksgiving and spring break are the two biggest opportunities for students studying abroad to travel since you can see a city for longer than a weekend or see multiple cities in one trip – the options are endless when you are in Europe. 
In many German cities, Christmas markets begin to open in late November, going on for the following month until the holiday itself. Within Munich specifically, there are multiple markets with different specialties, as well as the original "Münchner Christkindlmarkt" in the city center, or Marienplatz.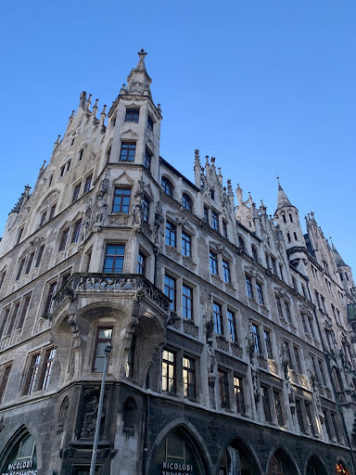 I started my trip on a Wednesday, and with more days at my disposal, I was able to leave Florence at a more reasonable time. Although Florence has a small airport, one of the cities you can get a direct flight to is Munich. The first Christmas market you see in Munich is actually within the airport!
From the airport, you're able to get a high speed train into the city pretty easily. Most of the hostels in Munich are in the same general area, so the main thing you want to look at is the amenities offered. I chose to stay at Wombat's City Hostel Hauptbahnhof because of the price and female-only dorms. This was right next to two major train stations, Hauptbahnhof and Karlsplatz, as well as being close to the Christmas markets.
My first real day in the city was Thursday, which was Thanksgiving. I woke up early for breakfast and to see the city at its least busy, and it certainly didn't disappoint.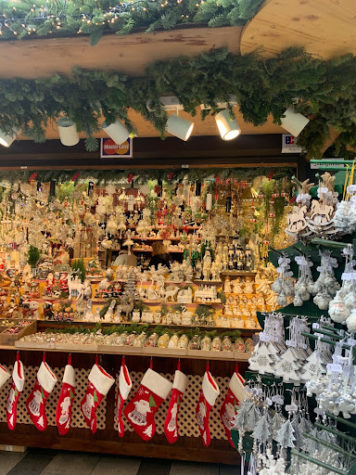 The markets didn't open until 11 a.m. so wandering around the empty stalls allowed for you to get a good idea of what the city center looks like at any other time of year. I was also able to see everyone set up and get ready for the day ahead – souvenir stands, food stalls, Christmas decorations and Gluwein stands. By 11:30 a.m. the aisles were crowded and they only got busier as day became night.
Aside from the Christmas market, Munich has a lot to offer in sights and shopping. Compared to Florence, the city is far more metropolitan with more department stores and international names. While this isn't a major pull for most tourists, it was nice to see this again after not having such options at my disposal. 
After checking out the main Christmas market and city center, I made my way towards the English Gardens. Although there is a market at the Chinese Tower, it doesn't open until later in the month, so I didn't get to see that, although I saw the beginnings of the set up.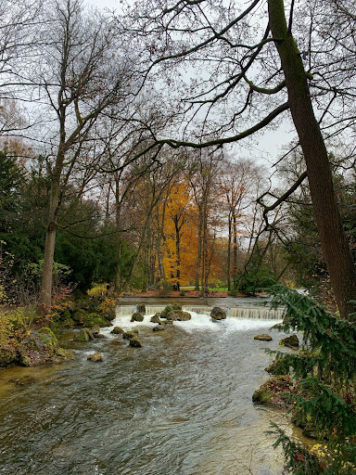 The English Gardens offered something else Florence didn't deliver: grass, trees and open space. Being able to walk around green grass and trees was freeing in its own way, even if it was raining on and off.
Once the weather finally committed to raining, I headed back to my hostel to sit down for a bit and wait out the rain. After a little bit, the sky was dark and the air was only damp and I could make my way out to see the markets at night for the first time.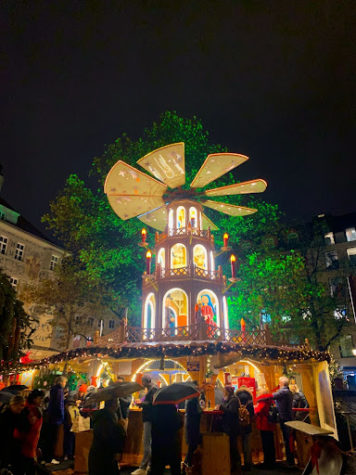 The markets at night truly were something special. Everything was aglow, music was going and people were out. Families with the Gluhwein mugs from 2019 were next to me who had never seen the city before. 
Finding food was never hard with such a variety of stalls. It was also less pressure to find food as someone traveling alone since everything was counter service. 
Thursday ended and Friday began. I started almost every morning I spent in Germany at the same coffee chain: Coffee Fellows. They were everywhere and their seasonal drinks intrigued me, although I always ordered the same coconut mocha with a double chocolate muffin.
My plan this day was to go to a museum, which I never ended up doing. I walked around the outside and looked through a gift shop, but buying a ticket online was proving unsuccessful for me, since my credit card wasn't linked to my Italian cell phone number.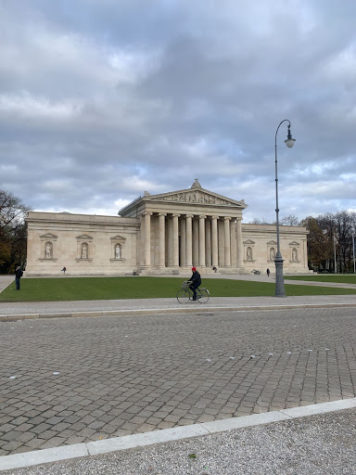 The hunt for a museum did however bring me to another part of Munich, which was less congested and felt a little more local. It was easier to enjoy the architecture and there was space to stop and look at details from afar without getting in someone's way. 
On my way back towards the Christmas markets, I stumbled across an interesting church, Asamkirche. The standing room was small and there were barriers preventing you from entering the aisles or sitting down, but the art and decoration was beautiful. The designs come from the Baroque period, which is evident in their opulence.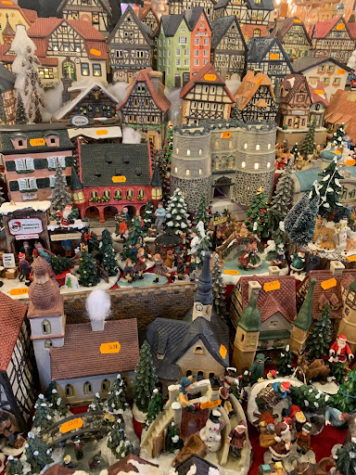 The markets were nearly impossible for me to avoid as I passed by them no matter where I walked, since they were so close to my hostel. I never used the metro in Munich – everything I was interested in seeing was easy to walk to and nearby. The closest I got to public transport was cutting through the Karlsplatz station to avoid having to cross the street. 
Leaving my hostel and crossing under the street brought me directly to the festivities. I loved being able to take advantage of that short walk to get dinner and walk around one last time before it was time for bed.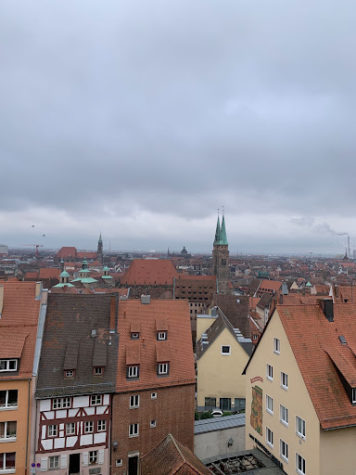 One of the nicest things about Munich is how close it is to a multitude of cities, making it a great day trip location. The German train system makes it easy to go between cities, both regionally and further away. Even without the Christmas markets there, you could make Munich a home base for two day trips while still having time to see some of the city. 
Some cities you could consider seeing from Munich include Salzburg, Rothenburg and Ingolstadt, or you could stay in the area and see somewhere like the Neuschwanstein Castle. Given the time of year and my interest in the Christmas markets, I saw Nuremberg for my final day in the area. This city is even more well known for their massive Christmas market and it did not disappoint.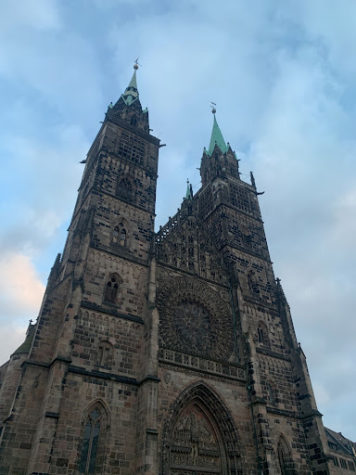 The city center and market are about 10 minutes from the train station, and the walk is relatively straightforward. Most of the people around you are heading in the same direction as you. You'll be able to hear the market before you even see it. 
Nuremberg is split in half by the Pegnitz river, which means criss-crossing bridges all throughout the city center. Crossing that first bridge from the train station takes you straight into one of the largest Christmas markets in Germany.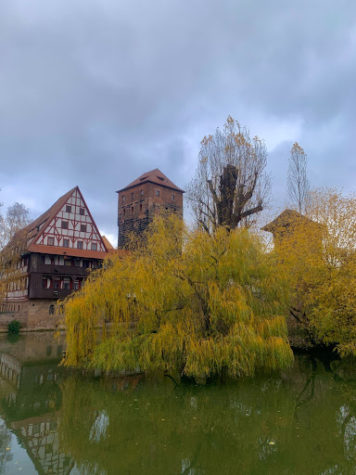 Stalls were lined up tightly, selling a multitude of products. Toys, food and ornaments were some of the most common. Despite that, everyone had something unique. Even if two ornament stalls were next to each other, they each focused on a different style of product. 
Whether or not you see Nuremberg during Christmas time, you have to try Nürnberger Rostbratwurst, which can only be made in the region. They are small sausages with a dominant marjoram flavor, usually served with a few in a roll.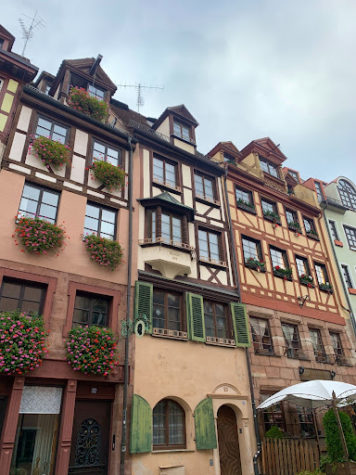 After a day wandering magical stalls filled with different gifts and souvenirs, I turned back to where I had originally come from and made my return to Munich. I took more pictures of Nuremberg than any other city I had visited during my time abroad, and I was only there for seven hours.
On that train ride home, I made a list of cities in Central Europe I wanted to visit since I know I'll be back to the area someday soon. 
After stopping by my hostel to charge my phone and drop off all my purchases, I headed back out to the main Christmas market one final time. I would leave too early in the day to see it again, so this was my final chance. 
---
Support Student Media
Hi! I'm Catie Pusateri, A Magazine's editor-in-chief. My staff and I are committed to bringing you the most important and entertaining news from the realms of fashion, beauty and culture. We are full-time students and hard-working journalists. While we get support from the student media fee and earned revenue such as advertising, both of those continue to decline. Your generous gift of any amount will help enhance our student experience as we grow into working professionals. Please go here to donate to A Magazine.