what trends are blooming on kent's campus this spring
The new year means new fashion trends. Late '90s and Y2K fashion returned to the runway within the past two years, influencing trends for this spring. Drop waist maxi skirts, low-rise baggy jeans and jean mini skirts are making a comeback. According to Vogue florals, sheer tops and sequins are predicted to reach their height of popularity in the upcoming months. 
"I have been loving the metallics, the sequins and the embellishments," said junior fashion merchandising major Jessica Duraj. "I think that has just been such a hit that we've been seeing on the runways such as Tom Ford. Just a bunch of sequins." 
Duraj works as the board member at large for the Fashion Student Organization (FSO) here at Kent State. She oversees major events while collaborating with other members of the board to plan fashion shows, parties and connect fashion students.
"I think a lot more three-dimensional things are coming into play this spring, which I think is super fun," Duraj said. "I think it's gonna be kind of really experimental with different textures and like, you know, that metallic versus the sheer I think it's really playful." 
Utility cargo pants, corsets and lace-trimmed nightgowns, asymmetrical hems and a resurfacing of grunge consumed the spring/summer 2023 runways. The seasonal runways are taking casual clothes and turning them into objects of desire. Max Mara showcased logger sweaters, Ralph Lauren has floral antique slips and Balenciaga brings back distressed denim. 
In the fashion industry, trends presented on the runway slowly trickle down into mass markets. Duraj has noticed how runway trends like utility cargos have already made their way on campus.
"I definitely think that people in college prioritize comfort, and cargo pants are a really good way to still be comfortable but kinda look a little bit more fashionable," Duraj said.  
Warm colors like brown and tan are being replaced by cooler mermaid-like tones such as gray and light blue. 
"I am getting a lot more like lavender and baby blues. Lighter colors and more pastels which I know like pastels for spring, groundbreaking, but like I'm not one to usually buy baby blue or anything," Duraj said. 
 "I've been buying more gray too, which I think is kind of interesting. I think I'm subconsciously inspired by metallics," Duraj said. 
People know basics like a white T-shirt and the perfect pair of comfortable jeans, but this spring, reinterpreted basics are consuming retail stores like Levi's, Nordstrom and Abercrombie. For example, a normal white T-shirt with an exposed back, or a black long sleeve with cut outs on the arms.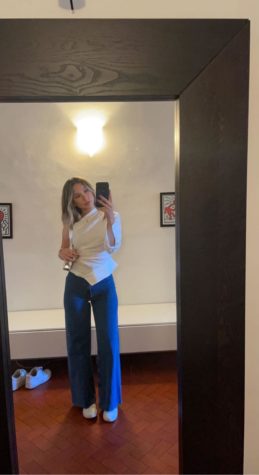 "I enjoy the level of elevated basics more because it's more fun rather than professional, like I want things to just be fun," Duraj said. 
Duraj embraces metallics, elevated basics, chain hardware on accessories, leather pants and low-waisted jeans while sophomore fashion design major Mackenzie Mill plays with layering skirts and poofy silhouettes. 
"I love mesh, lace and sheer tops. They aren't the most practical on a college campus, but they are so cute," Mill said. "Lace is always in."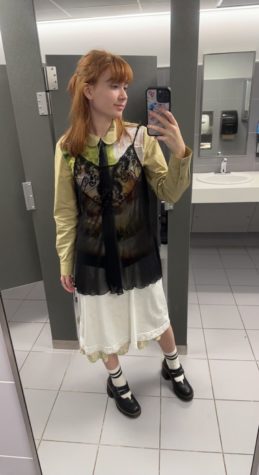 This spring Mill is designing a collection with poofy silhouettes and slimmed down bodycon dresses. She is playing with contrasting shapes and princess-like dresses for spring. Mill is utilizing what the fashion industry calls balletcore, an aesthetic that includes sheer tights and layered skirts which incorporate pinks and pastels. 
"I'm wearing a lot of bright colors, pastels and warmer tones," Mill said. "I've been layering skirts, I'll wear a long slip and put a short skirt over that slip and then a mini skirt on top of that. It looks like a three-tier cake." 
This spring fashion season offers many opportunities to explore new and old trends. 
"I think this season's trends kind of give people an opportunity to like, experiment, but not too much. It still is pretty simple and straightforward, but you can still have fun with it," Duraj said. 
---
Support Student Media
Hi! I'm Catie Pusateri, A Magazine's editor-in-chief. My staff and I are committed to bringing you the most important and entertaining news from the realms of fashion, beauty and culture. We are full-time students and hard-working journalists. While we get support from the student media fee and earned revenue such as advertising, both of those continue to decline. Your generous gift of any amount will help enhance our student experience as we grow into working professionals. Please go here to donate to A Magazine.