branded at kent makes sustainable fashion exciting
Kelsi Biondo went from vape shop retailer to vintage clothing curator when Branded at Kent owners Lance Calvert and Brendan O'Brien noticed Biondo every time they visited the vape shop where she worked. 
"One day they were just like, 'Hey, do you want to come work for us?' and I was like, I think that'd be a lot more fun than having to tell underage kids 'no' all day," Biondo said. 
Soon enough, she became the operations manager for Branded in Butler and now, Branded at Kent. The new Branded at Kent store is located in downtown Kent. Branded in Butler was established in 2018 when brother-in-laws Calvert and O'Brien rented a 600 square foot garage together. Branded sources items from flea markets, storage unit auctions and estate sales. 
"We're different because of how we source. We own our own textile recycling facility, they're called rag houses, essentially it's like Goodwill bins." Biondo said. "So we get donations, we buy donations and we sort through about 80 to 100,000 pounds of clothing a month by hand, and pick out all the vintage."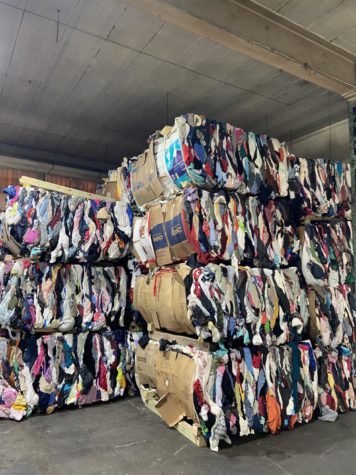 Through cold calling donation centers, Biondo and the owners were able to find true and authentic vintage clothing that sorters could hand pick through. 
"It's kind of like mixing a good balance of understanding that mistakes are going to happen while also like keeping up a good flow and then just trying to get as much vintage as we can," Biondo said.
Biondo sets the prices for each vintage item by checking its value online and assessing the rarity of each piece. 
"We try to go pretty average for what the market is saying they [clothes] go for right now," Biondo said. "I try to be 100% as fair as I can." 
Junior advertising major Luke Bell, recently started working at Branded at Kent because he has a passion for vintage clothing. Bell said he knew he wanted to be a part of bringing vintage clothing to a college campus and reform people's outlook on sustainability. 
"It's not just vintage clothing thrown onto a rack just because we want to sell it," Bell said. "Like there's an underlying reason as to why the store is here and why the store in Butler has been there for three years."
Branded employee Haley Adamczak explains how every piece of clothing in the store has its own story. The small stains and holes in shirts illustrate character and flavor. Adamczak is a sophomore fashion merchandising major and to her, a piece of clothing is not just fabric and dye. 
"Literally every piece of clothing in your house has its own story," Adamczak said. "Seeing the process of clothes coming from our textile recycling facility and lab and just to the fact that every piece of clothing came from somewhere and someone is really interesting to me." 
Branded at Kent's social media account plays a role in getting people interested in sustainability and vintage clothing. Bell and Adamczak work to help customers style bold vintage pieces and combine them with clothes already in customer's closets. 
Bell helped a customer style camo pants and gave him tips and tricks about what would look good and how to embrace vintage fashion. The customer took his advice and Bell said he enjoyed the opportunity to show other people how interesting and sustainable vintage shopping is. 
"We're helping people see why shopping sustainably and shopping for these vintage clothes is so cool and why it's so nice," Bell said. 
"The consumer has all the power, so why not make sustainability a trend?" Adamczak said. "If consumers show interest and like sustainable shopping and helping the planet, companies are gonna want to do that. And I feel like Branded is that first company and we're like a step in the right direction."
Biondo believes in quality of quantity which she thinks goes a long way with sustainability and taking care of the planet. Instead of throwing clothes into the garbage where they end up in a landfill and never break down, Biondo takes unwanted clothes to Branded's recycling facility where clothes end up going to a better place. 
"Our mission statement is turning clothing waste into sustainable fashion," Biondo said. "That's kind of what we do. That's what we love."
---
Support Student Media
Hi! I'm Catie Pusateri, A Magazine's editor-in-chief. My staff and I are committed to bringing you the most important and entertaining news from the realms of fashion, beauty and culture. We are full-time students and hard-working journalists. While we get support from the student media fee and earned revenue such as advertising, both of those continue to decline. Your generous gift of any amount will help enhance our student experience as we grow into working professionals. Please go here to donate to A Magazine.