the fashion student organization celebrates 40 years with '80s fashion
Walking into the Kent State Hotel ballroom on March 18 means a front row view to fashion lovers in floor length dresses and fancy suits. A red carpet is stretched alongside big windows inviting students to take photos in celebration of the Fashion Student Organization's 40th birthday. 
"Everyone loves a party and we wanted it to be big," junior fashion merchandising major and project manager for FSO Ranait McGuire said. "We wanted to have it be a moment where everybody from across the 40 years could come together and just celebrate everything about the fashion student organization."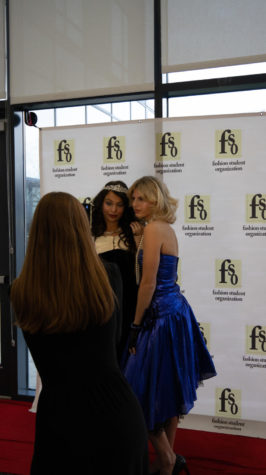 FSO is not just an organization for fashion students, it also encourages any students who are interested in learning more about fashion to join. McGuire explains that the organization strives to be an inclusive safe space.
"That's something we love to pride our organization with," McGuire said. "We do a poll at every meeting, how many of you are fashion students and how many aren't? And our numbers keep growing and I think that's what's so great is you just have to love fashion." 
Every year FSO hosts a fashion show to recognize students' talent and creativity. This year the theme was '80s prom, and designers and stylists time traveled back to the '80s which was when FSO was originally created. 
"The board and I have been planning, brainstorming and kind of piecing together this event since December 2022," senior fashion merchandising major and vice president of FSO Kate Crake said. "I'm really excited just seeing everybody showing up, and seeing all the looks is always incredible."
The gala consists of students, parents and alumni talking and laughing in anticipation of the fashion show. As the show starts, the runway is consumed with fun textures, chunky jewelry, lace gloves, denim, leather and lots of sparkles. 
"I loved all the bright colors and the metallics," fashion design major Morgan McDermott said. Audience members chattered about different looks as each model walked down the runway. Designers and stylists took inspiration from pop icons and vintage prom styles. 
Stylists Brooklyn Wise, Sam Dewey, Hannah McGraw and Sophia Ferrazza studied Pinterest boards and visited vintage stores to find the perfect '80s look. 
"We got a lot of inspiration from Madonna, like crazy colors and chunky pearls," Ferrazza said. Wise, Dewey, McGraw and Ferrazza presented an '80s prom queen look with a long black dress and sparkling tiara. They also showcased a metallic pop-icon inspired dress with chunky jewelry and lace gloves. 
FSO has been around for 40 years making it a large piece of the fashion school's history. Faculty adviser William Perrine has been a part of FSO for 16 of those 40 years. 
"It is my baby, and it's the thing I am most proud of all my time at Kent State," Perrine said. "The school is 40 years old this year and so are we." 
The 40th anniversary gala is the biggest event FSO has ever put on with approximately 75 to 100 people celebrating this milestone at the gala. There are around 250 members in FSO. Perrine said FSO's success is because of the officers and students who work to plan meetings and events. 
Every year FSO uses money from merchandise sales and puts it into a scholarship fund. Merchandise is designed by students and voted on by the members of FSO, which gives students a chance to showcase their creativity. FSO awards two $500 scholarships each year as a way to give back to the members. 
"Everything we do here is for students and by students," Perrine said. "I'm very proud to be part of this organization and I love coming home to FSO." 
---
Support Student Media
Hi! I'm Catie Pusateri, A Magazine's editor-in-chief. My staff and I are committed to bringing you the most important and entertaining news from the realms of fashion, beauty and culture. We are full-time students and hard-working journalists. While we get support from the student media fee and earned revenue such as advertising, both of those continue to decline. Your generous gift of any amount will help enhance our student experience as we grow into working professionals. Please go here to donate to A Magazine.