the wonder woman of jewelry making
While watching "Wonder Woman" as a 5-year-old, Michelle Pajak-Reynolds fell in love with her sparkly tiara and power bracelets which deflect bullets and beat up boys. Pajak-Reynolds always played dress up and was immediately drawn to Wonder Woman's accessories, so she started making the accessories herself. After that, she never stopped making jewelry.
"I would sit there in front of the TV with pop beads and jelly bracelets, just making stuff," Pajak-Reynolds said. Growing up she began earning an allowance and making her own money, giving her the opportunity to buy string beads and crafts from the craft store. Her love for a silly "Wonder Woman" TV show turned into a passion for jewelry making and storytelling. 
Pajak-Reynolds' connection to jewelry started before she even stepped foot on earth. Her mother was the manager of the jewelry department at Kmart and her father was a police officer for the Cleveland Clinic picking up loss prevention jobs. Her parents then met across the jewelry case at Kmart. 
"They got married in '76 had me in '77 and there's pictures of my mom and her little Kmart smock with me like you know, she's pregnant out to here behind the jewelry case," Pajak-Reynolds said, making a pregnant belly with her hands. "So I am here because of jewelry."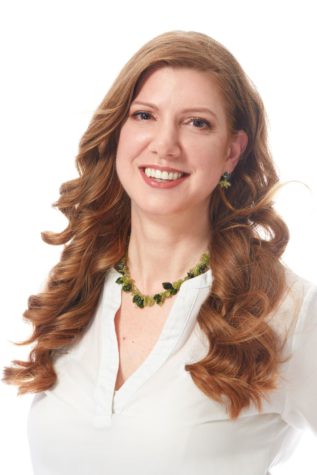 Pajak-Reynolds started at Kent State's Geauga campus in the fashion program with a minor in jewelry. After transferring to Kent's main campus, Pajak-Reynolds decided to move into the School of Art and pursue a strict education in jewelry design. 
"Jewelry is something you know, we all know the story of grandma's ring being handed down from generation to generation or like a necklace, something special," Pajak-Reynolds said. 
Pajak-Reynolds' grandmother lived in a time when women did not have a choice in what wedding ring design they received. The man picked the ring and it would linger throughout the family line. 
"My mom lost her dad when she was 9 years old, so I never met him. So my only connection to him is through my grandma's ring," Pajak-Reynolds said. "That's what I love about jewelry is you have these stories."
Pajak-Reynolds' mom, Marilyn Pajak, noticed her passion for jewelry making and storytelling when she was just a little girl. Pajak encouraged her daughter to go into whatever creative direction she wanted to pursue as a child. Pajak-Reynolds would ask her mom's opinion on her drawings and continued to develop her aspiration for jewelry.
"She's always wanted to design pieces that people are gonna fall in love with, keep and pass down through generations to come," Pajak said. 
After years of submitting her work to galleries and art exhibitions, Pajak-Reynolds attended Baldwin Wallace to get her MBA in entrepreneurship. Supporters and viewers of her work expressed to her that her work was unique and needed to be showcased in museums and on runways. Getting her MBA in entrepreneurship helped launch her career as an artist. 
"I was the only artist," Pajak-Reynolds said. "I had classmates who had various corporate jobs and here I was taking out tens of thousands of dollars in student loans during a recession." 
Pajak-Reynolds was constantly networking with people and connecting with stylists all while learning how to become an entrepreneur. Pajak-Reynolds' willingness to hustle and propose a unique perspective led to her jewelry getting noticed. 
"So just by being in the right room, and talking to the right people and being hungry, like to not only learn more, but to meet people," Pajak-Reynolds said. "That's how I ended up on the runway at New York Fashion Week." 
Pajak-Reynolds' designs have been showcased on the red carpet of the Emmy Awards, the New York Fashion Week runways, abroad the United Nations Peace Boat and multiple media publications.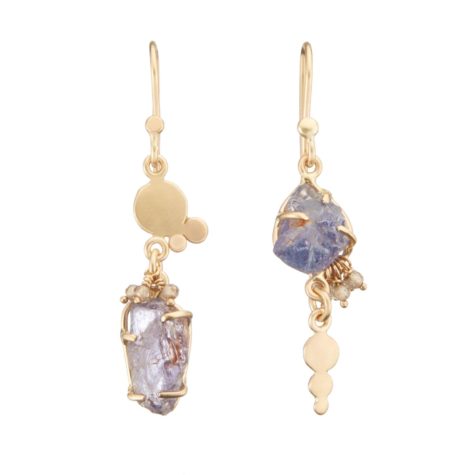 "We were very pleased with her work and then she got the recognition she deserves because she worked so hard to achieve that," Pajak said. "Everything impresses me." 
Before her passion for ethically sourced materials arose, one day while Pajak-Reynolds was working in her studio when her daughter Maeve asked her where her materials and gems were from. Pajak-Reynolds felt her heart sink into her chest because she couldn't answer her daughter's question: "Where does it come from?" 
"You can't bullshit this child," Pajak-Reynolds said. "You can't. I mean, you know, tooth fairy, Santa Claus conversation aside, like magic is real and she knows it's real. But outside of that you cannot bullshit her."
"After that I was like, I will never not be able to answer my daughter's question of who made it, and how did it get here on any of my raw materials ever again," Pajak-Reynolds said. "That's when I really got serious about ethical sourcing." 
Currently, Pajak-Reynolds specializes in ethically sourced gems and materials to ensure she knows where and who each of her pieces comes from. Pajak-Reynolds has detailed descriptions of where, when and who made each one of her raw materials for each jewelry piece she has crafted. 
"If you go on my website you can look at the collections and look at the individual pieces," Pajak-Reynolds said. "Then I have a link to my blog, which is the whole backstory of the collection. Like where did the inspiration come from? Here's the picture of some of the people who mined the stones that are in your work. Here's some of the gold miners that mine the gold that's in your jewelry."
"People want that connection," Pajak-Reynolds said. 
Pajak-Reynolds sells her jewelry on her website, at Squirrel City Jewelers, Artful Home, River Gallery, Heights Arts and Jessie's Jewelry. Ethically sourcing materials is a more expensive and slow process, but Pajak-Reynolds believes it is worth the time, money and impact the mining has on small villages and their working populations. 
"She really seeks out the gems," said Beth Wildman, a client of Pajak-Reynolds. "She finds these unusual gems and unusual colors and just weaves them into something amazing." 
Pajak-Reynolds has worked with customers from Squirrel City Jewelers to American actress, Disney Channel star, singer and songwriter Raven Symoné to ending up in the same room as Anna Wintour. 
When Pajak-Reynolds started doing New York Fashion Week she made connections with media people and stylists who had press credentials for the Mercedes Benz show in 2014. Pajak-Reynolds was friends with a stylist who wanted her work to be recognized by other stylists, so she invited Pajak-Reynolds into the show with her. This put Pajak-Reynolds in the third row of a fashion show where Anna Wintour was present. 
"As a kid I was not the cool kid in school who had fabulous clothes," Pajak-Reynolds said. "You know, buck teeth, coke bottle glasses, braces, you name it. And I remember some of the mean girls who bullied me were all about their fashion, and now I'm just sitting there in the third row at a fashion show and here we are." 
Pajak-Reynolds built a name for herself through making connections and working on creative designs that "light her up." She has always been an eager and hungry artist and navigated her way through the field by learning the value and gaining confidence in her jewelry.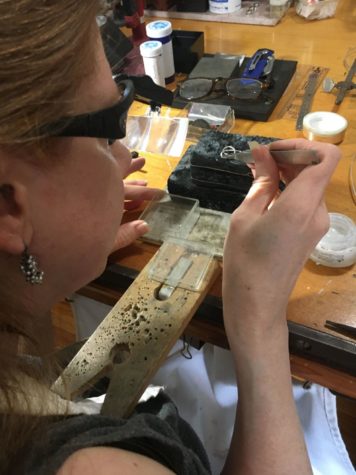 "Something has value only in the event that you convince another person it has value," Pajak-Reynolds said. "It's a hard thing, I know what my values are and what I stand for as an artist and what I will and won't do." 
Pajak-Reynolds uses her jewelry as a form of storytelling and a way to connect with people through art. Her unique perspective on gems and precious metals is what she believes makes her jewelry so special.
"Each of Michelle's pieces has a story from Michelle about the stones she used and often, why she selected them," Wildman said. "Her work is so personal."
 By telling her customers where the pieces of metals and stones come from, Pajak-Reynolds is able to tell a story with her jewelry before it even gets in the hands of her customers. The story is then passed down through her customers' family and friends for generations to come just like Pajak-Reynolds' grandma's ring. 
"Even if you don't like the piece, you can see the amount of care and thoughtfulness that has gone into it," Pajak-Reynolds said. "I make infinitely curious, lovingly handcrafted one of a kind jewelry." 
---
Support Student Media
Hi! I'm Catie Pusateri, A Magazine's editor-in-chief. My staff and I are committed to bringing you the most important and entertaining news from the realms of fashion, beauty and culture. We are full-time students and hard-working journalists. While we get support from the student media fee and earned revenue such as advertising, both of those continue to decline. Your generous gift of any amount will help enhance our student experience as we grow into working professionals. Please go here to donate to A Magazine.