Q&A With TracieMariePlease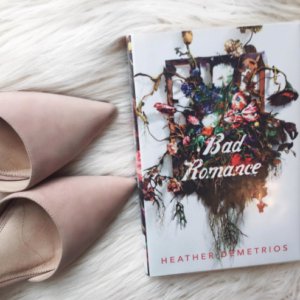 Tracie Pfrogner, creator of the blog "Tracie Marie Please," is an alumna of The Fashion School at Kent State. While at Kent State, she was heavily involved in the Fashion Student Organization in addition to growing her blog. She shares with A Magazine how she has made a name for herself among the many fashion bloggers by sharing her unique passions and insight into the fashion world.
A Magazine: How long have you been blogging for?
Tracie Pfrogner: I've been blogging since November 2014.
A: What factor(s) do you attribute your success to as a blogger? How do you define your success in the blogging world?
TP: I think my ability to be real with my readers. No one wants cookie cutter bloggers anymore. So, I think just being able to connect with my readers by what books I'm currently reading or what I'm dying to buy this season is great! I define my success not by likes or follows, but by my ability to produce authentic content. If I can create something that I'm proud of that's enough for me!
A: How did you find your niché in blogging?
TP: I just went with what I find that makes myself unique, which for me is my love of fashion and reading, and rolled with it. Everyone is a blogger these days, and what makes you different can be your superpower in the blogging world.
A: How do you set yourself apart among other bloggers?
TP: I think my combination of fashion and books is unique; I have yet to find another blogger who blogs about the same things that I do. I try to always just be myself and stay as authentic as possible, so that also helps. I'm not posting things on Instagram just for the likes; I'm posting them because I want to.
A: If you were to advise a new or developing blogger, what would you say?
TP: Be true to yourself, don't try to be something you're not and find your niche! Embrace what makes you different, and that will help you grow your blogging brand.
A: Where do you find your inspiration for your style? Or, what is your number one styling tip?
TP: I find my inspiration every day on the streets of New York City. I love people watching and seeing what people are wearing. My number one styling tip is that you can never go wrong with dark wash skinny jeans, a pair of leather booties and a great jacket. Bonus tip: Your shoes can make or break an outfit.
A: Favorite place in NY to blog?
TP: My own apartment in my room on a cozy, sunny Sunday. My room has tons of great natural light. So, to just make a cup of coffee and sit at my desk to work is lovely.
A: Favorite place in Kent to work on your blog?
TP: I miss Tree City so much! I used to love grabbing one of their seasonal lattes or their butterbeer latte (definitely recommend). I would just find a spot to spend a few hours being productive.
A: What was the biggest lesson you learned while at Kent State?
TP: I learned that it is okay to do your own thing and go against the flow of the crowd. I was never one for the college partying culture and that used to make me feel excluded from my peers, but it's totally OK. I was able to find other like-minded people who also skipped the drunken partying scene, and I didn't feel alone anymore. I think this lesson of staying true to yourself also helped me transition from college to adulthood, especially since I know so many grads who are still living like they're in college.