In the midst of a massive windstorm, three new friends and I left our hotel and group who were drinking electric-blue wine, and ran to the shores of the Mediterranean. The gusts had lashed our faces and pushed the waves up to the wooden poles of beachfront gazebos.

While we laughed and lost each other in the dark, I considered how I would eventually write about the experience I was having, and found myself stumped.

This beach wasn't one of the easy Mediterranean coasts to write about. We weren't at a party destination in Greece, or a cliffy port city off the coast of Italy. We were playing on the shores of Tel Aviv, Israel, and I was one of 18 students who were fortunate enough to be awarded a nine-day student leader's trip to Israel and Palestine for free. Starting at the crack of dawn, we spent our days in busses and hotels, hearing from journalists and guides and exploring the corners of the holiest place on earth. And after seeing and learning more than most of us thought possible, my view of the region and the conflict only became further obscured.

I wondered, what could I write about that didn't feel reductive, exploitative or uninformed? The social anxieties and triumphs I experienced along the way? The conflicting facts our speakers presented to us? Nothing seemed entirely satisfactory.

So instead of attempting to do the impossible and reach conclusions about the most contentious land on earth, I will reflect upon three personal impactful moments from my (very long) short trip to the Middle East.

The Dead Sea
The blue bus we ride heads south past fertile green hills and into the desert land of sandy dunes and semi-nomadic villages. Our ears pop as we head down, and palm trees unfold to reveal the world's lowest body of water— the Dead Sea.

I was prepared to only dip my toes, because the temperature was below 70 and I didn't want to be uncomfortable the rest of the day, but the group leaders promised the water would feel fine.

The beach is slick and oily-grey, we are careful to watch our step as we approach the water, cautiously eager. I forgot my swimsuit, a navy blue one-piece covered in stars, so I tackle the water in a tank top and spandex, and am reminded of my self-conscious middle school years.

I haven't formed a group on the trip quite yet, but had established beginning connections with a few individuals. One takes my hand and helps me get deep enough to feel the zero-gravity float of the water, with others I make mud face masks and take photos. I float sometimes beside a handful of others, and sometimes alone, but for a radiant hour or two I feel as though I couldn't truly be by myself, in the weightless salt.

And it's true, the water is warm.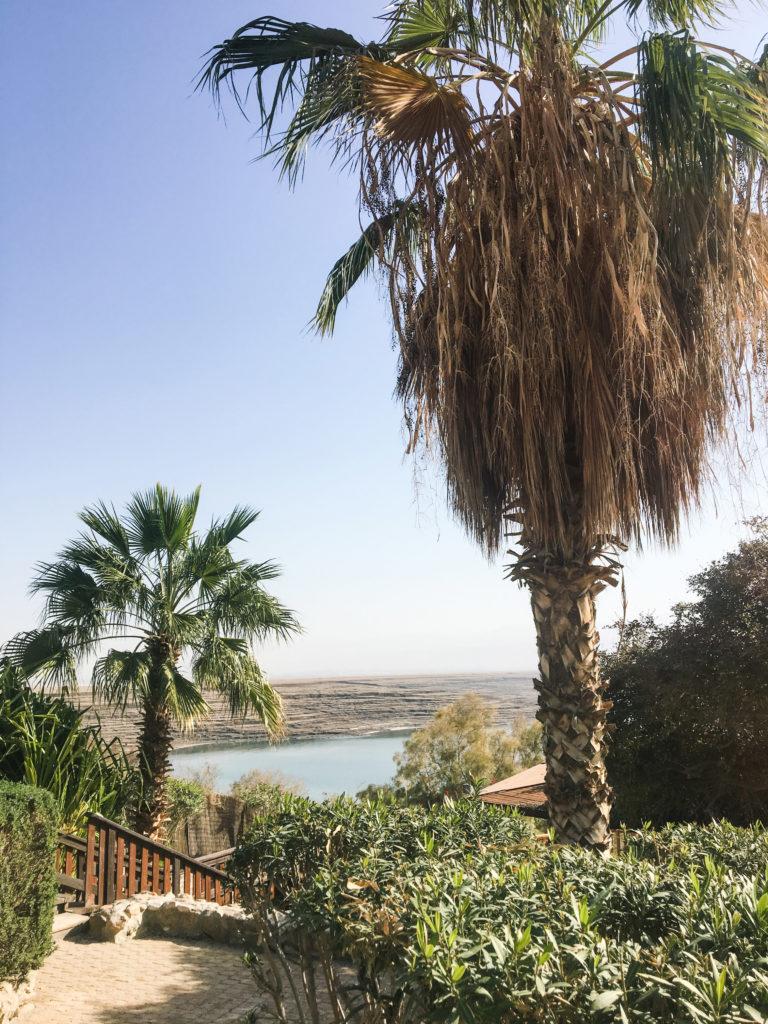 Ramallah
We drive along the border wall between Israel and the West Bank and pull over at a spot where the barbed wire that tops it is cut. Cars drive past us slowly, and some pull out phones to take photos of us as they cruise by. Our guide tells us the Palestinian Mafia controls the border wall, and the onlookers are seeing if we want to do business.

After telling us about the security the wall provides, or rather the lack thereof, we are taken to a refugee camp.

The arch high above is printed with a faded key, which we are told symbolizes the Palestinian right of return. We are led to housing that looked like mismatched building blocks stacked on top of each other, with shoddy concrete foundations and cracked plastic sewage pipes. Women wave at us and children laugh and bashfully ask for us to take pictures with them in front of a graffiti-covered mosque. No cell phones of their own, the kids must've known they wouldn't see the photos again.

We left the camp disillusioned, and met some Palestinian students for lunch in what could've been the nicest restaurant in the West Bank. On the top floor of a tall building, its wide windows had sweeping views of hills dotted with green and scattered communities. The food was elegant, plentiful and left me feeling morally ambiguous. The Palestinian student at our table didn't want to talk politics, but didn't hold back in saying he disliked the U.S. yet loved American movies.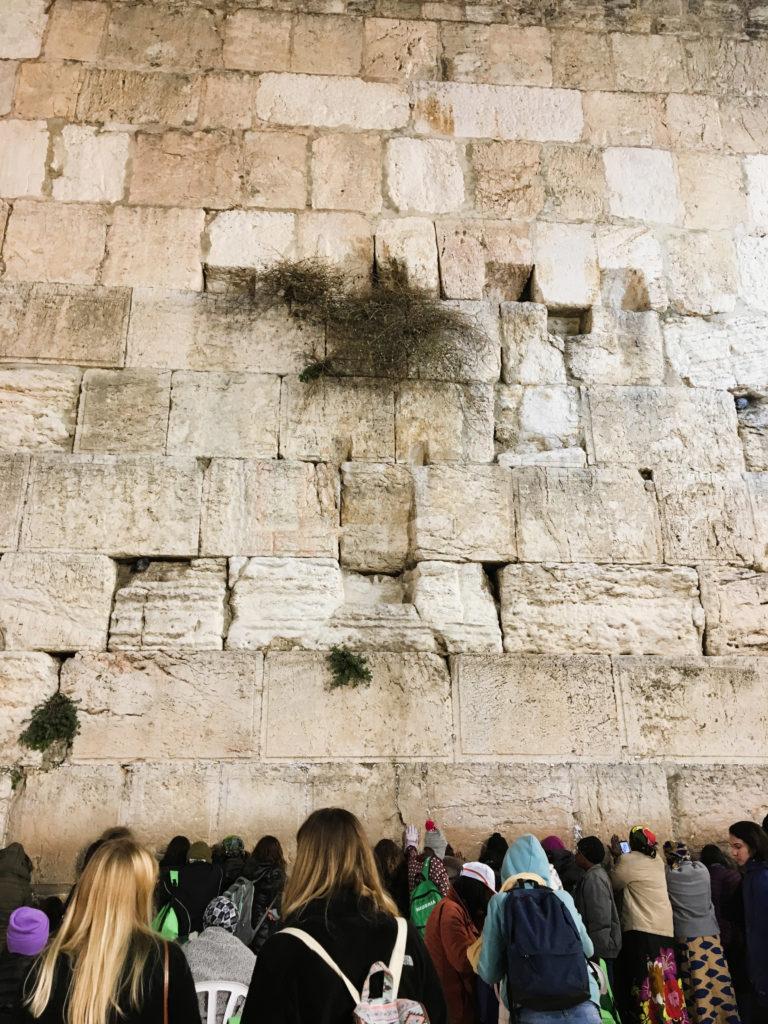 Jerusalem
Rows of grains, spices and crops pile up on stalls in the Shuk marketplace in Jerusalem. People lean and reach over each other to settle bills and secure optimal produce, while tiny bars sell to-go cups of beer and cocktails. Our group is instructed to stay within the small market area, and most settled into a corner bar with makeshift tables and chairs.

I order a berry mojito that looks like springtime, with deep raspberries and blueberries throughout the ice and sprigs of mint sprouting from the top. But I feel like a shrinking violet. I am in a corner and don't go along with the group like I could, and maybe should.

Finishing my second drink and making small talk with a group leader, three students run up to me, say they are going dancing and ask if I want to come with. I rarely say no to dancing.

I leave in such a hurry that I don't even settle my bill. We wander and backtrack through the young nightlife of the old city until we find our way to a club that lets us skip the line and pay no cover fee. One of the girls tugs my arm before we go in and asks if I am absolutely sure we should do this. Her parents had forbade going out while abroad, and we are beyond the limits our group established. I tell her we must.

Inside are dancers and drinkers several years older than us. We take vodka shots (which I secretly throw behind me) and twirl each other on the floor. Remixed Britney Spears and Spanish music are apparently the musical genres Israelis enjoy most, and we add to that consensus. Some kiss, all laugh, and on our way up the stairs we hold each other's hands.

On subsequent evenings out in the cities we visit, each of us agree that none were quite as enchanting as our night out in Jerusalem.