stephanie berhosky: a name you won't want to forget
What is the Annual Fashion Show?
Every year the School of Fashion hosts the Annual Fashion Show, which celebrates the outstanding talent and achievements of senior fashion design majors. The show provides these students the chance to submit their work in a collection, which can range from streetwear to evening gowns to even athletic wear. Their work is then critiqued by a panel of industry experts who decide what specific pieces of their collections will be presented on the runway. It is a rewarding experience and the perfect way to send these designers on their way into the fashion world. 
The Start of Something Worth Reading 
Being a freshman fashion merchandising major myself, I knew I had to be a part of the Annual Fashion Show in some type of way. My time came when I was chosen to model for a designer named Stephanie Berhosky. While having the pleasure of modeling as well as filming for Berhosky and her exquisite collection, I knew that I had to take this as an opportunity to get to know her and her collection on a deeper level. 
Meet Fashion Designer Stephanie Berhosky 
Stephanie Berhosky is a 22-year-old senior fashion design major at Kent State from Pittsburgh. When choosing to attend college, Berhosky stated that she wanted to be able to do three things: "study fashion, study business and study abroad," which Kent State just so happened to offer all of. 
On top of her major, Berhosky also minors in economics and has a concentration in international business. After originally taking international business and business courses, she decided to pursue economics as her minor. Sitting in her math economics course, she found that she liked "thinking about things on a bigger, global scale, and was very interested in the theories and concepts that were being discussed."
From the age of 8, Berhosky identified as an artist. As she grew up, she began to narrow her focus on wanting to specifically be a fashion designer.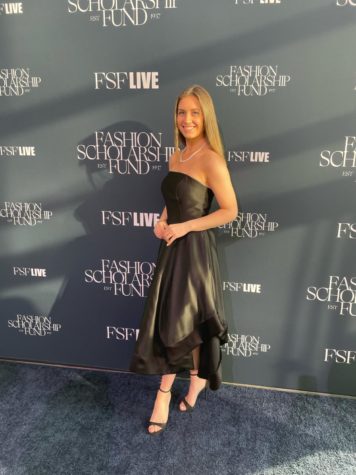 The Time Span of Berhosky's Collection 
The creation process for fashion design majors obtaining a BFA degree through the Annual Fashion Show began back in December of 2020 (the middle of their junior year). Then, they spent the second half of their junior year in the creation phase which includes coming up with sketches, color stories and essentially creating their whole collection. When returning to campus in the fall of 2021, they began working on their muslins and spent that semester experimenting and trying out different ideas. In fashion, the term muslin can be identified as the material used in fashion prototypes to test patterns before cutting and stitching the final product. Finally, during the spring semester, they were able to begin physically creating the final garments and fabrics. 
From start to finish, Berhosky estimates that she put in about a thousand hours of work throughout her whole creation process. She knows that it was roughly about 350 hours for her muslin creation phase, but after that she says she did not time herself for the final process or the sketching and developmental portion. 
Deciding On A Collection Theme 
When deciding what her collection would focus on, Berhosky said they were given initially one week to submit a proposal of what they would like to study. The two questions that the school posed to them were: "What problem do you want to solve?" and "What issue do you want to investigate?"
Because of her background in business, she had always been interested in leadership development. Berhosky is involved in a business fraternity, Delta Sigma Pi Beta Pi, which she has worked with a lot during her time as a member. Also, as a fashion school ambassador, she found that helping people find their path, especially when it comes to their career, is enjoyable for her. Consequently, this led her to want to create a collection inspired by business for her BFA. 
When Berhosky began her research, she focused on a lot of leadership development and what it takes for a woman to get in executive level positions. She was trying to wrap her head around the hurdles to entry levels for women in business. Along the way, she discovered that she has a passion for talent development and helping people in their careers. Berhosky wants to be able to find intersectionality between talent development and fashion design.
Furthermore, Berhosky mentions the fact that it is hard for people to find one passion in life, so she is very fortunate to have been able to find two. She wants to be able to have an impact on finding a crossroads for women leadership in male dominant fields such as technology and business, as well as improve on gender equity in these fields. For her, the biggest takeaway from this whole process has been that it has allowed her to discover her ideal career path. Ultimately, her future and the direction of the rest of her life has been altered. 
"Bold, Sophisticated and Luxurious" 
While researching, Berhosky came across a phrase that stated "Notes on Volume" and instantly wanted to apply that to the collection while conveying a conversation about women's voices in the business industry. 
Hence, Berhosky's collection figuratively represents the "conversation of women's voices in the business industry" and then also literally represents "having small notes, rather small details of embellishments laced on top of voluminous figures that stray away from your regular business attire."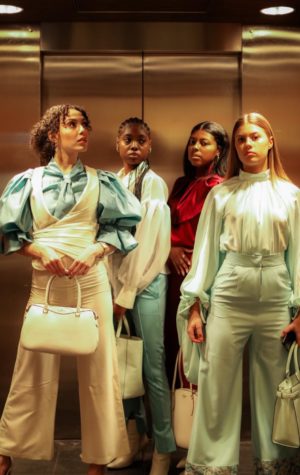 When describing her collection in three words, Berhosky used: "Bold, sophisticated and luxurious." Her overall goal of her collection was to produce business attire that was unlike your basic black suit, and instead draw attention to a woman speaker so that her voice could be heard. 
Berhosky's favorite piece in her collection is the blue blouse. She feels that the blue blouse embodies the volume that she wanted as well as the details and the small additives. It also includes little embellishments that are supposed to be the "notes" on top of the volume. She chose the blue blouse as her opening look because when the model walks out in it, the blouse makes a statement and catches everyone's eye, forcing onlookers to pay attention to that woman. Berhosky also said that, "When she [the woman wearing the blouse] starts speaking, you are going to want to listen to what she has to say." 
Moreover, Berhosky shares that her favorite experience during the creation of her collection was having the opportunity to interview a lot of powerful women who have provided her with their insights into women's leadership development. This also has given her inspiration on why she is doing what she is doing. 
For example, she has had the opportunity to meet with all kinds of people from local business owners to Karin Raguin, vice president of talent development for LVMH. Berhosky exclaims, "I just love meeting with people and hearing their stories as well as their takes on the topic." 
Burnout Is No Joke 
Throughout the creation process, the biggest struggle Berhosky faced was burnout. This became a huge issue for her, considering she said she always strives to go above and beyond in everything she does. 
"It was hard to find that balance of turning down good opportunities and really focusing on my collection," Berhosky said.
She said she feels that people tend to take mental health for granted a lot. She admits she certainly has, and she knows many of her classmates have run into this issue as well.
"It takes time to really gain perspective to realize what it takes for each person to accomplish what they want," Berhosky said. 
For herself personally, this has definitely been a struggle, but she said she is glad she went through it because it has made her focus on what's most important, and for her that was ultimately doing the BFA.
Where All The Magic Happened 
When working on her collection, Berhosky jumped back and forth between her apartment and Rockwell Hall. Although, for the most part, Berhosky physically created her garments in Rockwell. She explained that between getting sick and having other classes, she ran into a lot of time barriers while creating the collection, so it was useful for her to have access to almost two studio spaces so that she could work and move in between.
Additionally, Berhosky states that in making their collections, designers must complete it all on their own without any outside help. However, sometimes people will source other places to get things done, such as getting embroidering or textile woven at a mill. Berhosky, however, completed her collection solely by herself. 
Women At Dior 
Moreover, Berhosky and her research on leadership development within the fashion industry also led her to come across a program called Women At Dior. Knowing this opportunity was too good to not take, she decided to apply. After being accepted, she is now one of 25 mentees in both the Americas and one of a total of 300 mentees from across the globe to be a part of this international program.
"Getting accepted into that program has definitely changed the trajectory of my career," Berhosky said. "I honestly believe that looking back in 10 years, that acceptance will be the thing that changed my future going forward and opened the doors for the opportunities that I have had." 
If it was not for the research she was doing to complete her BFA, Berhosky believes that she would not have found this program or been interested in leadership development. This year, three new mentees from Kent State will be introduced to the program. The program is relatively new, considering Berhosky was introduced during the fifth year, however; it is growing very fast. 
Berhosky wanted to help find ambitious women who are going to continue to take advantage of these opportunities and excel in their career, which is exactly what she is doing. 
According to Berhosky, "They are three very exceptional women, and I am excited to see where they take this from here." 
Berhosky in Paris 
In the summer of 2021, Berhosky had the opportunity to study in Paris at the Paris American Academy. During this time, she was still in the developmental phase of putting her whole collection together. While in Paris, she decided on a color palette as she was shopping in Montmartre. It was here where she came up with the teal color seen in her collection. She knew from the beginning she wanted to incorporate the color red, but once she spotted this beautiful shade of teal, she couldn't pass it up. In order to complement and balance out the rest of the collection she wanted to use white as well. 
Berhosky emphasizes the fact that although her collection doesn't have a sustainable focus, she still thinks "it is important to consider sustainability in everything you do." With this in mind, she decided to source natural fabrics, rather than synthetic. For instance, most of her products are wool, either super 120 or super 130, and silks. 
While in Paris, Berhosky enrolled in classes specifically about Madame Grès's Pleating technique. Madame Grès, also known as Alix Grès, was a couturier who founded the haute couture fashion house Grès. Madame Grès couture fashion house shut its doors in 1944, so for Berhosky, it was interesting for her to be able to learn from some of the original couturiers that worked with Madame Gres in the house. Learning these original techniques, Berhosky was shown first hand how much time and effort goes into creating custom gowns and couture pieces. 
"I think that's something that's overlooked," Berhosky said. "People think of you just making a dress, but the time and hours it takes to even make a simple silhouette is so intense. It just shows you how much dedication goes into this process which can make you really learn to appreciate all the detail that does go into it." 
To further put it into perspective, she says that looking at a fashion show where 60 garments are all being beaded, embellished and pleated, the scale of the operation is definitely something to aspire too. The garments each take a team of about six people and it still would take about a total of 150 hours to complete each piece. 
Furthermore, Berhosky compares this to doing five pieces for the Annual Fashion Show on her own. She gained an appreciation for how much work truly goes into the fashion industry while working alongside and learning from Madame Grès coutures. 
"Studying in Paris was absolutely the best experience of my life," Berhosky said. She said she knows for a fact that she has to live in Paris at some point in her life. She even said they filmed "Emily in Paris" right down the road from the Paris American Academy and she accidentally walked on set once.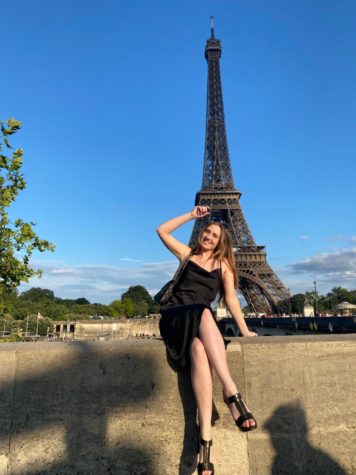 Exciting News For All You Fashion Lovers! 
For the first time since 2019, the Annual Fashion Show was held in person this year. When the school shut down due to the pandemic in 2020, it happened to be on the day of the critiques. That year, critiques were not finished due to the interruption, and the show consisted of designers taking images of their collections from their own backyards. 
Berhosky is grateful to have an in-person fashion show. She knows that most of the students were disappointed when they thought it was only going to be online. Since most of them do not end up running their own companies and end up working for companies, this is one of the few opportunities they will ever have to have their work displayed on a runway. Therefore, to be able to have this opportunity really means a lot to Berhosky. Although the virtual video would have been sufficient for her, she said "there is something about being able to walk down a runway that is symbolic of this industry."  
You can watch the 2022 Annual Fashion Show here.
Berhosky Takes On New York…T-Minus 1 Month 
Berhosky's dream job is to be the creative director for a global fashion house one day. She has company in mind but she doesn't want to narrow herself in. Although, after graduation, Berhosky is set to move to New York City as she accepted a position in product development at Coach. 
Kent State's Fashion Program Outcomes 
Over the span of Berhosky's last four years in Kent State's fashion program, she has learned that it is very important to be collaborative. Despite gatekeeping in the fashion industry, Berhosky said she doesn't think the industry is anything like the cut-throat nature displayed in "The Devil Wears Prada." 
"You have to be able to work with other people, and especially with the BFA program, everyone is doing different things, so you can go to another classmate for help and say 'Oh, I know you know how to do this sewing technique, I know you are really good at bustiers, can you help me?' And everyone has been very open and willing to help each other," Berhosky said. "You can't get anywhere in this industry yourself, you have to be able to work with people." 
Berhosky said she is very thankful that Kent provides this opportunity and platform for its students. If Berhosky could tell her freshman self one thing she decided it would be the following statement: 
"Don't judge yourself to other people because everyone is going to have their own journey, everyone is going to have their own successes, and there are so many opportunities out there that you don't need to have every opportunity. Make the most of everything you can and everything you will be able to accomplish, and you'll be fine." 
Support Student Media
Hi, I'm Grace Avery, the Editor In Chief of A Magazine. My staff and I are committed to bringing you the most important and entertaining news from the realms of fashion, beauty and culture. We are full-time students and hard-working journalists. While we get support from the student media fee and earned revenue such as advertising, both of those continue to decline. Your generous gift of any amount will help enhance our student experience as we grow into working professionals. Please go here to donate to A Magazine.