on pointe: december editorial
Historically, ballet has been intertwined with the fashion world both on and off the stage, and this year, there's been an undeniable surge in the trend. Seen in ribbon details, pastels, tulle skirts, ballet flats, sheer tights and knit leg warmers, balletic trends offer a specific softness and elegance to our style. Though, something is often left out of "ballet core" trends: a reference to the strength and edge it takes to perform.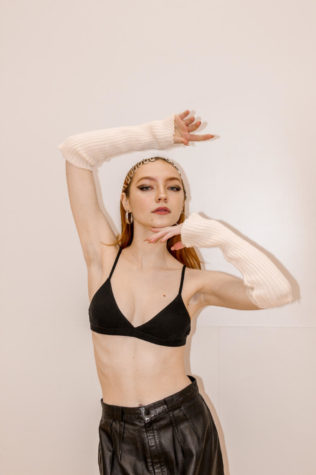 Erin Gaulin, styled in black leather and decorated with dark, dramatic eyes, embodies the rebellious ballerina. Silver clips covering her hair add to her powerful feel but are also a reference to backstage chaos of bobby pins and hairspray. Her striking look is only softened by leg warmers placed around her wrists.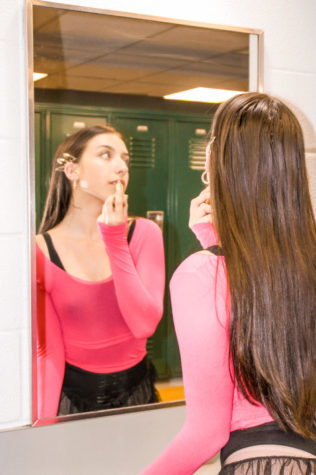 On the other hand, Kailah Cherney models the classic warm-up look. A leotard and tights are traditionally worn to show the beautiful lines and shapes dancers make with their bodies, but here, a sheer skirt and top are added to demonstrate movement and personality. 
Camryn Parker models a baby pink dress, emulating the romanticism and delicacy ballet is most known for, but it is contrasted by darker, edgier pieces to represent the grit of a dancer. The sheer black dress underneath features doll-like puff sleeves in regards to the ballet, "Coppélia", and Parker's dark eye makeup nods to the Black Swan of Tchaikovsky's "Swan Lake." 
This trend is an illustration of both the beauty and boldness that comes with ballet. With various ways to interpret and layer, this is a trend to keep an eye on this winter. 
---
Support Student Media
Hi! I'm Catie Pusateri, A Magazine's editor-in-chief. My staff and I are committed to bringing you the most important and entertaining news from the realms of fashion, beauty and culture. We are full-time students and hard-working journalists. While we get support from the student media fee and earned revenue such as advertising, both of those continue to decline. Your generous gift of any amount will help enhance our student experience as we grow into working professionals. Please go here to donate to A Magazine.