kent wears what? kent state students' most anticipated wears of spring 2023
Spring has almost sprung and lately, the gorgeous weather has reminded Kent State students that maybe, life actually isn't so bad. As the first day of spring rapidly approaches, we can finally look forward to enjoying the warmer temperatures and sunshine, spring break – which is only a few short weeks away – and most importantly, curating our spring wardrobes. 
Whether that means recycling old, but still beloved trends or being moved by new ones, spring is the perfect time to reinvent your look. If you're looking to be influenced or are curious about what spring means for Kent's campus fashion, hear from three Kent State students as they share what they are most excited to wear this spring. 
Landon Kerr, a sophomore fashion design major, describes the inspiration behind the look they're going for this spring.
"I'm super inspired by vintage gay culture such as Tom of Finland illustrations. I'm leaning toward a motorbike-pirate kinda vibe," Kerr said. "Bring on the boots!"
In anticipation of the warmer weather, "I love basketball shorts when it's sunny," they said. "The longer and baggier the better." 
Sophomore anthropology major Jessica Tyner also shares what she is excited to incorporate into her wardrobe as the weather gets warmer.
"What I'm personally looking forward to most this spring is being able to wear more skirts and dresses," Tyner said. "I love how versatile they are, making it easy for me to dress them up or down."
Spring also invites warmer colors into our closets, but that doesn't mean you have to abandon what you've always loved. 
"I've also always been drawn to color schemes with more neutral and darker colors," Tyner said. "When thinking about spring, you usually tend to lean toward brighter colors, so I'm excited to see how I can incorporate both, especially when adding accessories!"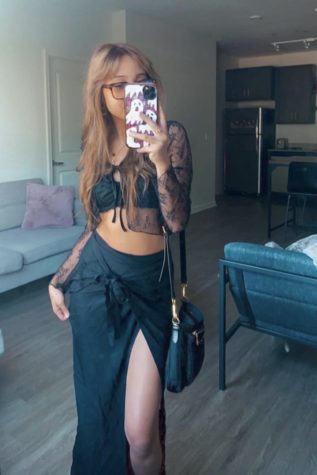 Emma Reichlin, a sophomore fashion merchandising major with a minor in fashion media, also can't wait to bring on the accessories. 
"I'm a huge fan of a nice, chunky silver pendant to compliment all of the delicate spring colors I'll be sporting this season!" Reichlin said.
Rechlin described that above all, she's most excited to wear the fairy/y2K/boho style, which includes loose fitting pants, maxi skirts and distressed or "perfectly imperfect" crochets. Click here to take a look at Emma's inspiration for spring 2023!
Whether it's through culture, new styles, accessories, colors, new pieces or from students on campus, inspiration is everywhere. Spring will be here before we know it, and until then, start experimenting and thinking about what you're most excited to wear this spring.
---
Support Student Media
Hi! I'm Catie Pusateri, A Magazine's editor-in-chief. My staff and I are committed to bringing you the most important and entertaining news from the realms of fashion, beauty and culture. We are full-time students and hard-working journalists. While we get support from the student media fee and earned revenue such as advertising, both of those continue to decline. Your generous gift of any amount will help enhance our student experience as we grow into working professionals. Please go here to donate to A Magazine.