Swedish clothing brand H&M proposed to be 100 percent sustainable by 2020, but what does 100 percent sustainability in the fashion industry mean?
According to an article published for The Business of Fashion, "second to oil, fashion and textiles is the most polluting industry in the world. Every stage in a garment's life threatens our planet and its resources."
Unfortunately, H&M does not have the best track record of sustainability, but today, they are working towards a better brand.  In 2010, The New York Times reported both H&M and Wal-Mart throw out clothing people don't buy that is too cheap to resell.
Additionally in 2010, Amy Odell, a writer for The Cut wrote that H&M and Wal-mart are throwing out the never worn clothing from their stores that is not sold. Not only do they throw the clothes in the trash, they also destroy the items by cutting holes in them with machines. Odell mentions her outrage by stating that poor people who need clothes are freezing in NYC and that instead of trashing the clothes, H&M and Wal-mart should consider donating.
Surely this exposure was a wake up call for H&M, because today, H&M has taken the responsibility to become and remain socially responsible by proposing to be sustainable.
In 2015, H&M released a sustainability report highlighting continued efforts to reach their goal of 100 percent sustainability by 2020. These efforts include use of sustainable cotton and sustainably sourced materials. H&M is working toward decreasing total CO2 emissions and using renewable electricity in all stores, offices and warehouses. H&M now recycles unused garments from stores instead of destroying them.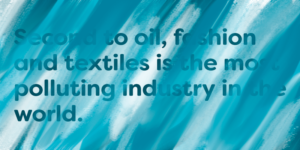 What H&M's sustainability report aims to do is show where the brand has been and where they are going. Today, H&M is one of the biggest users of recycled polyester in the world. More than 12,000 tons of unsold garments were collected in H&M stores to be recycled in 2015 rather than trashed, a significant increase from H&M's 3,000 tons of garments collected in 2013.
H&M CEO Karl-Johan Persson said in H&M's 2015 sustainability report that he believes in revitalizing Bangladesh and Cambodia through H&M.
"Buying products made in developing countries is the most effective way to lift people out of poverty and give them opportunities for a decent life," Persson said. "According to the World Bank, the textile industry is an important contributor to poverty reduction."
Is the textile industry actually benefiting developing countries? Some would say not, but Persson and the World Bank would disagree. Persson wants customers to feel proud of wearing clothes made in Bangladesh and Cambodia.
"With [H&M's] size and global presence, we are working to ensure that these jobs [in Bangladesh and Cambodia] are good jobs and that the way we do business makes places better" Persson said.
Persson was asked about sustainability challenges for H&M and the fashion industry as a whole.
"You can only drive change if you have a collaborative mindset, no matter if it is collaboration about consumer labelling or something else," Persson said. "You cannot do it on your own; it is as simple as that. This is why we want to cooperate within the industry as well as across industry borders. This is why we treasure our dialogue with innovators and experts that help us develop new ideas."
There is some good news for all of you H&M lovers – consumption makes the world a better place.
"Consumption is necessary for jobs generating taxes that pay for schools, hospitals and infrastructure, but also for developing countries to become part of international trade and thereby lift themselves out of poverty," Presson said.
So, go ahead and go shopping; buy everything, but be sure to buy from socially responsible sustainable companies.