Sustainable fashion is one of the most necessary trends the industry could have ever seen.  Fulfilling a social responsibility to be environmental friendly, A Magazine chatted with three senior designers featured in Kent Fashion Week who have a particular perspective on how their designs are made.
Katryn Seeburger, senior fashion design major, made use of recycled cotton to design seven looks in her collection.
When garments are manufactured in factories, there is always some waste. Seeburger took the waste and mixed it with fibers to produce yarns.
She did not just use recycled cotton, but also the remaining organic cotton from garment factories. She purchased those remainders to further reduce waste.
Seeburger wanted to make things that would be easy to put on and comfortable to wear, but still feel fashionable, exciting and new. She also strived to maintain personal identity with interesting configuration and color patterns.
Victoria Johnston, senior fashion design major, created nine looks in her collection.
Her design related to muscle movement and how it is affected by our environment.
"The environment, such as water pollution or water condition, plays a role on our bodies," said Johnston. "My idea is how it causes those muscles to tear, rip, strain, and how they regenerate."
As an outdoor and environment enthusiast, Johnston focuses a lot on how she can reduce her footprint within her collection.
In the long run, she plans to reduce her carbon footprint by keeping a chart of her dyes, counting the amount of water she used and how the fabrics are recycled.
She used a lot of organic fabrics in her collection. Approximately 97 percent of the materials are bamboo and only three percent are spandex. The finished bamboo fabric feels like a stretch knit. She also used natural dyes.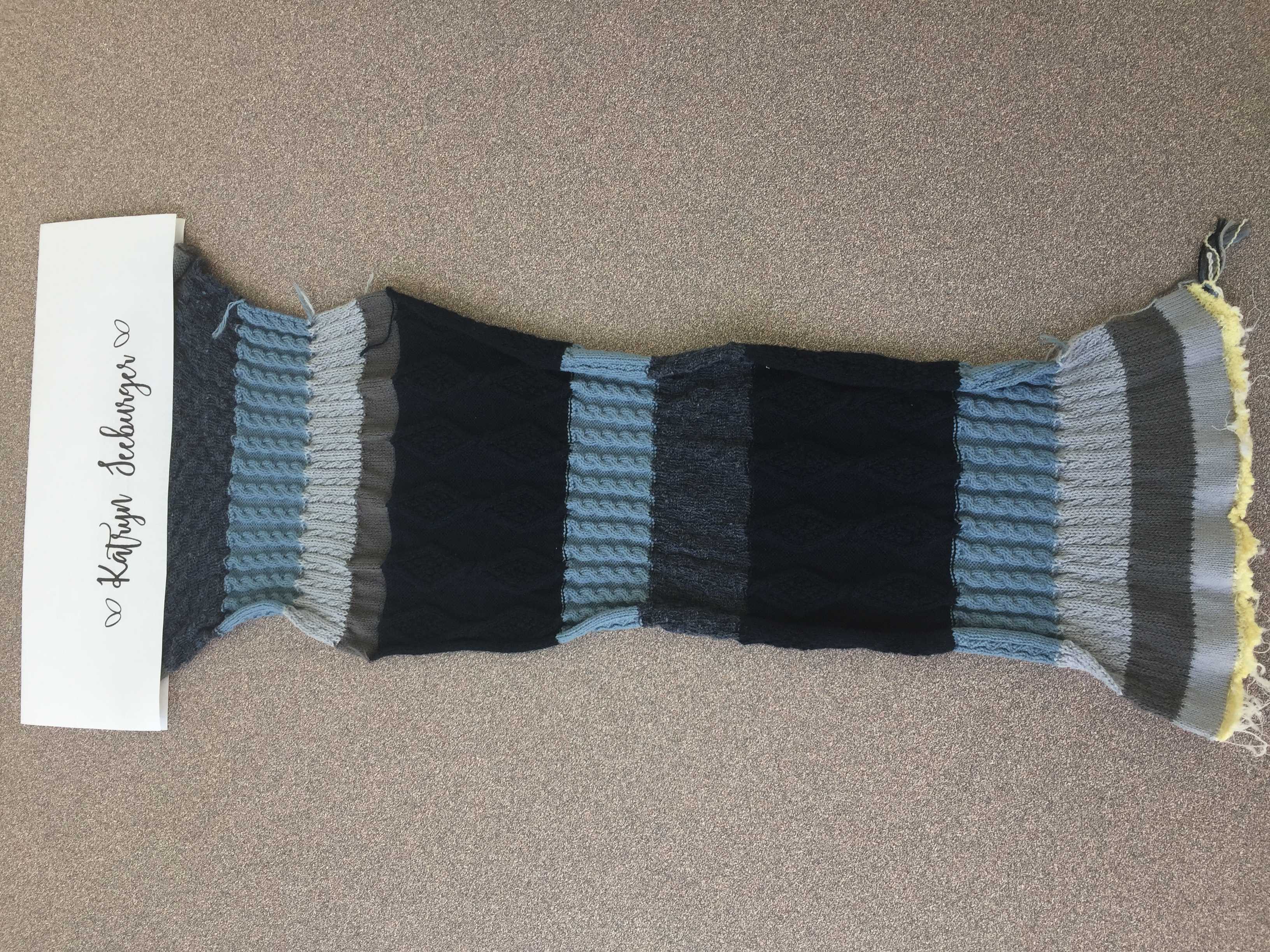 "I love fast fashion, but I would much rather spend a little more to get something that won't wear down in long run, or partially sustainable so that I can work with it," Johnston said.
Delaney Sullivan, senior fashion design major, created her collection called "Save Our Seas". Her design ideas focused around coral reefs.
"Coral reefs used to be very colorful but now they are just completely bleached white," Sullivan said."All my colors in the collections are kinds of greens and blues, which are cool tones but they are kind of feeling light."
She used natural fibers, silk, cotton and a couple of organic cottons, such as Egyptian cotton, in her designs.
"They [the materials used] are less harmful to the environment, light weight in spring and summer," Sullivan said. "They flow really well on our bodies."
She also itilized denim on a pair of pants and a dress.
In her collection, there were several skinny pants, some basic shirts and crop tops. In one patterned piece, she used a rectangular shape, exemplifying what sustainability is all about.
"When you use ruffles in pattern making, or any kinds of curved shapes, it takes a lot of extra fabrics," Sullivan said. "I design the pattern piece in rectangular shape such that there was zero waste. Also, the pattern I used in every single garment can be altered to fit into any kind of collection. It doesn't necessarily just apply to what I am designing."
In the future, Sullivan will continue to work towards her goal of sustainable fashion.
"Fashion is the second most wasteful industry in the world,"  Sullivan said. "It's a big problem. I will try to do my share to reduce waste."