Each year, the student-run Kent Fashion Week is held to feature the thesis collections of graduating seniors from the fashion design program at the Fashion School at Kent State. The presentation-style event allows friends, family and fashion supporters to view students' collections up close, while having a chance to speak to each designer about his or her work. The design students have put tremendous effort into their collections all year, and A Magazine got to interview a couple design students whose work will be presented.
Anna Rumberg, a senior fashion design student at Kent State, will be showcasing eight of her designs during the fashion show this year. Rumberg doesn't just want her collection to be viewed as just a fashion statement, but wants the audience to see her collection from a deeper perspective.
"My whole collection is about internal metamorphosis, or how our life experiences shape us into the people we were always meant to become," Rumberg said. "I tried playing with volume and different shapes to convey this idea and the shedding of that volume to show us shedding our own ignorance and insecurities as we move through life and slowly become enlightened to our true selves."
Rumberg wants her designs to be showcased in a way where the audience can take away their own perspective of it.
"I put it out there for an individual reaction from each viewer on what they think fashion is and what it could be," she said.
Rumberg also said that she tried to stray away from the trends this year and focus on her own work as she follows trends in the industry but usually doesn't apply them to her work. She does however mention that when she finished her collection, a couple of designer's work looks close in competition to hers.
"I didn't have a specific designer in mind that inspired my work when I started, but once I finished, I considered Helmut Lang and Marni to be close competitors to my collection," she said.
Rumberg describes what type of woman is going to rock her designs as cool, calm and collected, and comfortable while remaining chic, on trend and professional in her day to day life.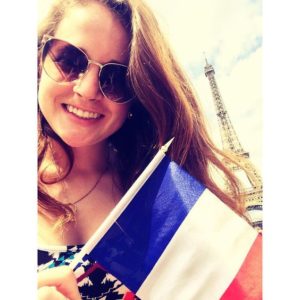 Senior fashion design student Abby D'Amore will also be showcasing her collection during the fashion show this year. D'Amore has a more philosophical approach to her collection for this show.
"My collection revolves around the question of 'how does someone obtain self-worth?' A lot of polarities were incorporated throughout the silhouettes, color story, and fabrics," D'Amore said. "I wanted to my collection to be retail ready and marketable so I have a lot of easy to wear pieces and the looks can be re-merchandised within the collection."
While she wanted to make her collection as personalized as possible, she does think most designers are inspired by current or future trends subconsciously.
"Obviously, we make the designs our own and personalize them to our taste and atheistic, but trends become popular for a reason," she said.
However, she does feel that her collection may have been inspired by the attraction of opposite pieces that normally may not be paired together.
"I have always loved designing in polarities; it comes out naturally in my designs most of the time. Pairing a big voluminous piece with a slim fitted piece is one of my go to's," D'Amore said. "I also like polarities in color stories and themes. Picking a color story is one of my favorite parts of designing."
While she wants her collection to be store ready, she also strives for what type of woman wears her clothes. She said her collection is worn by a professional, classy woman of any age who is sophisticated and keeps up on trends while loving a timeless look as well.
Kent Fashion Week will be held May 5, 6 and 7 at 157 Lounge in Downtown Kent. The presentations will begin at 6 p.m. each night, exhibiting the work of two designers' collections every 20 minutes, concluding at 10 p.m. The event is free to the public.