With all the different club opportunities offered on Kent State's campus, it's sometimes easy for newer ones to get lost in the crowd. Drexton Trantina, president of Drawn to Style, is hoping the club can shine its way through and climb to the top.
Drawn to Style was founded February 1, 2019 by alumni Tamara Cullen in order to educate students on the art of fashion illustrations. The club is currently overseen by club president and senior fashion design student, Drexton Trantina. Senior fashion design Vice president (and year and major) Hadley Stoub helps overlook the club and acts as a sounding board for Trantina's ideas and describes herself as "Trantina's right-hand man." Other board members include event planner Hannah Delmore who is a senior fashion design student, secretary Kayla Kobillis, senior fashion design student, treasurer Lauren Beagle, senior fashion design student, social media director Grace McLane, senior design student and board member at large Kaitlyn Brooks who is also a senior with a major in fashion design and marketing. All members play a vital role in ensuring Drawn to Style operates smoothly.
As president, Trantina keeps the club organized and delegates to make sure everything that needs to get done, gets done. He also makes sure the organization stays on track in terms of their goal to help students expand on their illustration abilities and keeps the club moving forward.
"Illustration is a fundamental art that takes time, focus and years of practice," Trantina said. "All the skills portrayed in my craft are skills I learned on my own with the help of professors and Drawn to Style."
Trantina has been a part of Drawn to Style since his sophomore year and was excited to take on this new leadership position after realizing there is a hole in student connections. From the start of his freshman year, Trantina knew the fashion program was where he was meant to be as he had fallen in love with it from the very beginning. But as a freshman, he knew he needed to practice his craft constantly in order to improve and grow as an artist.
He believes oftentimes students feel embarrassed that they are not as proficient as others at drawing, which limits their abilities as an artist to explore their creativity. As someone who is in love with drawing, Trantina wants others to come in with an open mind to channel their inner artist and get creative with other Drawn to Style members.
As incoming design students at Kent State, most don't come in with a lot of art experience, so illustrations can seem a bit overwhelming. With drawing and illustrations being one of the most important and main components of the fashion design curriculum at Kent, the board wants to emphasize this at all times. Trantina believes making a place outside of the classroom to get help on illustrations will build character, form a strong community and allow time to focus on certain areas of illustration one might be struggling with. This also helps lessen the workload of professors who might have dozens of other students in need of the same help.
During their meetings, the board sits down with individuals and helps evaluate where exactly their skill level is and then go from there. Although most of the meetings are held virtually this year and not as often. This also helps to personalize the sessions, ensuring all students get the proper help they are seeking. The meetings are also a place where students can ask other members for help on homework assignments. Most of the time students can gather around a table during meetings and exchange laughter, ideas and tips to help with their projects.
"I want to emphasize that even if they have no drawing experience, we're more than willing to meet them at whatever point they're at," Trantina said. "Drawn to Style want to help students dive into illustration so they can grow and become better artists with valuable knowledge they can use for the rest of their careers."
As part of the Drawn to Style "stress-free" movement, they are hosting their first event of the semester which will be a contest for anyone to join. The contest is going to be re-illustrating a predetermined fashion image in your own style. The contest will begin on October 2 and run until October 9. To entice students in participating, the winner of the contest will receive a $25 Amazon gift card provided by the board.
"Although we do help students with their current work, we also draw together," Trantina said. "This is a fun stress-free way for students to get involved without having to worry about a grade while also receiving pointers to improve."
With the uncertainty of the remainder of the semester, Trantina has tried to find new and innovative ways for the club to reach out to potential new members. As of now, Trantina and some of the other board members have been dropping in on Zoom classes to enlighten students on what the club is about. They're also creating flyers which have been going up around campus which will provide information on how students can reach out and get involved with the club. In addition to this, the board has been more active on their social media accounts in hopes to draw in more attention.
With Drawn to Style mainly consisting of fashion design students, Trantina and Stoub are hoping to reach out to other majors. In fact, they want as many people to join regardless of their major. With excessive free time on some students' hands due to the current pandemic, they believe now would be the perfect time for non-design majors to join. This could help students discover a hidden talent they might not have known existed.
With the board consisting of all seniors, they are able to better assist non-design students as well as incoming freshmen seeing as they have already completed most of the courses in the curriculum. As a senior fashion design student, Stroub recommends students get comfortable with drawing because it's not going to go away.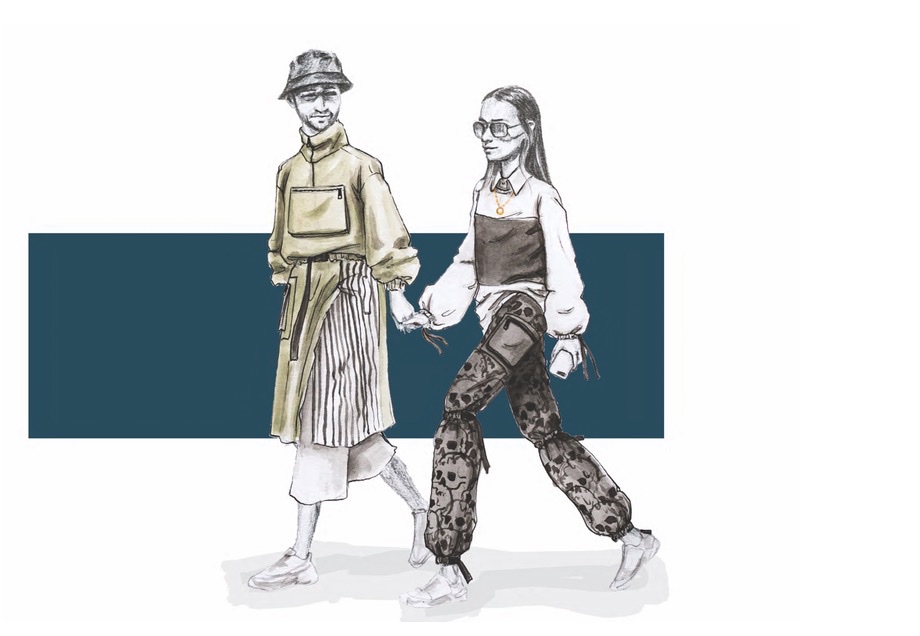 "We're definitely willing to meet people wherever their skill level is as long as they come with a positive mindset and are willing to social distance," Stroub said. "Our club is open to all students and we hope to help as many people as we can throughout the semester."
As the club continues throughout the semester, they will host events and workshops that all students are welcome to participate in, in hopes to build a larger community.
"We have a lot of great ideas planned throughout the semester which entail some fun things," Trantina said. "If anyone is interested in learning more about Drawn to Style or what we're going to be up to this semester so they can get involved, they should check out our Instagram."
Support Student Media
Hi, I'm Maria McGinnis, a senior journalism student from Stow, Ohio. I'm also the editor in chief of A Magazine. My staff and I are committed to bringing you the most important and entertaining news from the realms of fashion, beauty, and culture. We are full-time students and hard-working journalists. While we get support from the student media fee and earned revenue such as advertising, both of those continue to decline. Your generous gift of any amount will help enhance our student experience as we grow into working professionals. Please go here to donate to A Magazine