In the midst of a national pandemic, you are sitting in quarantine scrolling on Tik-Tok to provide yourself with some daily entertainment. You come across a crewneck sweatshirt placed on top of a generic turtleneck and become inspired by the trend. Next thing you know, you find yourself browsing the internet to add this item to your closet. You could have been inspired to make this fashion change either out of boredom or because you're trying to keep up with current trends. Let's look at some TikTok fashion trends the pandemic probably made you try!
Sweater vests
I have always associated sweater vests with something my grandma would wear to Thanksgiving dinner and never imagined I would see them worn by people my own age. Lately, sweater vests are seen as a fashion-forward trend and you can often see your favorite influencers modeling them on TikTok.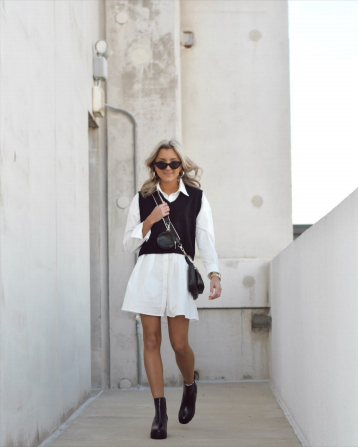 "TikTok has been very influential to where it can convince me to do almost anything," Fashion blogger McKenzie Morgan said. "I would never have worn a sweater vest before seeing it on TikTok."
Sweater vests have become a universal fashion statement that can either be worn with your favorite pair of jeans or a cute tennis skirt. They have become the perfect comfy alternative while staying at home.
Mini purses
I remember watching the 2000s chick flicks, "Confessions of a Teenage Drama Queen" or "Sleepover" as a kid where girls were seen carrying around tiny handbags. Now, I find them all over my TikTok feed on a daily basis and I have to say, I love this trend. They are trendy and affordable, which is perfect for our Covid-friendly budgets. You can drape it over your shoulder and feel just like Addison Rae.
Tie-dye comfy sets
If you don't own a tie-dye set, did you even experience quarantine? Tie-dye kits were sold out everywhere once TikTok encouraged people to buy a $7 pair of sweatpants at Wal-Mart and tie-dye them in their bathtub. Retail stores began to adapt to the trend and pretty soon there was a tie-dye explosion. Comfy yet colorful, we all definitely bought a tie-dye set to brighten our wardrobe.
Thrifted finds
Whether it is a thrifted blazer from the 90s or a pair of vintage jeans, TikTok inspired us to hold something thrifted in our closets.
"Thrift shopping is my favorite form of shopping," sophomore, fashion merchandising student Kayla Jones said "It definitely has become more popular because of TikTok. My parents were very concerned about the pandemic, so I didn't go out to shop much. Instead, I used sites like Depop to go thrifting."
Thrifting has become a great way to wear recycled garments that coordinate with your own unique style and generate excitement during the pandemic.
Support Student Media
Hi, I'm Maria McGinnis, a senior journalism student from Stow, Ohio. I'm also the editor in chief of A Magazine. My staff and I are committed to bringing you the most important and entertaining news from the realms of fashion, beauty, and culture. We are full-time students and hard-working journalists. While we get support from the student media fee and earned revenue such as advertising, both of those continue to decline. Your generous gift of any amount will help enhance our student experience as we grow into working professionals. Please go here to donate to A Magazine.