i tried a capsule wardrobe for a second time and here are my thoughts
Last year around this time, I wrote an article where I tried a capsule wardrobe for a week. Spoiler alert: I was not a fan. A capsule wardrobe is a curated collection of clothing that can be interchangeably styled to create endless outfits. There is no set number of pieces and it all depends on your style needs, preferences and budget. The number of pieces can range anywhere from 15 items of clothing to 40, but I settled on 21 pieces since this challenge was only a week long. The main focus of a capsule collection is to choose pieces that are timeless and will remain stylish for the whole season. High-quality basics and neutral colors are a must when it comes to creating a capsule wardrobe. The perceived benefits of this type of wardrobe are a clutter-free closet, less time getting ready in the morning and less money spent on buying new clothes. 
The Collection
Narrowing down my closet was no easy feat. I had tremendous trouble last year, as I was hesitant about leaving my standout pieces behind. This year, I decided that I was going to be a little more lenient when it came to color, as I felt that was missing from the collection last year. 
Pants 
Zara wide-leg jeans (medium wash) 

Dress Forum bootcut jeans 

Zara wide-leg jeans (black) 

Motel Rocks black leather flares 
Skirts 
Tops 
Zara pink bodysuit 

Zara white tank top 

Garage Tan Crop Tee

Urban Outfitters Boxy White Tee (not worn) 

Brown Sweater Vest (not worn) 

Black Zara button-up 

White cable knit sweater 

Green cable knit sweater  

H&M white button-up (not worn)

Black mock-neck sweater (not worn) 
Outerwear 
Thrifted black leather bomber jacket 

Thrifted denim jacket 

Princess Polly black leather blazer 
Shoes 
White high-top platform Converse 

Black leather Converse 
Misc. 
Day 1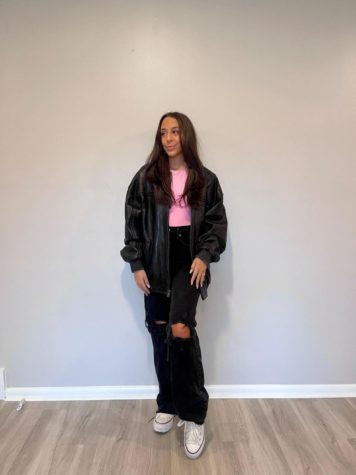 My goal for this challenge was to include more color, so I instantly gravitated toward this pink bodysuit. I like to style this bodysuit simply, so the color can pop. I opted for an all-black ensemble, including the Zara black jeans and the black leather bomber jacket, and it created a really fun look. To finish the outfit, I wore my white Converse because I wanted some contrast. I got ready in about three minutes this day, and I would say this was a great start. I was feeling optimistic about this challenge and prepared for the week ahead. 
Day 2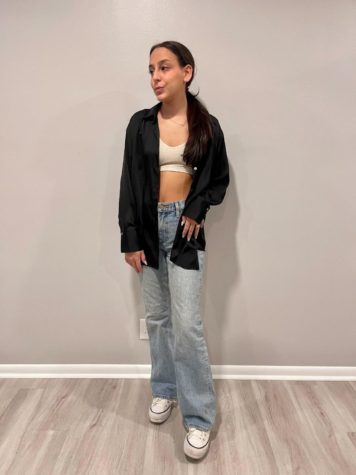 This day consisted of one class and tons of homework, so I think I only wore this outfit for an hour. I knew that I wanted to wear the Denim Forum jeans, as I love their fit and style. To offset their fitted style, I reached for the black button-up. I experimented with a few ways of styling the top, but I landed on leaving it open with the tan top underneath. I slipped on my white Converse, as I was in a rush, but I think the black ones would have been more successful. This was probably my least favorite outfit, but I got ready decently quickly that day. 
Day 3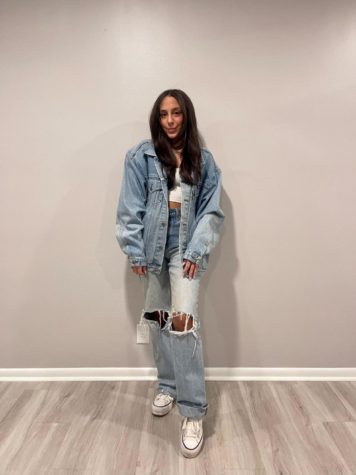 By this day, I was already getting bored with this challenge, which was my biggest fear. To combat my boredom, I decided that today's outfit would be something unique. Denim-on-denim has been frowned upon for years, but it is making a comeback this season and I am all for it. I chose my wide-leg jeans, denim jacket and  a white tank top. The white converse made an appearance again to match the white top. I was lucky that the two denim items matched, which created a cohesive look. On a normal day, I would probably be too intimidated to wear this outfit, but thanks to this challenge I had the courage to try something new. I was able to choose this outfit in an instant because I knew exactly which jeans and jacket I had to wear, considering I had such limited options. 
Day 4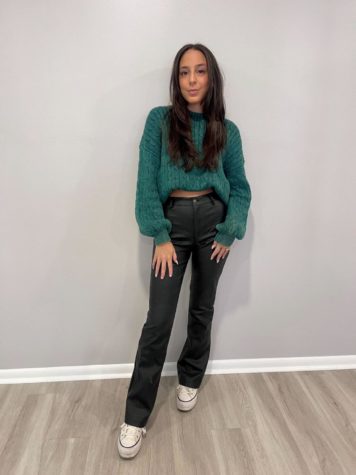 This outfit is one that I wear pretty frequently, so I am not surprised it made an appearance in this challenge. I wanted a pop of color in my outfit that day, so I chose the only other colored item in the capsule, which was the green cable-knit sweater. Every time I wear this sweater, I seem to pair it with black leather pants. Something about the green against the shiny black is just so aesthetically pleasing to my eye. Lastly, I chose my white Converse, which I cannot help but wear almost every day. They are probably the most versatile shoe I have ever owned. This outfit is in my typical style rotation so I really liked it, but it is the least adventurous outfit. 
Day 5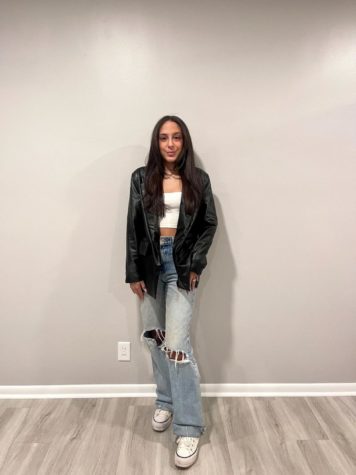 Whenever I am struggling with what to wear, I always throw on my wide-leg jeans. They are the perfect wash and fit, and I feel like they could never do me wrong. I will wear these jeans until they fall apart – that is how much I love them. I took a look at my list and realized I had not worn the leather blazer yet. I paired it with the same white tank from Day 3 and, of course, my white Converse. I like how the majority of this outfit was casual and toned down the seriousness of the blazer. As this challenge was beginning to wrap up, I was starting to feel proud of myself for the outfits I was creating.
Day 6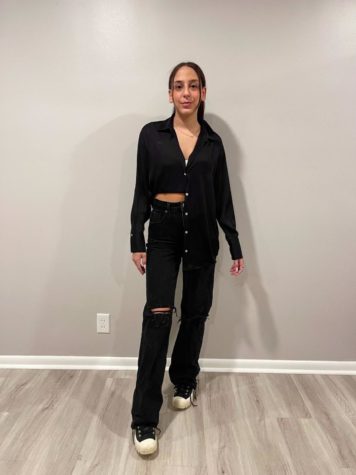 This day was the hardest so far, as I felt like my options were limited because almost everything had been worn. I stared at my pile of clothes and the black button-up caught my attention. I remembered seeing one styled on Pinterest in a specific way and I wanted to try it. I selected the black jeans and I'm glad I did, as the black silk and black denim looked very stylish together. I buttoned the top of the shirt and tucked one side up into the white tank top. I liked the way the shirt was styled because it looked effortless and undone, yet still put together. Button-ups are a great addition to a capsule wardrobe, as they can be styled in a multitude of different ways. I then chose my black Converse to complete this all-black outfit. I got ready the slowest this day, as I was toying with different ways to style the button-up. 
Day 7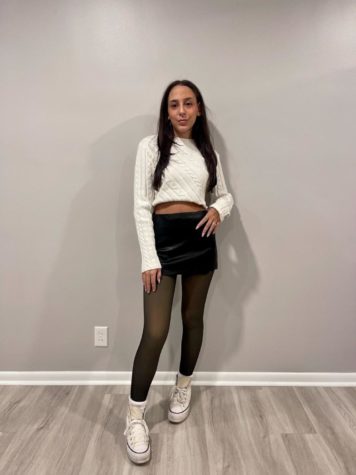 I knew that the skirt had not been worn yet, so I wanted to challenge myself to create an outfit with it. I would never normally wear a skirt without a special occasion, but I was excited to do so. I paired the leather skirt with the white cable-knit sweater and fleece-lined tights. My one recommendation is to never buy these viral Amazon tights, as they are not comfortable and will fall down throughout the day. If I could change one element of this outfit, it would be the shoes. In a perfect world, I would have worn my tall black boots, but they were not in the capsule so that was a no-go. This outfit was out of my normal style rotation and I was thrilled to be experimenting with clothes in my closet to create new looks.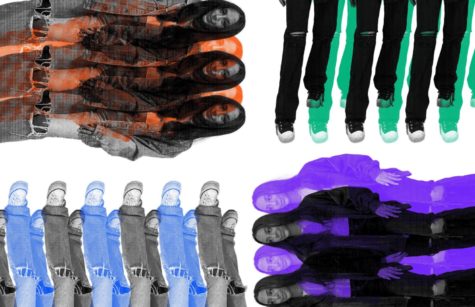 My Thoughts 
In my opinion, this challenge was more successful this time around. I felt more confident in my outfits, as I curated the capsule to reflect my style and got rid of the previous "rules" I set last year. My complaint last year was that I felt like I was wearing boring outfits. I think I did a better job this year being creative with my outfits but also being intentional about how I styled certain items.
Last year, I threw together pieces that I thought should go together, but there was no experimentation. My outfits were very safe for the most part. I have a new perception of capsule wardrobes because I know now that I can make them my own. Overall, I enjoyed this challenge so much more this time, as I was able to create outfits that I felt confident wearing while also pushing the boundaries of my normal style rotations. 
The main reason I wanted to try this again was because I am going to Florence, Italy next spring to study abroad. I will need to build a capsule wardrobe because my luggage capacity is limited. In a way, this was a practice run for my time in Italy, and I feel so much better about leaving a chunk of my wardrobe behind.
If I could alter anything about this capsule, I would add more shoe options because I always gravitate towards my white converse and I want to encourage myself to wear different shoes. I would also like to add more colors and patterns to this capsule, to make it more curated to my style. This challenge taught me to be more creative with how I style my clothes and brought me out of my comfort zone, which I think was needed. However, I am glad this challenge is over so I can be reunited with the rest of my closet. 
---
Support Student Media
Hi! I'm Catie Pusateri, A Magazine's editor-in-chief. My staff and I are committed to bringing you the most important and entertaining news from the realms of fashion, beauty and culture. We are full-time students and hard-working journalists. While we get support from the student media fee and earned revenue such as advertising, both of those continue to decline. Your generous gift of any amount will help enhance our student experience as we grow into working professionals. Please go here to donate to A Magazine.